Modern Dutch architecture in Taiwan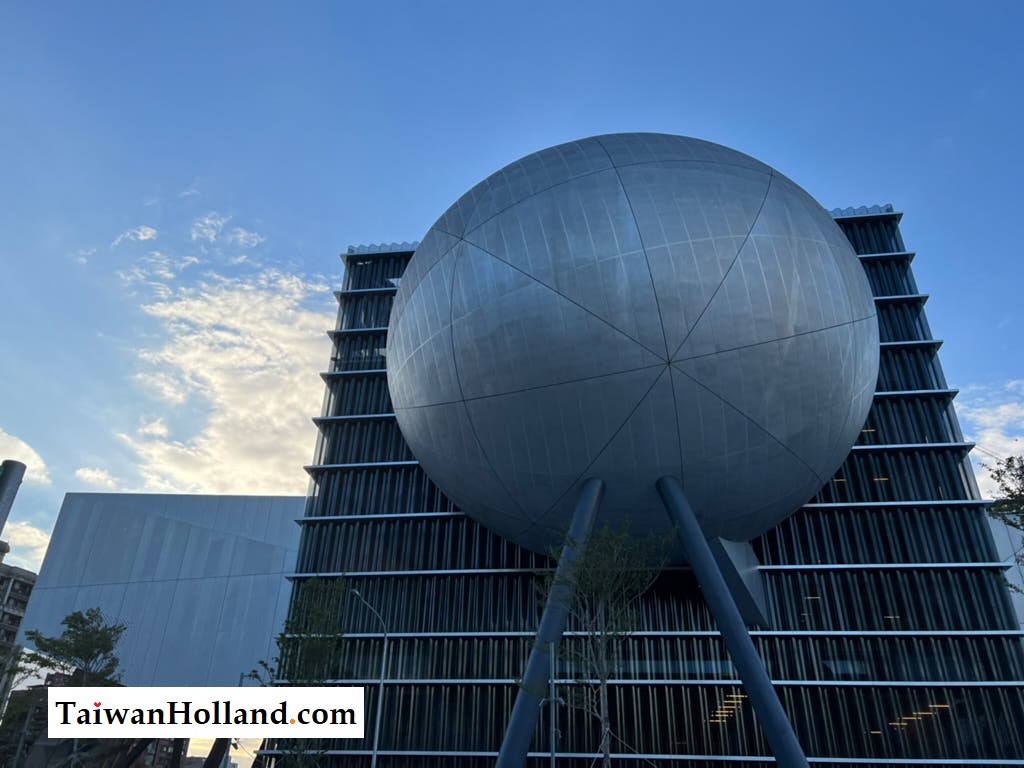 The other day I read a news which attracted my attention: The Taipei Performance Art Center was opened.
I remember back 6 years ago when I lived in Taiwan construction of the building had already started. You can easily notice this building when you go to the Shilin district, its right next to the entrance of the Shilin Nightmarket.
Back then, as I remember it, it had still a lot of scaffolding next to it but the round sphere was already clearly visible. The design of this building was done by the Dutch company of OMA. Dutch architecture firms are actually internationally quite famous.
Dutch design companies are very good at conceptual thinking and making good use of sometimes limited space. Resulting in playful, solid structures which feel spacious. This is needed because in Netherlands space is limited and thus there is a need for creativity.
Therefore it is not strange that Taiwan, in search for solutions, finds Dutch architects companies to help them. As the Dutch are facing the same problems as the Taiwanese. We are also a densily populated country where land is scarce. We also need to find solutions to make use of the land as optimal as possible and find a good mix and balance between nature, living and industrial area.
Today I would like to take you along on a trip to some of the Dutch architecture in Taiwan
Which famous Dutch architect companies are there?
Some of internationally most acclaimed Dutch architect companies are:
OMA
OMA stands for Office for Metropolitan Architecture and is in 1975 co-founded by Architect Rem Koolhaas.
In the 1980's OMA won their first commisions in the Netherlands with the Design of the Dutch Dance theater and designs for Amsterdam ij Riverside waterfront. In the 90's OMA started to win some major international competitions with groundbreaking designs such as Très Grande Bibliothèque but also smalller projects such as Nexus world housing. In the 21st century designs such as the CCTV headquartes in Beijing, De Rotterdam in Rotterdam. Their latest design is the Taipei Performing Arts center which I will discuss later.
Currently OMA has offices in Rotterdam, New York, Hong kong and Brisbane.
MECANOO
Mecanoo is founded in 1984 by Francine Houben, Henk Döll, Roelf Steenhuis in Delft when they were still students. The name Mecanoo comes from the combination of words Meccano a childrens model construction kit, Mécano, an early 20th century art-magazine and Ozoo. The Motto used for their first project.

Some famous designs they made are the Martin Luther King Jr. Memorial Library in Chicago and the palace of justice, in Cordoba, Spain.
But also in the Netherlands they made designs for the Delft University Campus and the Delft Train station. Also if you already visited the Netherlands and went to see Tulips at Keukenhof. You might have noticed the unique design of the entrance of Keukenhof. That also is a design made by Mecanoo.
Some of the designs they made for clients in Taiwan I will show to you later.
Currently Mecanoo has offices in Delft, New York and Kaohsiung.
MVRDV
MVRDV was founded by Winy Maas, Jacob Van Rijs and Nathalie De Vries in 1993. They are based in the Netherlands, Rotterdam. The name comes from the surnames of the architects.
Their design makes use of repeating elements and interesting combinations of materials. Their designs are internationally famous.
One of their famous designs is the Market Hall in Rotterdam, it both functions as an indoor market and as housing for the people in Rotterdam.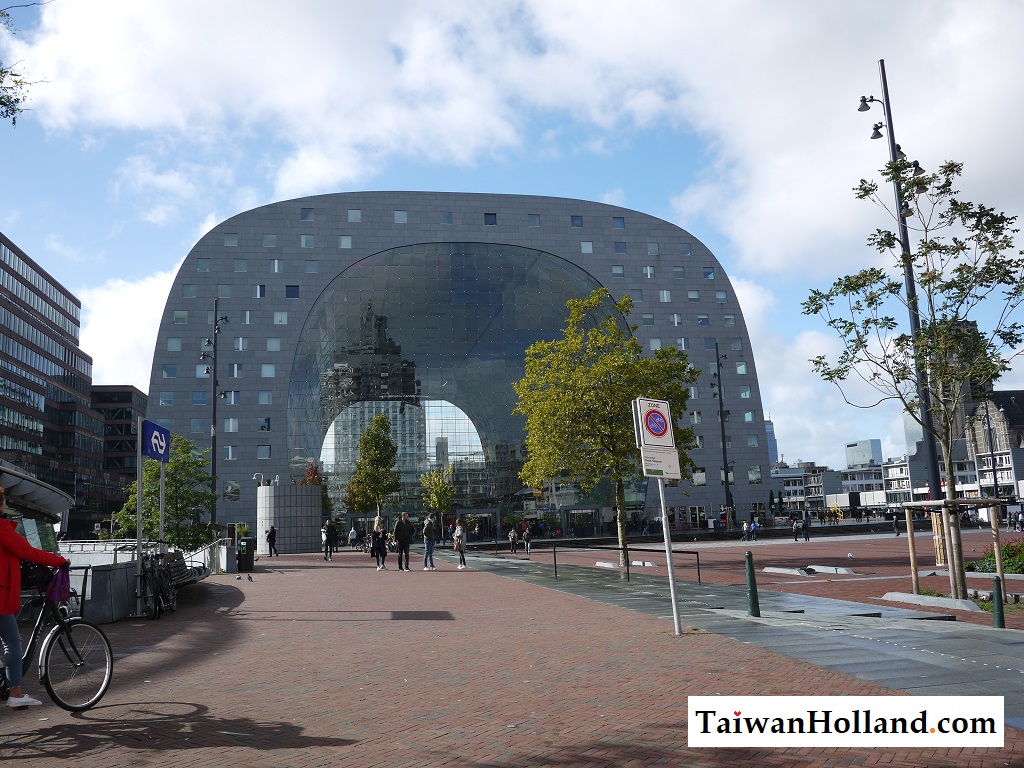 Dutch architecture in Taiwan
Most of the time these big architect companies join international design competitions. Afterwards, If their submitted design is the winning one, the designs still have to be converted to building plans and a suitable contractor has to be found. So not all winning designs are actually being built. Below I would like to show you some winning designs which are actually built and you can visit when you go to Taiwan.
National Kaohsiung Centre for the Arts
The National Kaohsiung Centre for arts is the brand new theatre complex in Taiwan. With both a concert hall of 1981 seats as well as a Opera house with 2236 seats it is suitable for internationally famed artist.
It is build on a former military terrain and is build adjecant to a subtropical park. It helps to transform the city of Kaohsiung to transform into a modern and international city, it is a place to enjoy by the 3 million inhabitants of the city.
National Kaohsiung centre for the Arts data:
141,000 m2
Concert hal (1981 seats)
opera house (2236 seats)
playhouse (1210 seats)
recital hall (434 seats)
outdoor amphitheater
800 m2 exhibition space
several rehearsal studios
2 congress rooms with resp. 100 and 200 seats
rooms for stage building workshops
The design is inspired on the local Banyan Trees with its waving roots and its crown providing shelter against the wind, sun and rain. The wind can blow freely over the roof of the building while people can enjoy the shades underneath it.
| | |
| --- | --- |
| Architect | Mecanoo |
| type | Theatre complex / Concert Hall |
| Current phase | Completed |
| Completed in: | 2018 |
| Addres | No. 1號, Sanduo 1st Road, Fengshan District, Kaohsiung City, Taiwan 830 |
| open to public | yes |
| Website | Link |
Tainan Public Library
The Tainan Library is a modern design by Mecanoo and MAYU Architects. Its purpose is both a library as well as a multi-functional place for culture, art, history and meeting-up. The Library has a large collection of books including over 16,000 dating from the Japanese era.
Tainan library data:
37,000 m2 library
130 seats study rooms (24/7 open)
theatre (324 seats)
offices, bookstore
roof gardens and patios
café
Exhibition spaces for art
The design of the building is quite interesting. White pillars seem to support a vertical aluminium facade with flower designs. When you enter the large open area and height gives the library a very inviting and open feel. In the center is an artwork which looks like sheets of paper flying away in the wind. The library has several floors and section. On top is a rooftop garden with view over the city.
| | |
| --- | --- |
| Architect | Mecanoo and MAYU Architects |
| type | Public Library |
| Current phase | Completed |
| Completed in: | 2020 |
| Addres | No. 255, Kangqiao Avenue, Yongkang District, Tainan City |
| open to public | yes |
| Website | Link 1 Link 2 |
Tainan spring
Built on a former Shopping mall, the Tainan spring park is an excellent example how unused places can be re-imagin-eerd into a vibrant public space. The underground parking is turned into a sunken plaza with a pool. surrounded by local plants and plenty of shadow. The pool will also act as a water reservoir during heavy rainfall. In dry months there are mist sprayers installed to provide cooling to visitors.
There are playgrounds, meeting areas, a stage for performances and some shops and kiosks
Cool about the design is also that the architects chose not to remove the shopping mall completely, they left some of the concrete fundation and integrated it into the design, as a historical connection with its former use as shopping malland thus reminding the people of Tainain's History.
Tainan spring public space data:
45,600 m2
water network
urban pool
urban jungle with public walkways
public leisure area
In 2020 the Tainan spring design by MVRDV won both the Taiwan Environment Lighting Award as well as the Taiwan Design Best 100 Award in the Category Best Annual architectural and space planning Design.
| | |
| --- | --- |
| Architect | MVRDV |
| type | Leisure area / public space |
| Current phase | Completed |
| Completed in: | 2020 |
| Addres | |
| open to public | yes |
| Website | Link |
Xinhua Fruit and Vegetable Market, Tainan
A modern indoor fruit and vegetable market designed by MVRDV. The building will host the market but also an exhibition centre, offices and a restaureant.
Tainan Market data:
11,000 m2
Fruit and vegetable wholesale market
Planted roof with walkways
rooftop terrace
Unique about this design is that while at one side it looks like a normal building but the other side has a terraced roof. The roof is fully planted and visitors can walk and enjoy the views from there.
| | |
| --- | --- |
| Architect | MVRDV |
| type | Public Market / Commercial |
| Current phase | Completed |
| Completed in: | 2021 |
| Addres | 712, Taiwan, Tainan City, Xinhua District, 東榮里 |
| open to public | yes |
| Website | Link |
The Taipei Performance Art Center
The Taipei Performance Art Center (TPAC ) is the brand new building commissioned by the Taipei city government to promote performing arts. Currently test performances are taking place before the building will officially be opened in the Summer of 2022.
The building has a 800 seat Globe shaped playhouse, a 1500 seat grande theater which can connect to another 840 seat theater to become one huge Theater of 2340 seats total!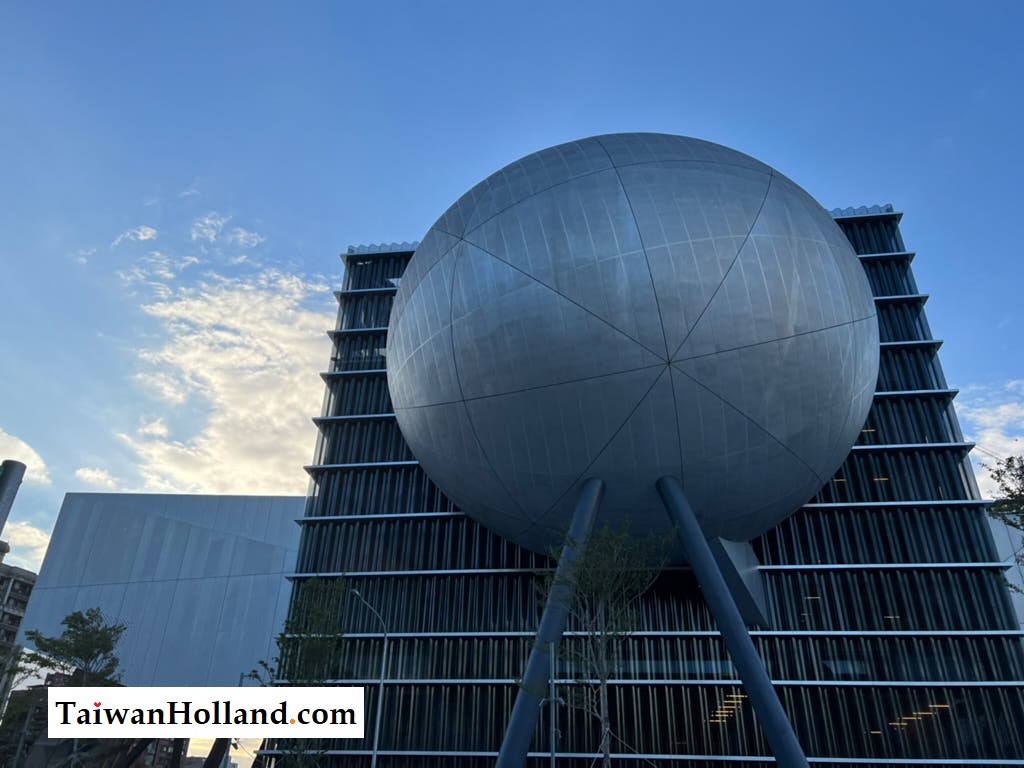 The Taipei Performance Art Center data:
59,000 m2
800 seat Globe playhouse theatre
1500 seat grand theater
840 seat theater
Public loop
The TPAC has an interesting shape. It consists of large Kubus blocks with one giant sphere sticking out of the front of the building. It is a Modern design by OMA and typical for the Architect Rem Koolhaas. Inside the building is a public loop where visitors can pass by and have a look at the backstage area of the giant stage and productions going on.
| | |
| --- | --- |
| Architect | OMA, Rem Koolhaas |
| type | Theatre Complex |
| Current phase | Completed |
| Completed in: | 2022 |
| Addres | No. 1號, Jiantan Rd, Shilin District, Taipei City, Taiwan 111 |
| open to public | yes |
| Website | Link 1, Link 2 |
Upcoming projects
Some projects are still under construction, one of them is the Kaohsiung railway station.
Kaohsiung Railway station (est. 2023)
The new Kaohsiung Railway station is a massive project re-newing the Kaohsiung Metropolitan area with an underground railway station. The area has been designed in such a way that busses, metro, train and taxi areas have been combined in one huge underground hub whilst adding green public areas to enjoy on top.
Kaohsiung Railway station data:
182,000 m2
New railway station, including plazas (13,000 m2)
Hotels (22,000 m2)
commercial buildings (52,000 m2)
bus terminal
restoration and conservation of colonial japanese station building
multilayer bicycle path and green canopy
| | |
| --- | --- |
| Architect | Mecanoo |
| type | Railway station/ infrastructure / park / hotel / commercial |
| Current phase | under construction |
| Estimated completion: | 2023 |
| Addres | No. 320建國 Sanmin District, Kaohsiung City, Taiwan |
| open to public | yes |
| Website | link |
Interesting architecture from other companies
Above are examples of designs in Taiwan made by Dutch architect firms. I would also like to share to you some interesting designs I came across in Taipei city.
Taipei 101 and Taipei Nan Shan Plaza
The taipei 101 towers high above the city of Taipei. Since a couple years also the Nan Shan plaza sits right next to it. Although it seems small next to the Taipei 101 tower the Nan Shan Plaza is still is 272m and the third tallest building in whole of Taiwan!
Both of them have shopping malls, offices , restaurants and rooftop views for visitors to enjoy.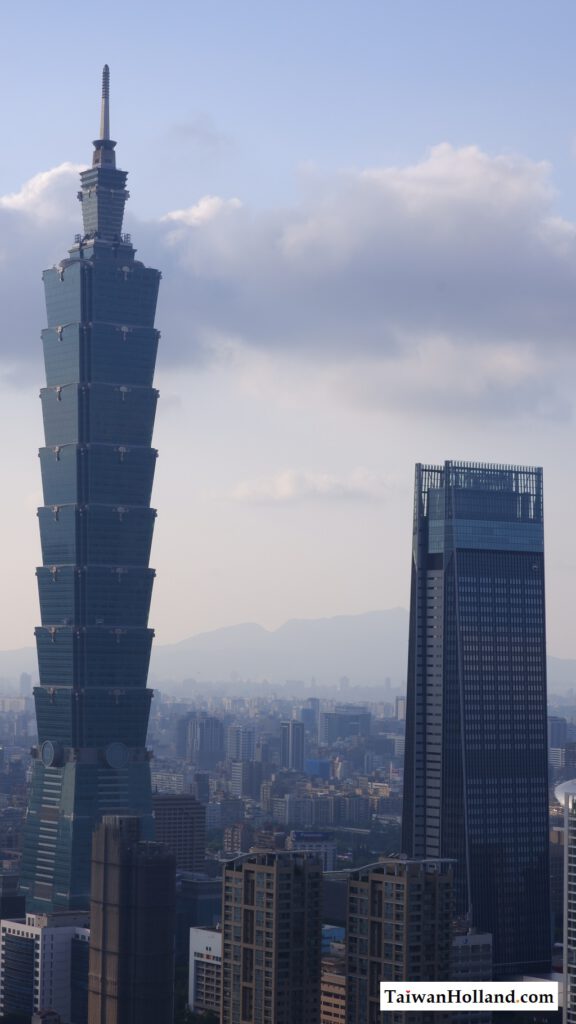 Taipei 101 has a unique design both resembling a modern version of a chinese pagoda as well as a bamboo plant. The Nan Shan Plaza has a more slim design with a broader base getting slimmer at the top.
| | | |
| --- | --- | --- |
| Name | Taipei 101 | Nan Shan Plaza |
| Architect | C.Y. Lee & C.P. Wang | Mitsubishi Jisho Sekkei Inc. |
| Type | Commercial / Retail / Offices | Commercial / Retail / Offices |
| Current phase | Completed | Completed |
| Estimated completion: | 2004 | 2018 |
| Addres | Xinyin District, Taipei City, Taiwan | Xinyin District, Taipei City, Taiwan |
| Open to public | yes | yes |
| Website | Link | n/a |
Do you want to visit the top of the 101 tower or want to know more about what to do in the Taipei 101 area?
I wrote a blogpost about the taipei 101 tower.
Tao Zhu Yin Yuan Tower (Agora tower)
The agora tower is another interesting design I came across. The building is situated in Xinyi District (taipei 101 area). It is a residential building and not accesible to visit.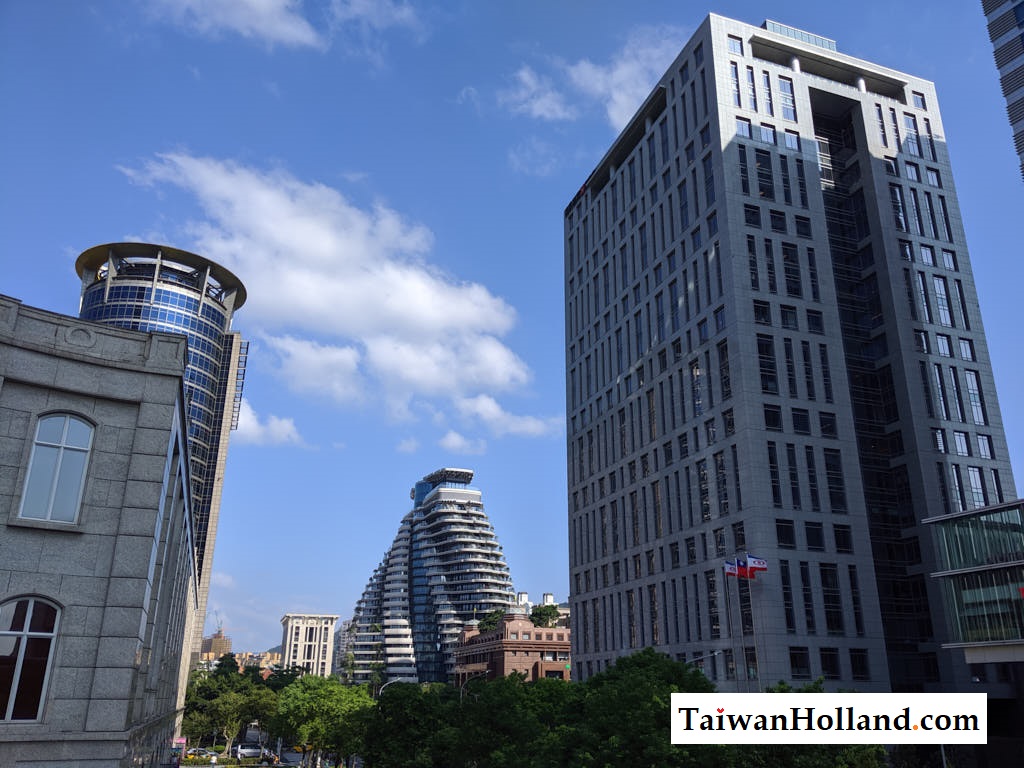 The design kind of a twisted building. Each floor has space for trees and plants to grow. According to the Architect it is a Carbon-absorbing green tower. He Admitted although the plants absorb CO2 it is not near enough to really be a long term solution to make Taipei city carbon neutral. However it is an interesting design and it shows the possibilities of green buildings and architecture.
If you are in the Taipei 101 area, you should go and have a look at it.
| | |
| --- | --- |
| Architect | Vincent Callebaut Architectures |
| Type | Carbon-absorbing green tower |
| Current phase | Completed |
| Estimated completion: | 2018 |
| Addres | Xinyin District, Taipei City, Taiwan (walking distance from Taipei 101) |
| Open to public | no |
| Website | link |