Marvel at the works of the most famous Dutch painters in history, here's where you can find them!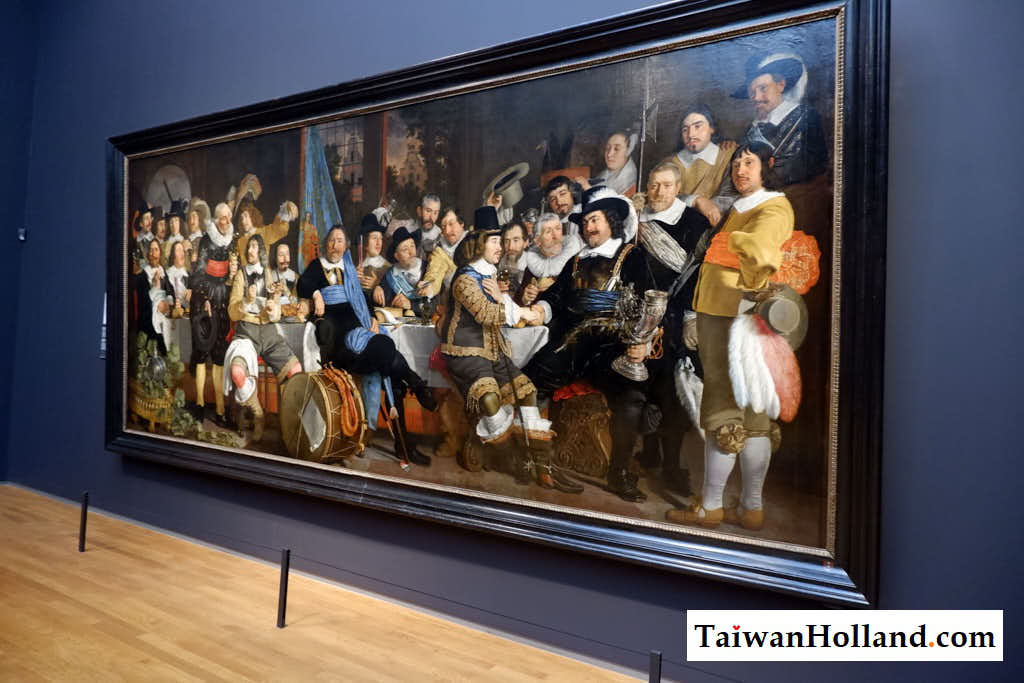 With the Vermeer exhibition often in the news lately (I already booked my tickets!) It made me think, maybe it would be good to give an introduction to some of the famous Dutch painters and make an overview of where to go to see their paintings. I have to say the list of artists is quite large so my overview is far from complete, nevertheless I hope I can help you with some good suggestions of Museums to visit and art collections to explore.
Where to view famous Dutch paintings?
Some of you maybe find the given list above to much to read so I would like to give you a quick summary and some suggestions of which Museums to go to if you want to view the famous Dutch paintings.
Rijksmuseum
In general the place to go to see paintings of Dutch Masters is the Rijksmuseum in Amsterdam, This is the Dutch national Museum which has the most paintings and also has the National gallery of honour which showcases the most important pieces of Dutch National Heritage.
Topic related Museums
Then there are some Museums covering a certain topics. For example
Painter specific Museums.
Next to that there are some specific Museums about a certain artist:
Who are Famous Dutch Painters?
Oke, so lets move on to the list of famous Dutch painters. The Netherlands has many famous painters so the list is quite long, I've pointed out some of them which I felt are interesting but the list is far from complete. To make a good overview I categorized the painters in 3 categories: Old masters, New Masters and Modern Masters. Which somewhat can be translated to 17th century, 18-19th century and 20 century painters.
The 'old Masters'
Among the old Masters are the famous painters of the 17th century, often in books referred to as the Dutch Masters they are painters that lived in the so called Dutch 'golden Century'. The Netherlands just got it's independence and many people came to the Netherlands for its freedom of religion, trade and arts. The old masters are famous for their craft, use of detail, color and their skill.
I call them 'old masters', as there are also world renown Dutch artists from later time periods (such as Van Gogh) which I refer to as New Masters.
Hendrick Avercamp
Hendrick Avercamp was born in January 1585 in Amsterdam and died in May 1634 in Kampen. He is a Dutch painter famous for painting Dutch Winter ice-skating scenes. His paintings are very detailed and often there are a lot of figures and little things happening. From children playing, to people selling goods. You really get a view of what winter was like in the 17th century.
As a Dutch person I feel his paintings are very interesting to watch. Even after 300 years we can still relate to the ice-skating fun during winter.
| Where to watch Hendrick Avercamp paintings? | website |
| --- | --- |
| Rijksmuseum, Amsterdam | link |
If you would like to watch Paintings of Hendrick Avercamp I would suggest you to go to the Rijksmuseum in Amsterdam. There you can watch multiple painti ngs and sketches. Furthermore you could try going to the Mauritshuis in The Hague I know they also have one painting of winter scene by Avercamp.
Rembrandt van Rijn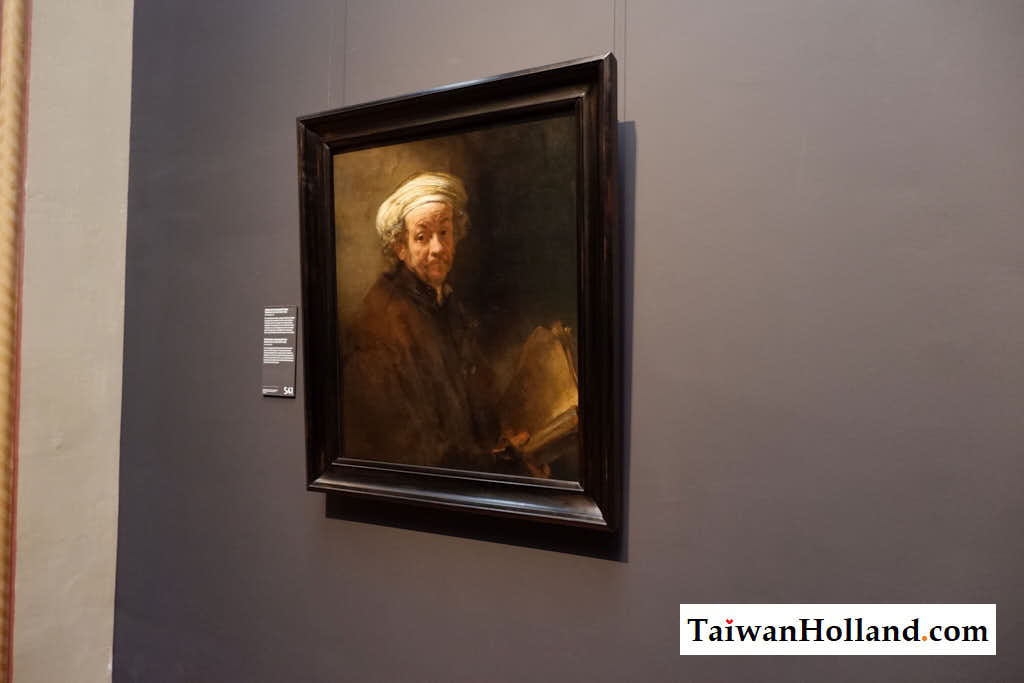 Rembrandt van Rijn (1606-1669) grew up in Leiden but after moved to Amsterdam and is seen as the most important Dutch painter. In his life he made around 300 paintings and an additional 300 etchings and 2000 drawings. His is known for making realistic portrets, making excellent use of light and darkness. Among his clients were Prince Hendrik van Oranje and King Charles I of England.
His most known work is 'De Nachtwacht' (nights watch) which is the most prominent piece in the Gallery of Honour in the Rijksmuseum. Recently the Dutch government bought the painting' De Vaandeldrager' (the flagbearer) for a whopping 150 million euros.
If you would like to see Rembrandt most famous paintings I would recommend going to the Rijksmuseum where the Nachtwacht and many more paintings can be viewed. However if you wish to know more about the life of Rembrandt and his history in the 17th century I would recommend going to the Rembrandt house in Amsterdam. This recently renovated museum has built up a large collection of artworks of not only paintings and drawings, but also almost all of Rembrandt's etchings. Which gives a great insight in the artist called Rembrandt.
Jacob Van Ruisdael
Jacob van Ruisdael (probably from 1628- 1682) was born in Haarlem as a son of a frame maker. As such he grew up between painters in Haarlem. In his early 20's he joined the Haarlem Sint Lucas painters guild at which he became even better at painting. After 5 years, around 1646 it is said he traveled a bit in the Netherlands and also Germany where he made some paintings of Bentheim Castle. In 1656 he settled in Amsterdam where he lived with high regard, although he did not became rich of painting he did got some good commissions such as making paintings for decorating the royal palace. It is said in his later life he moved back to Haarlem where after dead he is buried in the St. Bavo church .
His paintings are famous for its city landscapes and views which he liked to make more imposing and dramatic than they were in reality, carefully composing them. His paintings are therefore never a representation of reality but give more an impression of the time period.
| Where to watch Jacob Van Ruisdael paintings? | website |
| --- | --- |
| Rijksmuseum, Amsterdam | link |
His paintings are in museums all over the world, including the louvre in Paris, State museum in Berlin and the National Gallery of Art in Washington. If you want to see his paintings in the Netherlands I would recommend to go to the Rijksmuseum in Amsterdam which has 6 paintings of Jacob Ruisdael.
Jan Steen
Jan Steen made paintings in the so called Baroque style. Often painting about daily life. His paintings were chaotic and lively. Many paintings depict household families, whether it is a rich family sitting on the front porch or a large family eating dinner, his paintings always show a lot of detail and there is a lot going on. There is even a Dutch saying originated from his paintings: to have "a household of Jan Steen', having a chaotic household.
| Where to watch Jan Steen paintings? | website |
| --- | --- |
| Rijksmuseum, Amsterdam | link |
In the Rijksmuseum you can have view the paintings of the sint nicolaas celebration, Adolf and Catharina Croeser aan de oude delft, or a happy housefamily. Also the Mauritshuis in Den Haag has some of Jan Steen's Paintings. Furthermore Museums around the world have bought some of his paintings for their collection.
Frans Hals
Frans Hals was Born in Antwerp as a son of a Merchantman, at an early age his family moved to Haarlem and as far we know Frans Hals (1582/83 – 1666) lived his whole life in Haarlem. Just as Jacob van Ruisdael he joined the Haarlem Sint Lucas painters guild. About 140- 222 paintings of him are known and he was specialized in portrait painting, among the paintings he made were: (family and individual) portraits , group portraits, genre works (portraits about daily life). The ' liveliness' of the people on his paintings make his work so popular, he could capture the subjects in a strong and powerful way.
| Where to watch Frans Hals paintings? | website |
| --- | --- |
| Frans Hals Museum, Haarlem | link |
| Mauritshuis, Den Haag | link |
| Rijksmuseum, Amsterdam | link |
If you would like to see paintings of Frans Hals there are several Museums who have his paintings. The Frans Hals Museum in Haarlem is a good place to start. Also the Rijksmuseum has several portraits on display.
Johannes Vermeer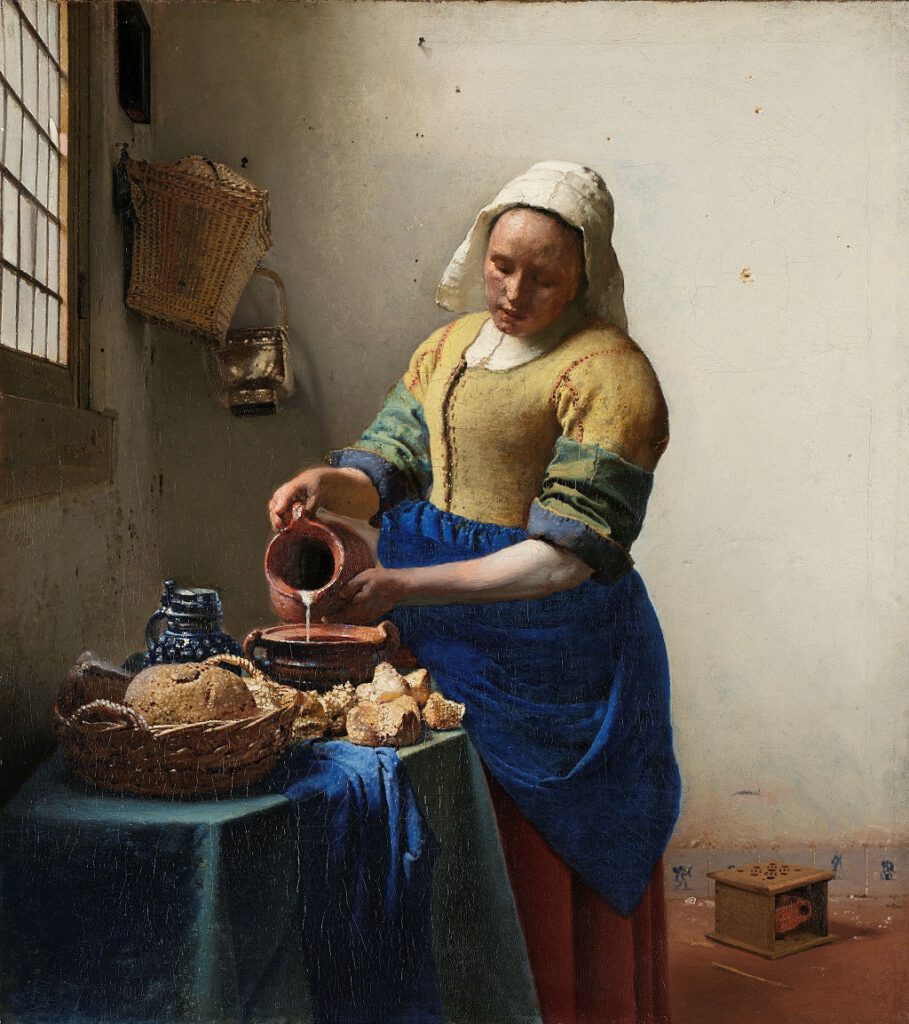 Johannes Vermeer was born in 1632 in the city of Delft had an exceptional skill in composition and use of light. Re-creating daylight in detail he could make his paintings incredible realistic. Famous paintings of Johannes Vermeer are the 'Milkmaid' and 'girl with the pearl'.
| Where to watch Johannes Vermeer paintings? | website |
| --- | --- |
| Rijksmuseum, Amsterdam | link |
| Mauritshuis, Den Haag | link |
Normally the Milkmaid can be viewed in the Rijksmuseum while the girl with the pearl is on display at the Mauritshuis. This summer (2023) there is a great exhibition where the largest collection of Johannes Vermeer paintings ever are together on display. If you feel interested about Johannes Vermeer or the time period he lived in until June 4th there is also an interesting exhibition in Museum Prinsenhof in Delft about Delft in the 17th century.
Willem Van De Velde (I and II)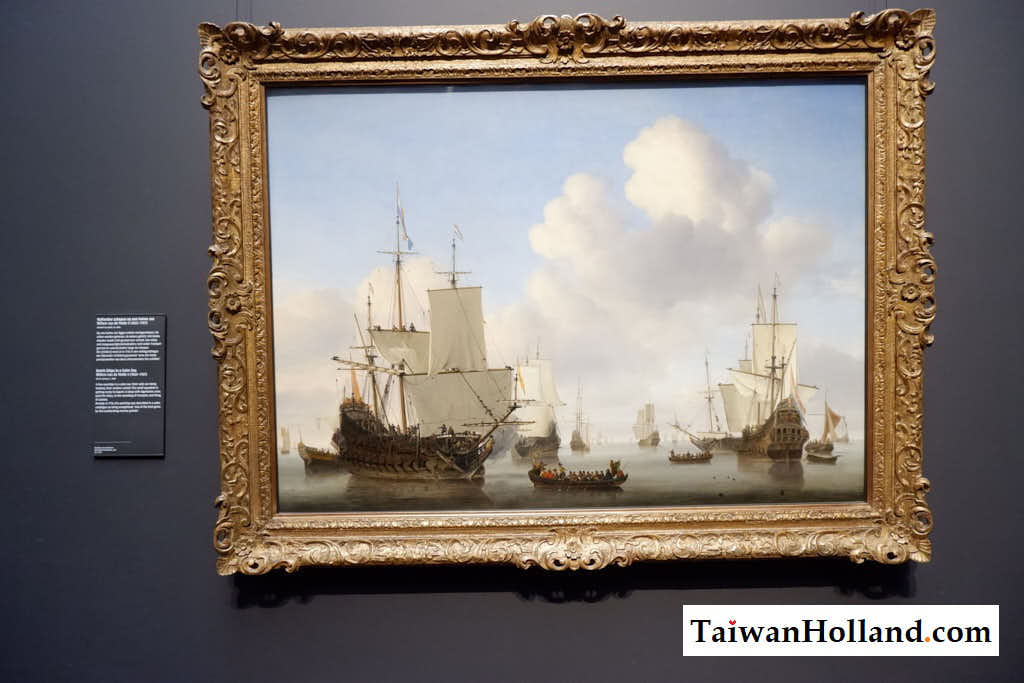 Father and son referred to as I and II (sometimes also, the elder, and the young is used) Willem van De Velde are from a family of Naval painters. Both moved to England later in life
Willem van de Velde I
Willem van de Velde I was Born as a son of a shipper he already was known with seafaring at an early age. It is not sure when He started painting but he had an interesting style and niche. He made monochrome, black and white, paintings of ships and sea battles. He made drawings of important sea battles. He was so dedicated he even went to join the naval battles for a total of six times, just to be able to depict the scene in detail. This way of working soon got attention and he got several assignments and even became the official war painter of the Dutch government (staten-generaal).
As such some of his most famous work are the naval battles of the English-Dutch wars fought in the 17th century.
Willem van de Velde II
Willem van de Velde II, learned his craft from his father. But in contrary of his dad he focused on realistic (color) drawings of ships. Very soon he made a good name and his portraits of ships became very popular. After the French invasion he moved to England with his dad and concentrated on painting English Yachts and ships of war. His paintings of Royal English Navy would be on the walls at the Royal palace. During his lifetime he earned a lot of money as the English bought many of his work making them hard to find.
| Where to watch Van der Velde paintings | website |
| --- | --- |
| Rijksmuseum, Amsterdam | link |
| Scheepvaart museum, Amsterdam | link |
| National Gallery, London | link |
Personally I really like the paintings they made. The monochrome paintings of Willem the elder are so amazing. The size of the paintings and the amount of detail in naval battles is Amazing. And then when you encounter the paintings if Willem the younger it is equally amazing. How detailed a single ship at see is painted. It is as if time stood still and you are back in the 17th century watching a ship at sea.
If you would like to see their paintings in the Netherlands I recommend the Rijksmuseum and the Scheepvaart museum (National maritime museum), the Scheepvaart museum is really cool as it has a VOC sailing replica which you can visit.
In the National Gallery in London also 18 paintings are on display.
The 'new masters'
The New Masters I consider the Painters from the 18-19 or early 20 century. There were still painters which made realistic landscape paintings but also some painters followed the new Impressionism style which was developing. One of the most famous 'New Master' must certainly be Vincent Van Gogh but there are many more.
Vincent Van Gogh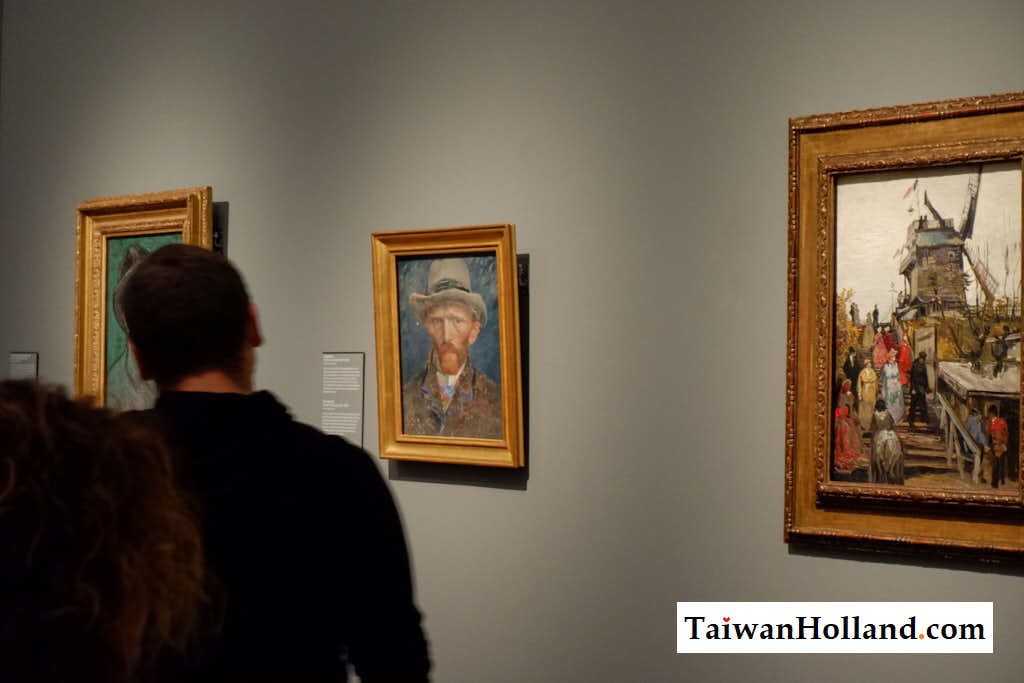 Vincent van Gogh was a post-impressionist painter known for his vivid, emotional works that depicted the natural world and everyday life. He struggled with mental illness throughout his life nevertheless he created over 2,000 paintings and drawings before his death at the age of 37. Until today his unique style continues to inspire and influence artists. Most famous of his paintings are the starry night and sunflowers.
| Where to watch Vincent Van Gogh paintings? | website |
| --- | --- |
| Van Gogh Museum, Amsterdam | link |
| Kröller-Müller Museum, Otterlo | link |
| Rijksmuseum, Amsterdam | link |
I would say there are two museums which are the best to go to if you want to have a look at Van Gogh paintings. Those are the Van Gogh Museum in Amsterdam and the Kröller-Müller Museum in Otterloo.
The van Gogh museum is located at Museumplein, just next to the Rijksmuseum. It shows paintings made by Van Gogh's during different time periods of his life. Among them is the famous 'sunflowers'-painting. It is a very popular destination among tourists so make sure you book your timeslot in advance.
The other Museum to watch Van Gogh's paintings in the Netherlands is the Kröller-Müller Museum in Otterlo. The Kröller-Müller family bought many Van Gogh's paintings in the early 1900's when his work was not as popular as it is now and still considered modern art. The museum also has many of its early work made in the Netherlands. An additional bonus: the museum is located in National Park the hoge Veluwe. An excellent place to enjoy not only art but also Dutch nature!
Lourens Alma Tadema (sir Lawrence Alma-Tadema)
During his live he was admired because of his paintings of Classical antiquity however after death his work was not popular until the 60's. Since then his popularity rose again and his work was increasingly popular and worth millions now.
Lourens Alma Tadema was born in the north of netherlands but moved to England early in his life. He made drawings about classical scenes in Greek, Roman and Egypt times. He did very thorough research in life, the objects they used and the clothes they wore to make the drawings so realistic as possible.
Maybe you haven't have seen any of his paintings but actually Hollywood used his paintings as a reference for the clothes and objects to use in their movies and thus indirect Alma Tadema has had a lot of influence in how we see Greek and Roman culture nowadays.
| Where to watch Lourens Alma Tadema paintings? | website |
| --- | --- |
| British Museum, London | link |
| Getty Center, Los Angeles | link |
Lourens Alma Tadema paintings are hard to find in The Netherlands as largest part of his collection is abroad. You have to go to London or LA to see large part of his paintings. There are several paintings in the Rijksmuseum I believe.
Barend Cornelis Koekkoek
Barend Cornelis Koekkoek (1803-1863) was a Dutch landscape painter born in Middelburg. He came from a family of painters and is one of the most important Dutch landscape painters of the 19th century. He specialized in painting woodland scenes and is known for his use of color and light. He died in 1863 in Germany.
| Where to watch Barend Cornelis Koekkoek paintings? | website |
| --- | --- |
| Rijksmuseum, Amsterdam | link |
Best place to look for Barend Cornelis Koekkoek paintings is the Rijksmuseum in Amsterdam
The 'Modern Masters'
The Modern Masters are painters from the 20th century or pioneered in modern art.
Piet Mondriaan
Pieter Cornelius Mondriaan (Mondrian) (1872-1944) was a Dutch painter and art historian who is seen as a pioneer in the abstract art. He is mostly famous for his work consisting of horizontal and vertical lines colored with primary colors. In his early live he painted landscapes using colorful and non-realistic colors. At the turn of the century he moved to Paris where he started to paint in Expressionistic and cubistic style. During the first world war he moved back to the Netherlands were he let go of any realism and started to develop his famous 2D lined work. Later in his live he moved to New York where he died in 1944.
| Where to watch Piet Mondriaan paintings? | website |
| --- | --- |
| Rijksmuseum, Amsterdam | link |
| Kröller-Müller Museum, Otterlo | link |
| Stedelijk Museum, Amsterdam | link |
To view work of Mondriaan in the Netherlands I would recommend going to Stedelijk Museum in Amsterdam, The Rijksmuseum is also a good option. Both are located next to eachother at Museum Square in Amsterdam
Rem Koolhaas
Rem Koolhaas is kind off an odd one in this list. He is mostly Famous for architecture and buildings. For example he designed the building ' De Rotterdam' in Rotterdam and the 'Stedelijk Museum' a bathtub shaped museum located next to the Rijksmuseum in Amsterdam. Although not famous for it he did also make some artwork. Mostly about architecture shapes and designs.
| Where to watch Rem Koolhaas designs? | website |
| --- | --- |
| Rijksmuseum, Amsterdam | link |
| Museum of Modern Art (MoMA), New York | link |
Rem Koolhaas Artworks are mostly found in Modern Art Museums for example MoMA in New York. The Rijksmuseum has some models and other work of him exhibited on the top floor.
Of course he (e.g. his architecture firm) have designed many famous buildings which are artworks in itself and you could go and have a look. Did you know he also designed some buildings in Taiwan?
I hope this overview was useful to you.
Feel free browse my website as I have written some Museum reviews too!