Travel guide for planning your trip to Taiwan!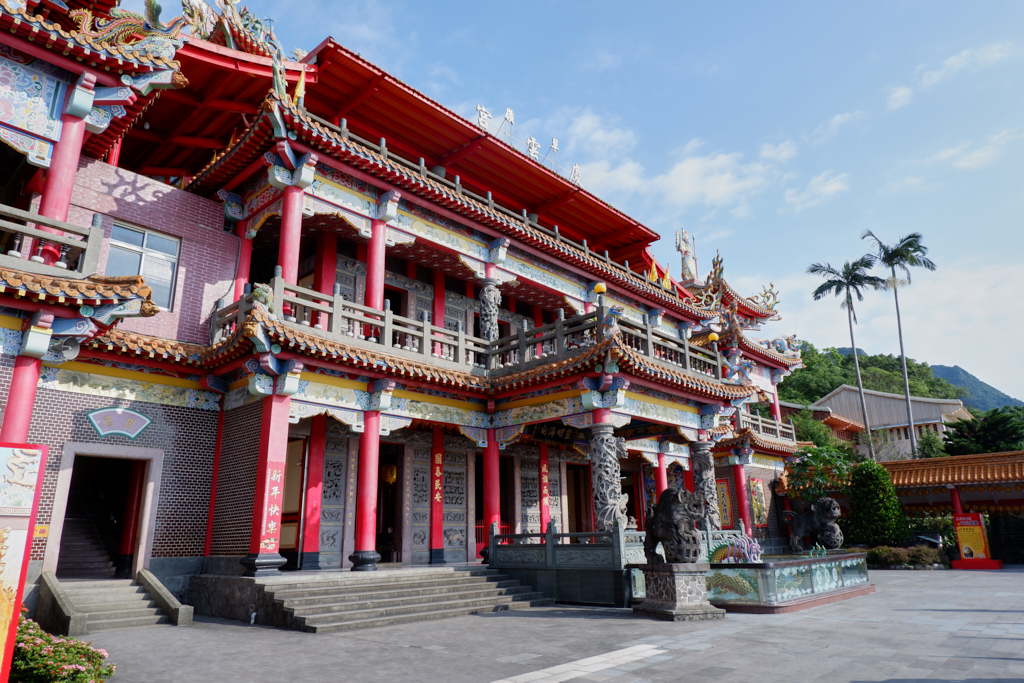 Planning to travel to Taiwan? I Traveled to Taiwan a couple of times and lived there for a couple of months. In this guide I want to help you by sharing some useful information to help you for planning a trip to this beautiful Island.
Taiwan travel: basic info
Why should I travel to Taiwan?
Taiwan or as its officially called: Republic Of China is a democratic country in Southeast Asia. It currently has 23,6 million Inhabitants. It is famous for green mountains, night markets, temples bubble tea, orchids and many more! The main urban areas are from north to south on the west coast. Whereas the middle of the island consist of mountain area and nature.
Which language is spoken in Taiwan?
The Language which is primary spoken in Taiwan is Mandarin, combined with Traditional Chinese writing. In addition a lot of people in Taiwan speak Hokkien, (also referred to as Taiwanese) which is a language spoken by the indigenous people of Taiwan.
What is Taiwan weather like?
Taiwan summers are very hot and winters are mild. In summer it can easily get 35C and afternoon showers or thunder is common. Spring and autumn period are often short. In winter some mountains are covered with snow and on rare occasions it can even snow at Yangmingshan close to Taipei city.
Typhoon season is from June until end of September. However typhoons are very unpredictable and can even outside this timeframe, A website I feel very easy to check if there is a typhoon nearby is windy.com.
Preparing a trip to Taiwan
When is the best time to visit Taiwan?
I would say the best moment to visit Taiwan is in the end of September, early October. In general autumn: September-November or springtime: April and May are good. Both these periods it still is warm, about 20-30 degrees Celsius but you don't have the heat (35+) of summer anymore. Also I prefer September -October due to the mid autumn festival and 10/10 day (Taiwan national day) which are fun cultural festivities to experience.

Flying to Taiwan from Holland
There are several airlines flying from Holland to Taiwan. I prefer China airlines as it flies with a direct flight from Amsterdam Schiphol to Taoyuan airport near Taipei.
Do you need a visa to travel to Taiwan from Netherlands?
Visa exemption programm is currently suspended for latest Covid policy also check the current # COVID policy #
Nationals from the Netherlands are eligible for the visa exemption program and do not need a visa for entering Taiwan if they stay less than 90 days if they:
have a passport with a remaining validity of at least six months
A confirmed return ticket or a ticket+ visa for the next destination
Do you want more detailed information or want to know if your country is also on the list then go visit this website.

Do you want to know more about Taiwan Visa's for long stay such as working holiday or study visas then you can go to this page to find out more.
*note, always check if above rules are still valid and applicable when you are planning to travel to Taiwan
Which currency is used in Taiwan?
Which currency is used in Taiwan?
Taiwan uses the New Taiwan Dollar (TWD, or NT$) as of 2020 one euro is approx. 33NTD. one American dollar is about 28NTD
Which bank notes and coins are used in Taiwan?
There are 5 different bank notes used in Taiwan: NT$100, NT$200, NT$500, NT$1000 and NT$2000. In addition there are the following coins: NT$0,5, NT$1, NT$5, NT$10, NT$20 and NT$50. However the coins of half a Taiwanese dollar are rarely seen as they are not used often.
Can you pay with credit card in Taiwan?
Most of the big credit cards such as American Express, master card and Visa are accepted.
Is it easy to withdrawing cash in Taiwan?
There are multiple Banks where it is possible to exchange foreign currency. Also every 7-eleven has cash ATM's which can be used. I suggest to withdraw some cash at the airport ATM at arrival. As a student living in Taiwan I always used my Dutch bank card to withdraw money at Cathay united Bank machines located in every Metro station. Also Bank of Taiwan worked for me. However I did notice that at some smaller banks or ATM's far away from tourist places not always worked for so I suggest whenever you plan to travel to make sure you have enough cash with you to cover any cost.
Electricity: Do you need a travel adapter for Taiwan?
Taiwan uses electric current at 110V and 60Hz. You need to buy a travel adaptor to use European appliances such as phone chargers. Most metro stations have charging hubs where you can charge your phone using USB. Also most busses and trains have a USB in the seats which you can use.
Internet and mobile phone
Taiwan is a highly developed and Digitalized country with almost country wide mobile coverage. If you want mobile internet during your travel in Taiwan there are several shops at Taiwan Taoyuan International Airport where you can buy sim cards for use during your stay. If you don't want a foreign sim card in your phone you should buy a Mobile Wi-Fi Hotspot device. Some shops also let you rent one together with a sim card. Busses and trains also have free public Wi-Fi spots.
Is Taiwanese tap water safe to drink?
It is not recommended to drink tap water. According to the Taipei water company Taipei water is suitable to drink. However they also mention that water may get contaminated due to old piping in some of Taipei buildings. Also it has a little bit of chlorine added so it has a chlorine taste. Luckily, almost every block has a 7-eleven or family Mart where you can buy bottled water. So this is what I in suggest you to always do.

Also although I never had problems with getting sick for this reason I also always order bubble tea or coke with just a little bit ice and I stay away from salads or uncooked vegetable (as it might have been cleaned with tap water).
List of important phone numbers when traveling in Taiwan
Emergency Numbers (Free Service), Police 110
Emergency Numbers (Free Service),Fire, Ambulance 119
Emergency Numbers (Free Service),Emergency Call (For Bad Cell Phone Reception) 112
Other numbers you can call if you have general questions about traveling and such are:
24-Hour Toll-Free Travel Information Hotline 0800-011-765
Information For Foreigners In Taiwan 0800-024-111
Travel Service Center, Tourism Bureau +886-2-2717-3737
Or if you want to contact the airport about flight information (you never know if a flight might get canceled due to typhoon)
Terminal 1, Tourist Service Center, Taiwan Taoyuan International Airport, Tourism Bureau +886-3-398-2194
Terminal 2, Tourist Service Center, Taiwan Taoyuan International Airport, Tourism Bureau +886-3-398-3341
For Dutch citizen who have an emergency or lost their passport while traveling in Taiwan you can contact the Netherlands Representative office in Taipei:
Netherlands Office Taipei
13F, suite 2, 1 Songgao Road, Xinyi District
Taipei, Taiwan
The nearest MRT station is Taipei City Hall (blue line). Their office can be reached by telephone on weekdays from 9:00 AM to 5:00 PM at +886 (0)2-87 58 7200.
Cost of travel in Taiwan
To give a sense of how much traveling in Taiwan cost I want to give an indication of the costs
Average cost of food in Taiwan
If you go to the small street shops you can buy a dinner for around 100NTD which is approx. 3-3,5 euro. A dinner in a restaurant at a shopping mall can be between 300-500NTD which is around 10-15 euro.

To compare prices I also looked at the "big Mac index" which compares global prices of a big mac all around the globe. As of January 2021 the cost of a burger in US$ dollar costs as follows: You can see that on average the cost of food in Taiwan is half as much as in Europe or America.

| | |
| --- | --- |
| United states | $5,66 |
| Euro area | $5,16 |
| Taiwan | $2,57 |
"Big Mac index": Cost of a big mac in each location in us dollars
Cost of museums in Taiwan
Museums are in general very cheap, most of the time entry fee is lower than 150NTD , approx. 5 euro. The same applies for the entrance fee of the Taipei zoo.
Getting around in Taiwan
Public transport is very good in Taiwan. It is cheap and very easy to use. Especially in the big cities busses are departing from early morning until late in the evening. Also the Railway system connects the big cities very well.
Highspeed train in Taiwan
The Taiwan Highspeed train is very convenient and connects all the big cities on the west coast of Taiwan. Tickets can be booked on their website. In general the more early you book tickets the more discount you can get. Up to 35%. Normally I travel by normal train as the train station of highspeed rail sometimes tends to be somewhat far from the city center's. However it is very convenient to use the high speed train when you want to go back to Taipei quickly.
As a foreigner you can get some interesting discounts. In the past there was the buy 1 get 1 ticket for free deal.
Most up to date deals you can find on this webpage.
Taking the regular train in Taiwan
Regular train is also very easy to use. Although you can buy tickets online. I always buy tickets at the train station. Either at a machine or (what I prefer) at a counter. Most of the time when you show the name of the location where you want to go on your phone then the person at the desk will understand it and help you to get the ticket and tell you which platform to go.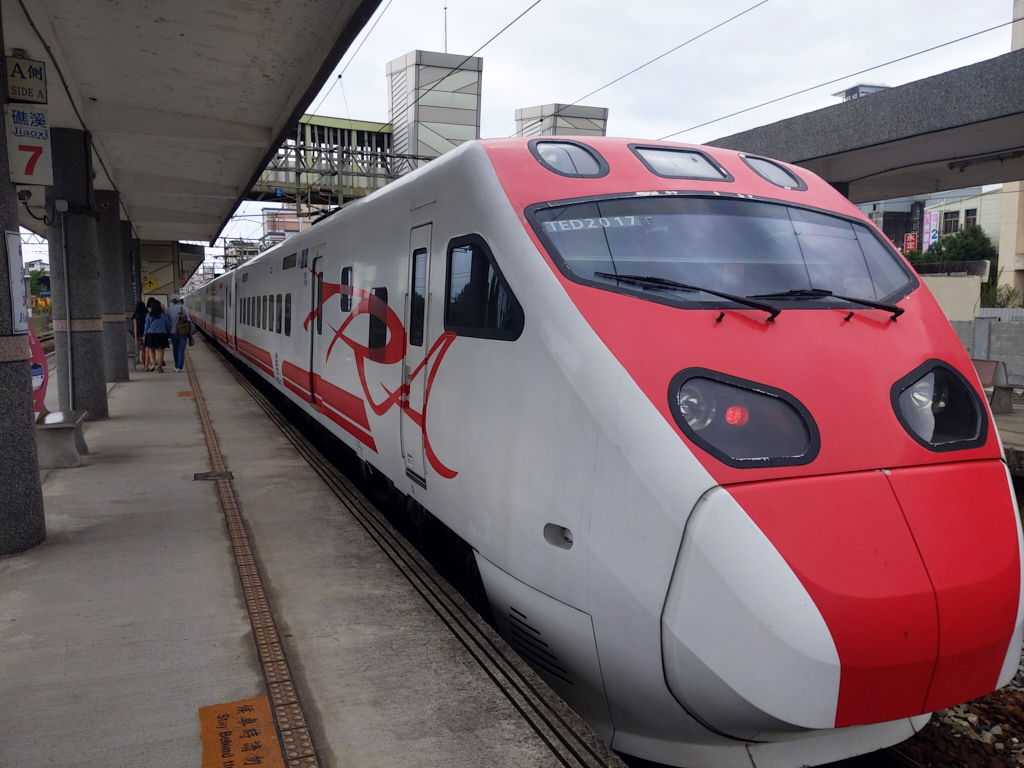 Is travel by bus in Taiwan easy?
Another way to travel is by bus. Public bus network in and around Taiwan are very good and is very cheap and easy to use, expect prices between 2-4 euro. Busses go several times an hour and depart early in the morning until late in the evening. In most public busses you can pay using easy card. Scroll down to read more about the Easycard.
If you really want to travel more far away on a budget it is also possible to buy bus tickets for day trips to Taiwan attractions (Jiu-fen, Taichung or sun moon lake for example) or to travel to other cities in Taiwan. I once paid 200NTD (only 6 euro) for a 12 hour bus ride from Taipei all the way to Tainan. Taipei Bus station is just next to the Taipei main station. Here you can find counters of a dozen of bus companies where you can buy bus tickets.
Taipei metro system
Taipei metro system is very convenient and can bring you easily anywhere near where you want to go. Average cost is between 20-40NTD (approx. 0,50 and 1 euro). Remember it is not allowed to eat or drink in or on the platforms of the metro. This to keep the metro system clean and tidy. For more information about the metro system go to this website.
Taking taxi in Taiwan
Taking taxi is not too expensive either. In general the taxi drivers are not accustomed to accept tips. Once I took a Taxi from a museum back to the train station and even I wanted to tip the taxi driver a little bit he refused to accept it. Not all taxi drivers understand English so it is easy to show the location on the phone.
Using 'Easycard' Taiwan,
If you plan to take the bus or metro a lot I would suggest you to buy an 'Easycard' this card can be charged with money and used for metro and bus and also convenience stores. It can be bought at 7-eleven and makes life a lot easier not having to buy tickets every time.
Taiwanese festivals and celebrations
There are several public holidays throughout the year. It might be good to keep in mind these days as it might be very busy on the streets and national parks when local people also have a national holiday.
What are the public holidays of Taiwan in 2021?
Public holidays of Taiwan are listed below. There are many more religious and cultural festivals which I have not listed.
New years day, January 1st
Chinese new year, February 11-14
Peace memorial Day, February 28th
Tomb sweeping day, April 4th
Dragon boat Festival, June 14th
Mid-Autumn festival, September 21st
Double tenth National Day, October 10th
Chinese new year
Chinese new year is the most important holiday of the year. Celebrated in January/February following the Lunar calendar. Most Taiwanese have 5 days holiday to celebrate, eating dinner with family and play Mahjong. Most shops and offices will close. It is recommended to not visit Taiwan during this period as many people travel.
Dragon boat festival
I like this festival very much. Celebrated around June. The festival celebrates the life of Quyuan, a hero from ancient history. It is celebrated by organizing Dragon boat races on the rivers. In Taipei the dragonboat races are organized at Dajia riverside park.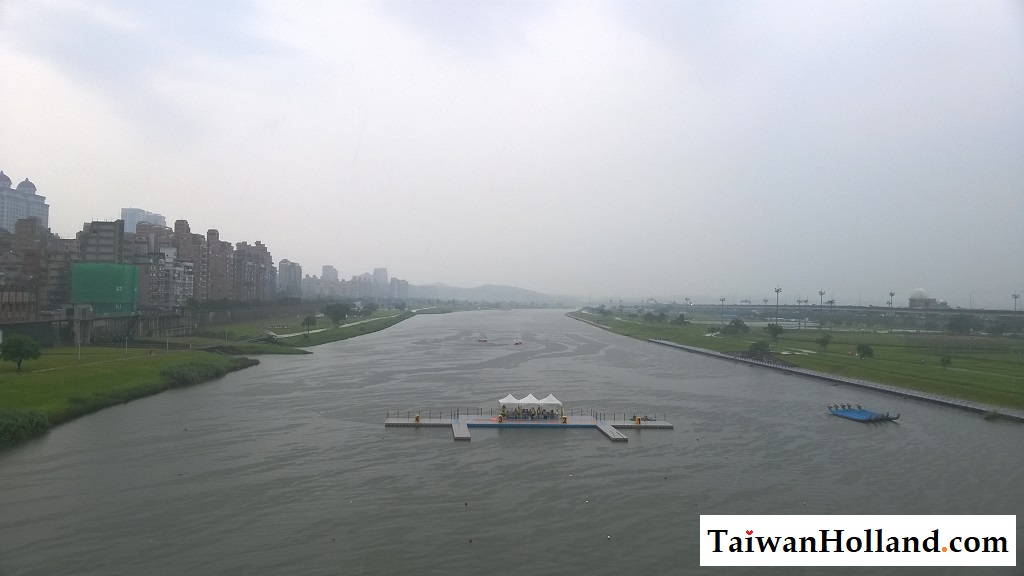 Special about the Taipei dragon boat races are that they are still held using traditional wooden boats. While other competitions use modern rowing boats. Also you win by catching a flag at the finish and not by crossing the finish line. Traditionally a food called Zongzi a kind of sticky rice with filling wrapped in bamboo leaves is eaten.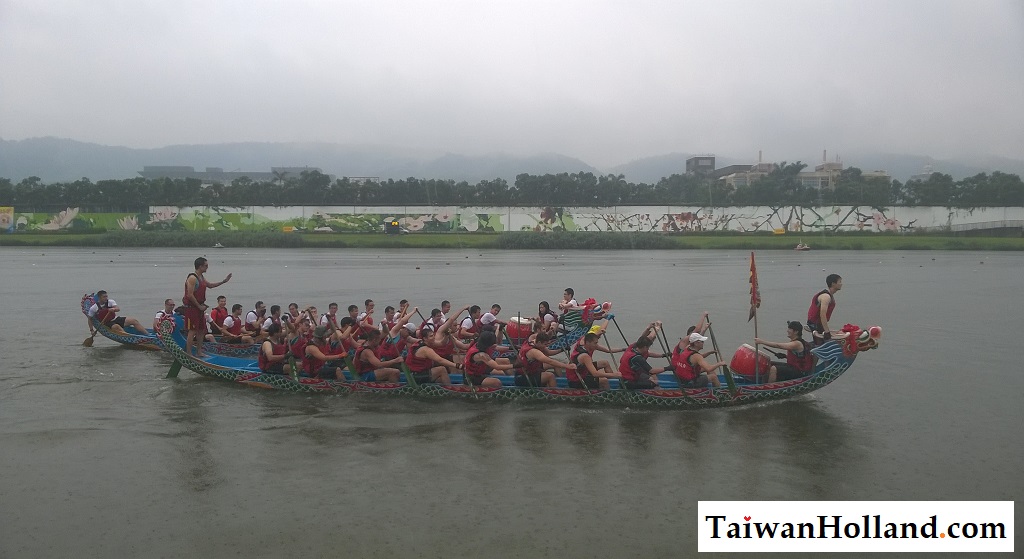 Popular foods and drinks in Taiwan
Taiwanese love to eat and drink and are very careful at choosing their food. This is why Taipei has a lot of good local restaurants and coffee shops. I try to highlight some of the foods and drinks you should try.
What is Bubble tea?
Bubble tea is the national drink of Taiwan and in almost every block in Taipei you'll find a bubble tea shop selling a wide range of varieties of bubble tea. It is iced tea with tapioca pearl and very delicious on a hot summer day. If you want to know more about bubble tea here I wrote an article about it.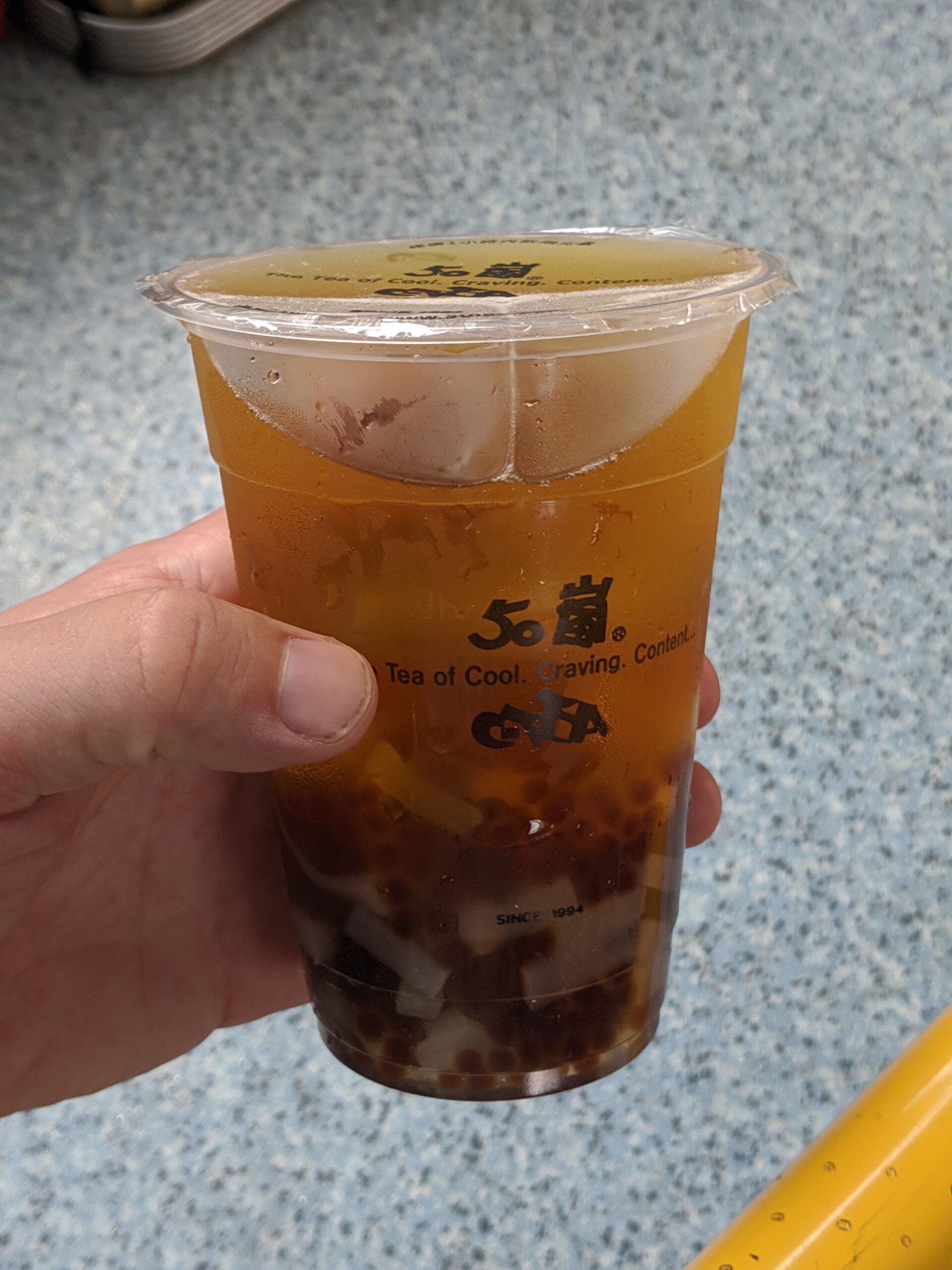 Nightmarkets in Taiwan
For snacks and to try several small foods I would suggest to visit a Taiwan night market. Almost every city has one or more of these night markets where food, drinks and goods are sold. When it gets dark until night time these markets will be busy full of people trying to buy something to eat or just to meet up with friends and have fun.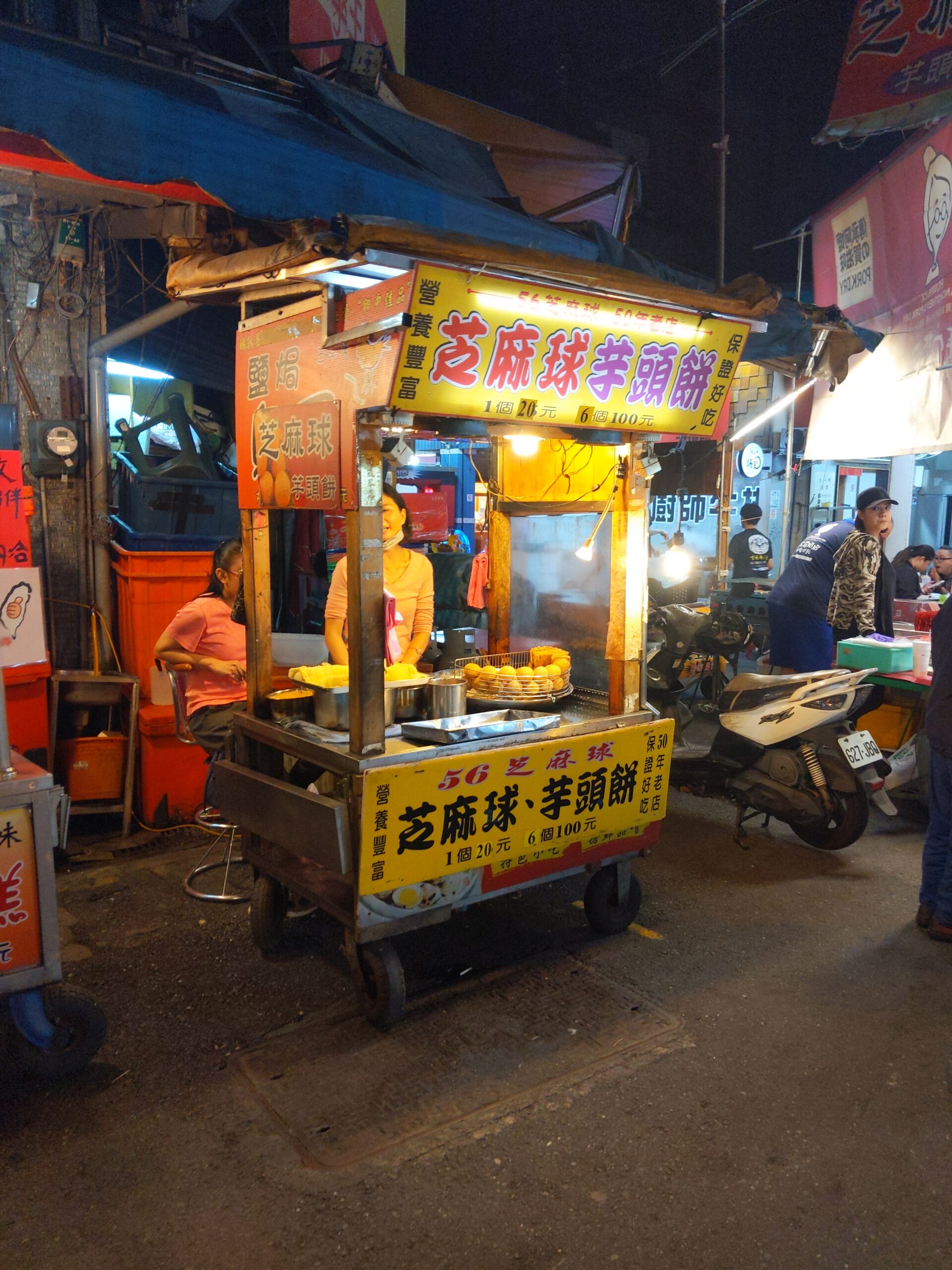 Which snacks should you try at a Taiwan night market?
Below a list of snacks and foods I created which you should try when you go to a Taiwan night market.
Fried Taro balls
anything fried!
Stinky tofu
Oyster omelet
pork bun
Lu rou fan (pork rice)
scallion pancake
Stinky tofu
Stinky Tofu? That doesn't sound very delicious does it? Infamous because the smell but the taste isn't actually that bad. Do you dare and try this dish at a local night market? I would suggest to try and you find out it is quite tasty!
Oyster omelet
Oysters, omelet, tapioca and green onion, all covered with sweet sauce. This dish is very delicious and you should try it if you have the chance.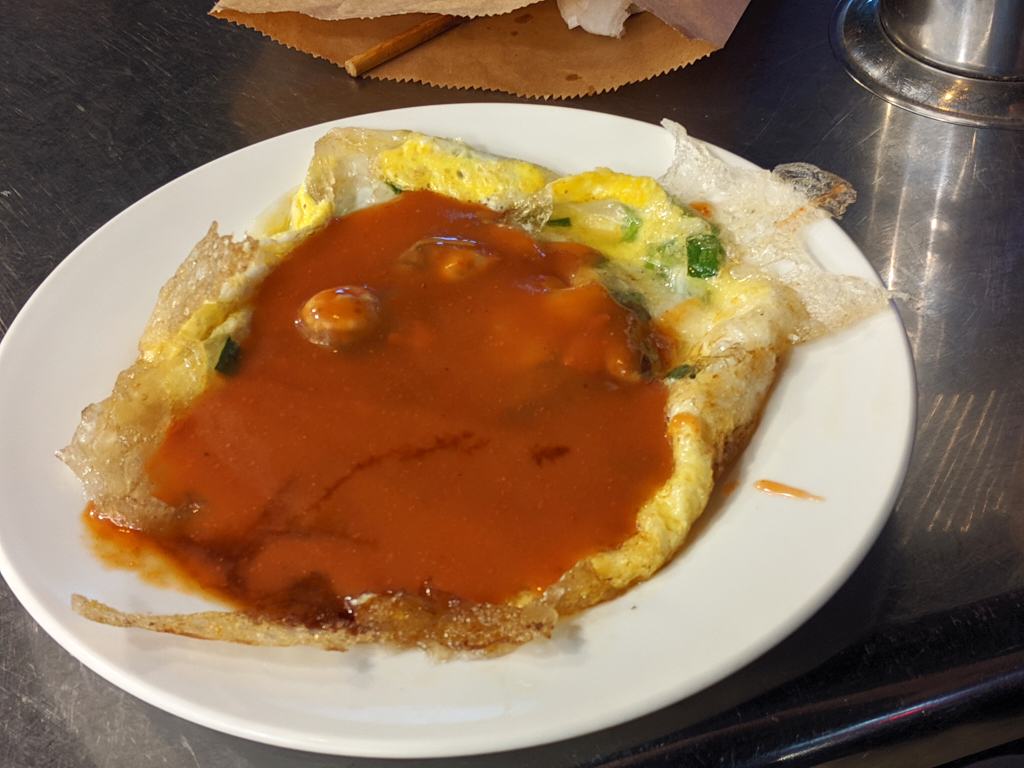 Where are Taipei night markets?
Shilin Night market is the biggest night market in Taipei. However there are more night markets spread over the city. Below a list of the Taipei night markets and their location is shown:
Shilin night market
Shi lin hou gang night market
Sanhe night market
Ningxia night market
Ximending night market
Xichang night market
Guangzhou street night market
Liaoning street night market
Raohe night market
Gongiuan night market
Jingmei nightmarket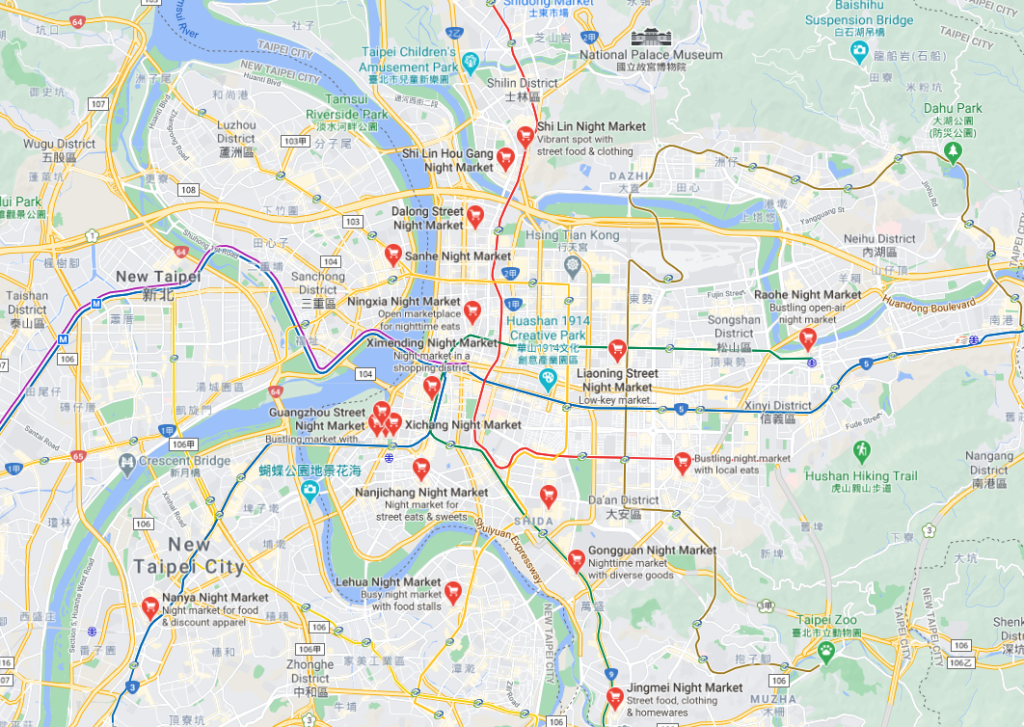 Must try restaurants in Taiwan
There are many good restaurants and dishes you should try on your trip to Taiwan. Some of the most famous:
Beef noodle soup
This soup with beef broth, thick noodles, beef and vegetables is a very famous dish of Taiwan.
Located at the top floor of Taipei main station there are many beef noodle soup restaurants all claiming to win a lot of prices and competing to be the best beef noodle soup restaurant. I don't really care which is the best…all I know is that if I crave for a good beef noodle soup I should go to Taipei main station!
Din Tai Fung
Din tai Fung is a restaurant brand which is famous for its dumplings, in Chinese called xiaolongbao. The restaurant sells a variety of small dishes which you can order in several rounds. Hot tea is served to complement the dishes for free. Interesting about this restaurant is that that there are windows to the kitchen so you can see the staff making the dumplings. A quick tip: If you plan to go to Din Tai Fung near the Taipei 101 tower. Sometimes this restaurant is so popular waiting times can be up to 3 hours! So pick up a ticket early and while you have to wait have a look in the area.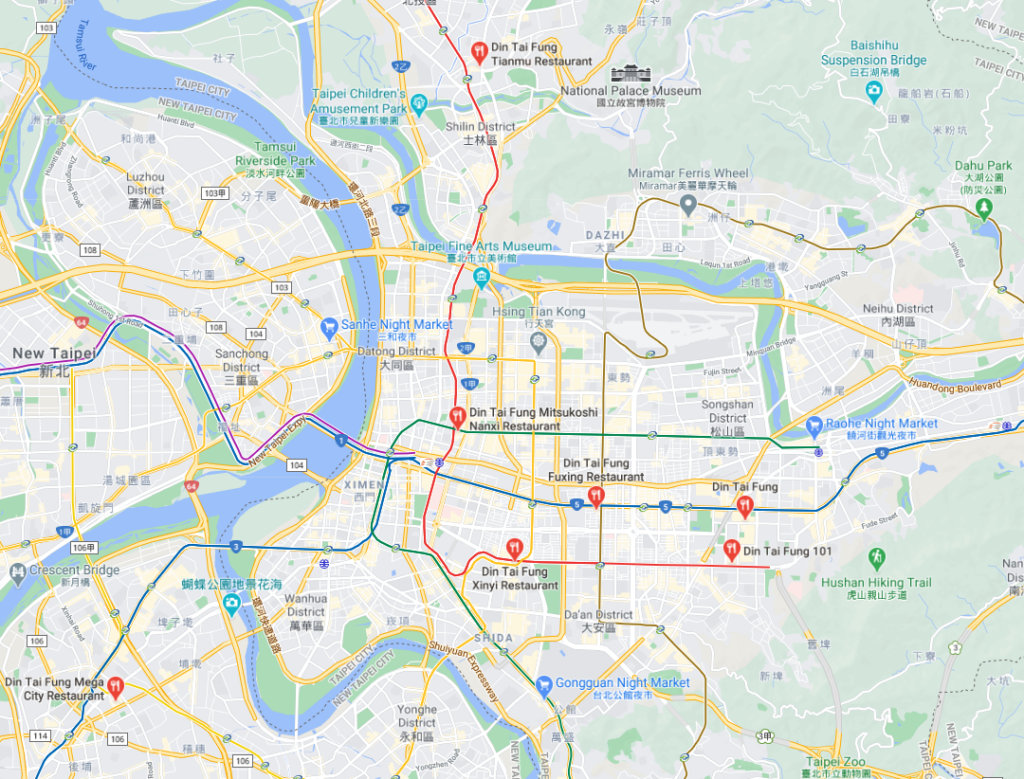 What are hot pot restaurants?
Another favorite of place to have dinner are hot pot restaurants. Basically you get to choose which soup broth you want and which meat (often pork or beef). Then you get a bowl of vegetables which you can cook in the soup base until it is ready to eat. I love it because it is simple, it is fun and it is delicious. Especially when outside the weather is cold. This is a very good dish!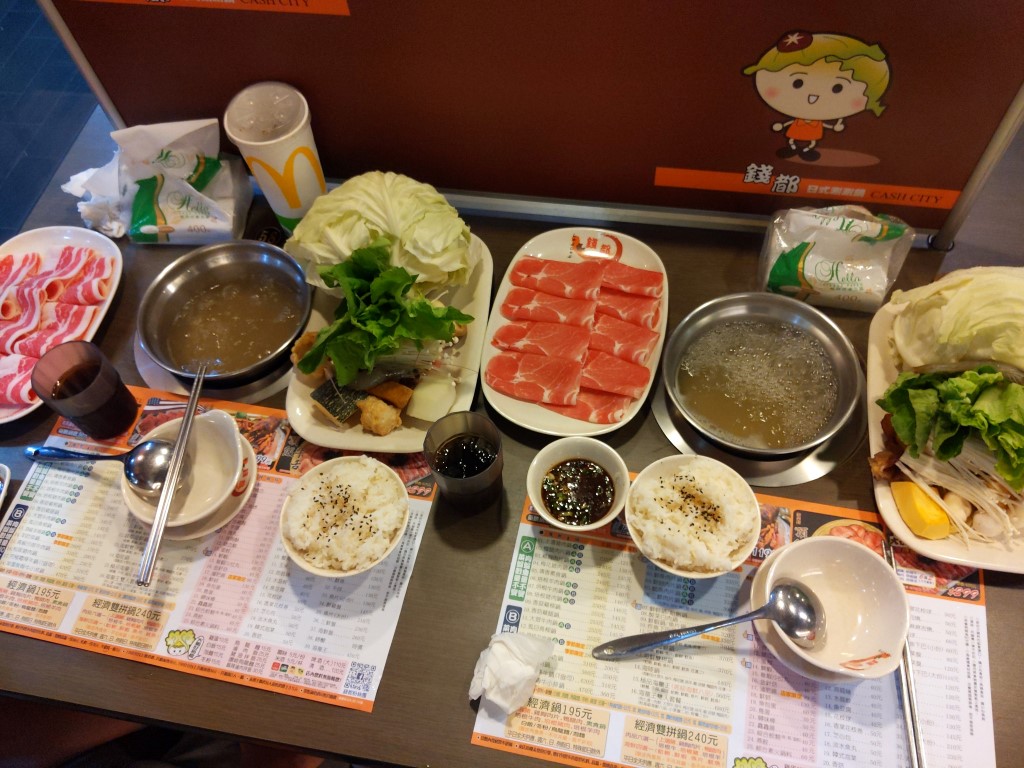 What is the best hot pot restaurant in Taipei?
If you want an awesome hotpot experience I would recommend to go to Haidilao hotpot restaurant (not the photo above). Apart from the great food you also get treated with a show, where a 'face changer' dancing to traditional music while changing masks super quickly. You will certainly have a good experience!
Traveling around Taiwan: Must-see places and attractions
Below I will try to give you some fun and interesting ideas for places to visit when planning a visit to Taiwan.
Taipei
Because most trips start and end at the capital I will highlight some of the popular spots of Taipei.
Taipei 101
Maybe the most famous landmark of Taiwan. Taipei 101 is currently the 8th largest tower in the world. It has a very distinct shape, depicting a growing Bamboo plant. It has 101 floors hence its name. Around the 90th floor is an observation deck where you can have a magnificent 360 degree view of Taipei. in and around Taipei101 is a shopping mall with luxury items. Also nearby are many shops and restaurants. This area is, especially in the evening, when bright colored lights light up the Taipei101 a very vibrant place where many locals come and enjoy.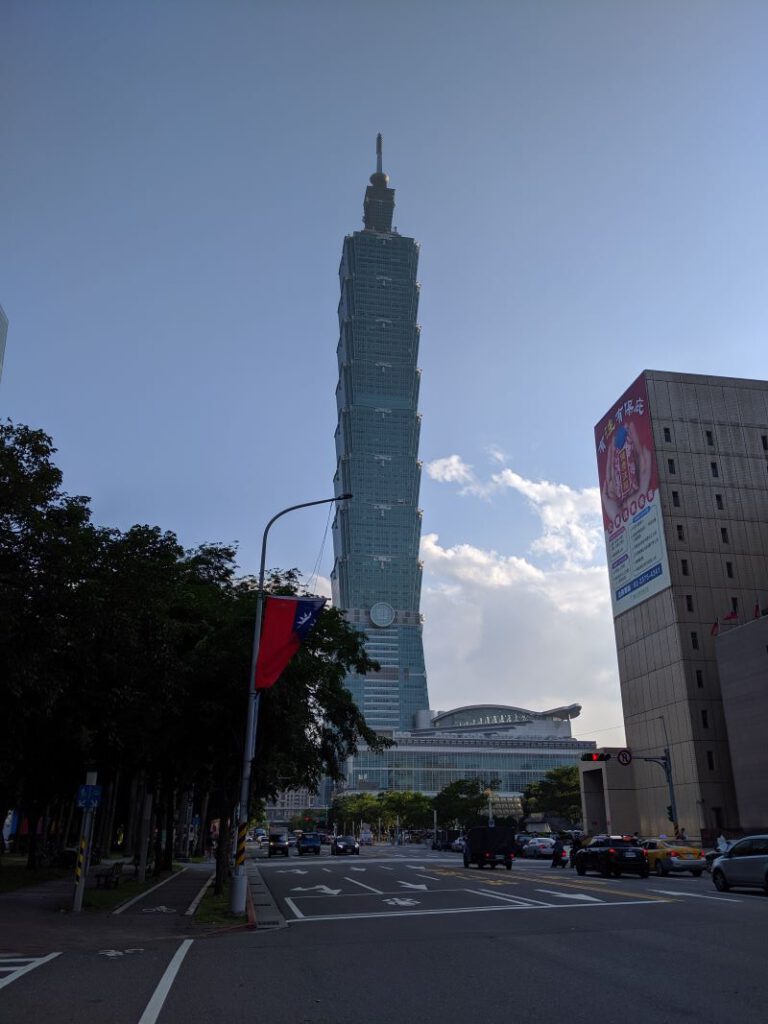 National Palace museum
The national palace museum is where all the important historical items of Republic of China (Taiwan) are displayed. This includes some of finest objects from Song dynasty -Qing dynasty (10th – 19th century). Since a couple of years also a southern branch of the national palace museum is opened in Taibao City which even shows more of the collection!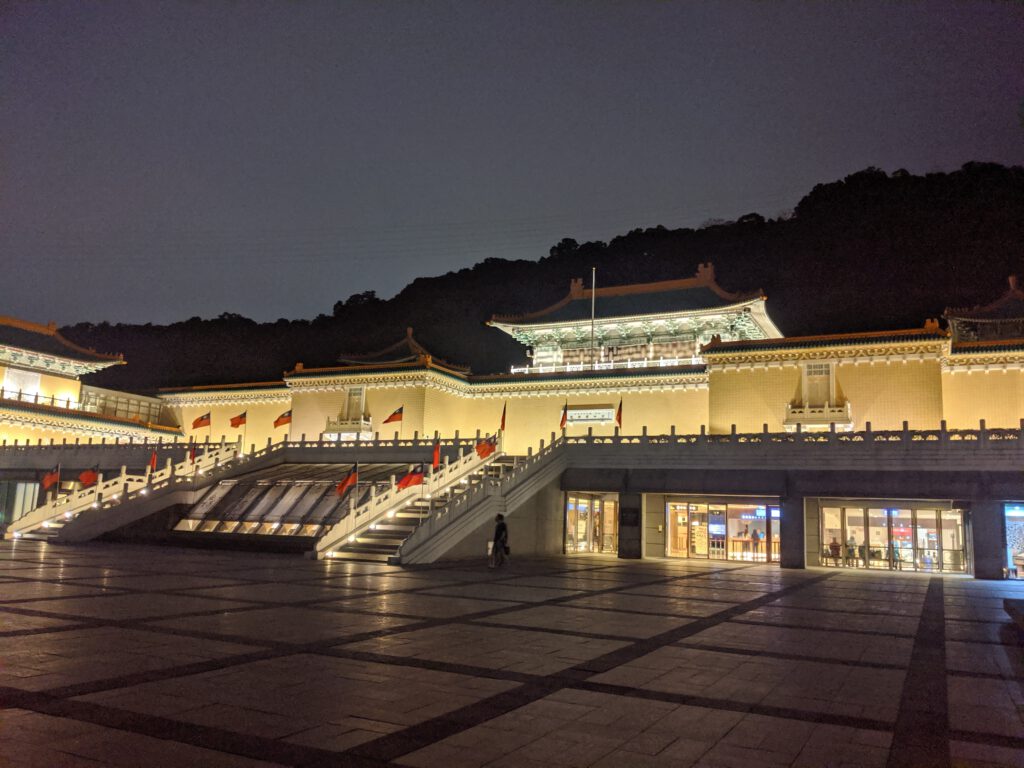 Shang Kai Shek memorial
Shang Kai Shek Memorial hall is built to in honor of the nationalist leader. You enter the area through a big gate, when you enter you will see a plaza in front of you. With on both sides of the gate the national theater and the national concert hall. flanked at both sides of the plaza are parks with ponds, grass and flowers. In front of you, you will see the memorial hall where a huge statue of a Sitting Shang Kai Shek is situated. Guards from the army in white army clothes are guarding the statue. Underneath the statue on de lower levels is a museum about his life and the founding of the Republic of china. Also an art gallery and museum shop are down there.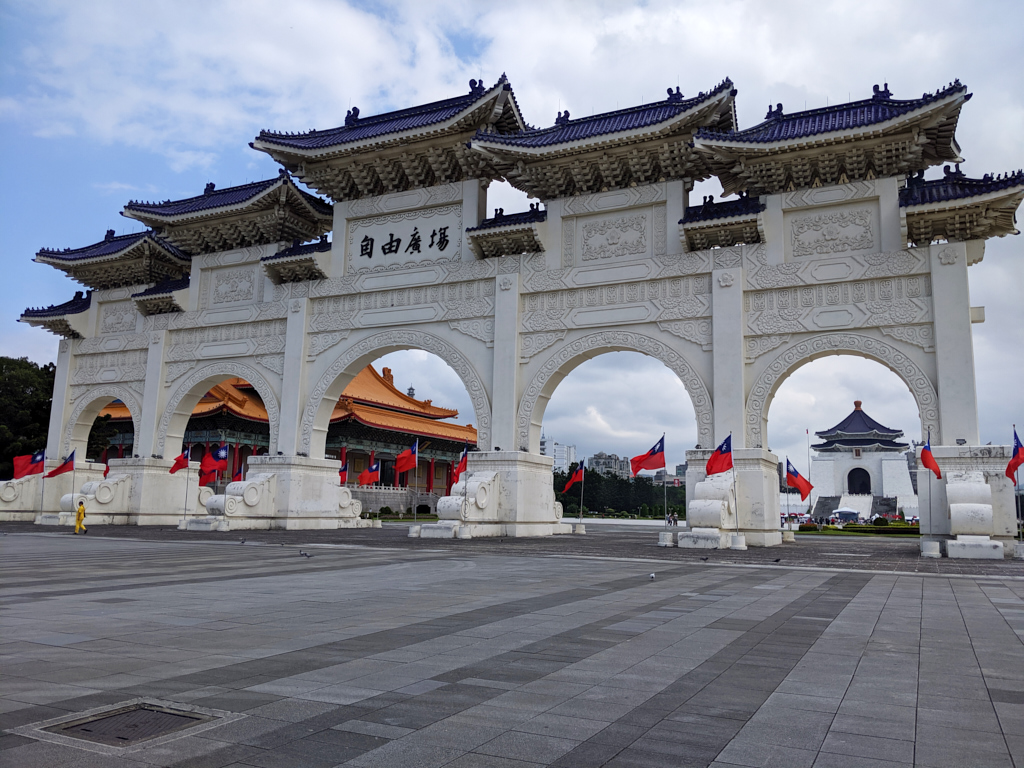 Longshan Temple
Taiwan has many temples. In the middle of Taipei Longshan temple is situated, which is one of the oldest Temples in Taiwan. Longshan temple which translates to dragon mountain temple has many beautiful sculptures and wooden carving of dragons. The complex consists of several areas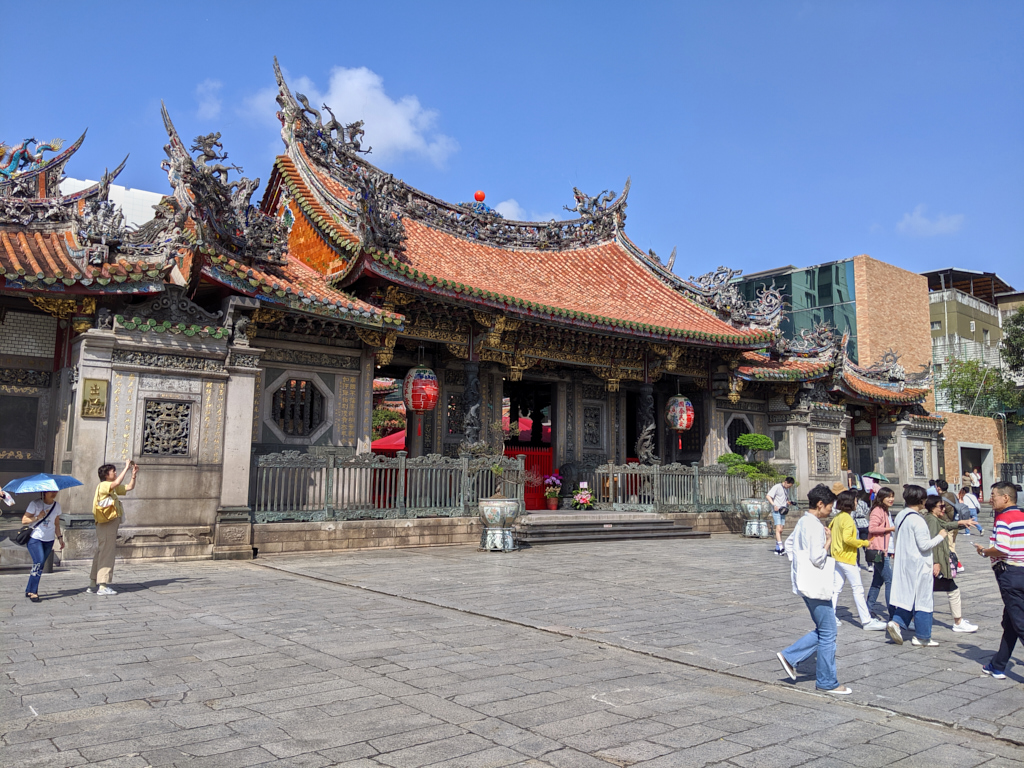 Taiwan hot springs
Taiwan as an island has several dormant Volcanos. Yangmingshan is one of them due to this there are several hot springs with warm water of around 37~40 degree Celsius. The water also very sulfuric and has a high percentage of iron oxide. Long time ago the local Ketagalan aboriginal community called the hot springs places of "patauw" (translated to places of sorceress) as they believed witches lived there. However in 1896 the first hot spring hotel was opened in the Beitou area north of Taipei by a Japanese merchant. Since then many hot springs hotels have opened.
There are basically 4 different choices if you want to go to a hot spring:
Hot spring hotels
Depending the hot spring hotel you choose they either have a public or a small private hot spring bath inside the hotel which you can enjoy.
Natural hot springs Taipei
Yangmingshan also has several natural hot springs, these are natural areas with geothermal activity (It is not possible to swim here). You can see smoke coming from between the rocks and the air smells like rotten eggs from the sulfur. click here to read how to get there
Public hot springs
It is also possible to go to public hot springs like for example Xinbeitou Hot Springs if you don't want to book a room in a hotel. If you dont mind share the space at these public hot springs you can enjoy the hot water for a small fee. There are plenty of them, check the rules regarding clothing beforehand.
Beitou hot spring museum
If you are more interested in the history of the area then the Beitou hot spring museum is your place to go. You can learn everything you want about hot springs. And it has some amazing Traditional Japanese rooms.
Tip: next to the Beitou hot spring museum is the Beito library. This library is built using eco friendly building techniques and looks stunning In 2012 Beito library is chosen by Flavorwire.com as one "the world's 25 most beautiful public libraries."