15 of the most popular and famous temples in Taiwan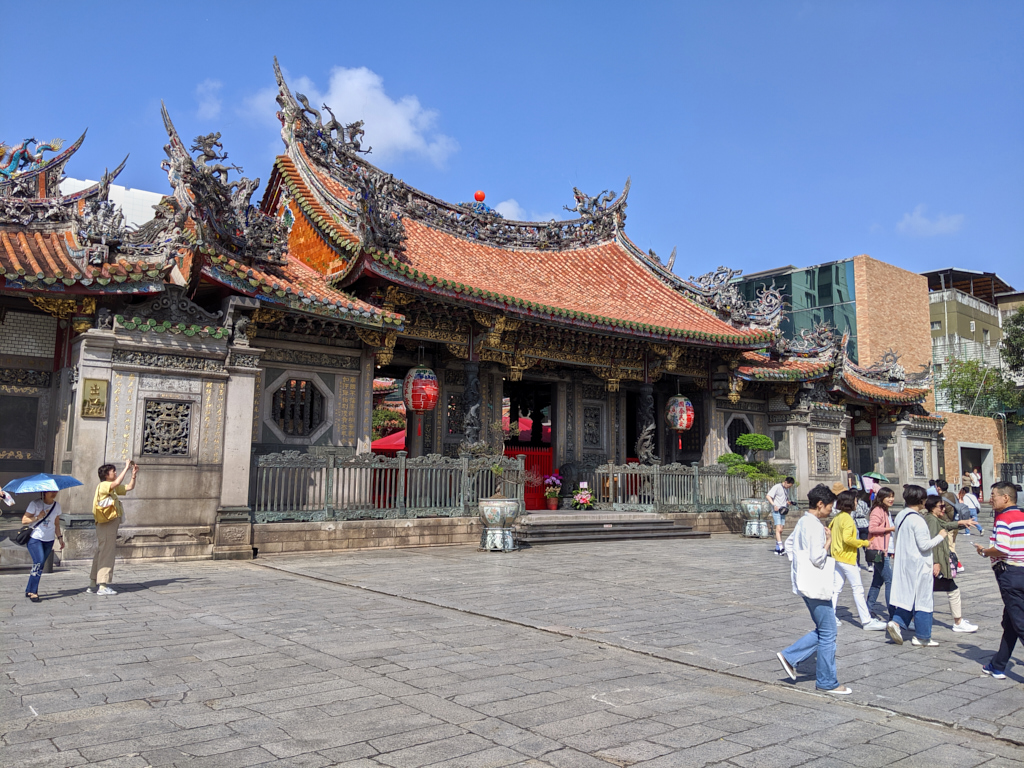 Religion is deeply embedded in the roots of Taiwan. Taiwan is southeast asia's most densily built countries with many temples and places of worship. In total Taiwan has almost 15,000 temples which is about one building every square km!
I would like to show you a list of the most popular temples in Taiwan. If you happen to travel around Taiwan or travel to one of the cities mentions maybe you can go for a look!
1. Nankunshen Daitianfu Temple, (南鯤鯓代天府)
Daitanfu temple is located in the city of Tainan. Actually it are two temples. The story goes that borh Wufu Qiansui and Wanshan Ye wanted to build a tempel at this location. Instead of fighting over the land the Goddess of Mercy mediated and suggested to build two temples here for the local people. The temple was built in 1871 and is the largest and oldest Wangye temple in Taiwan.
The Temple is famous for its Wang Ye festival which is held every year on April 26 and 27th. (lunar calender)
City: Tainan
Estimated yearly visitors: 9,796,600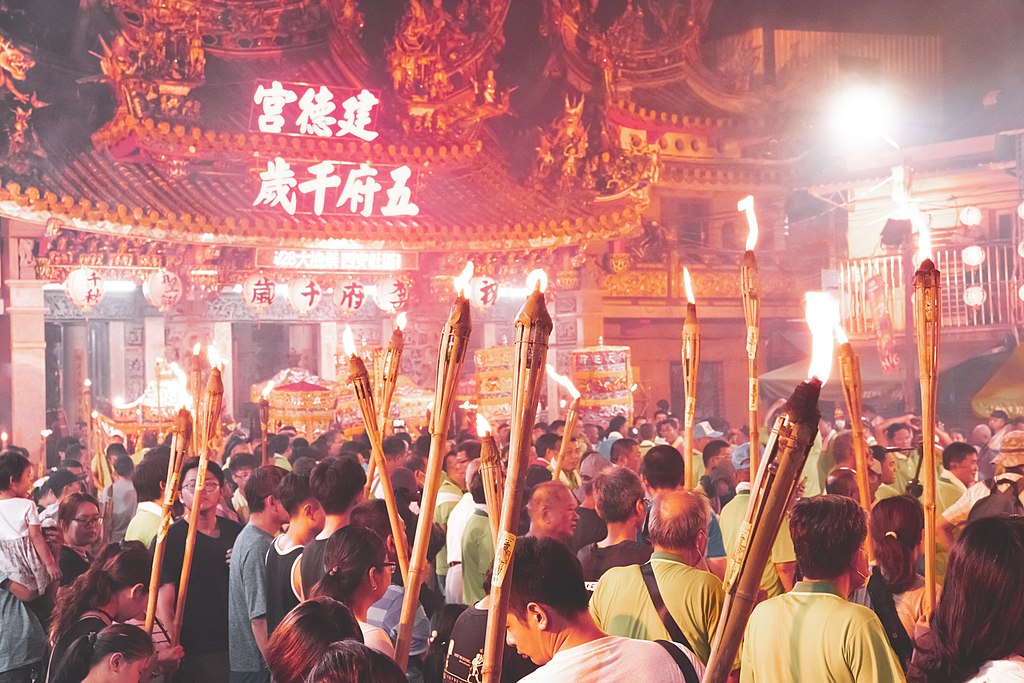 [1] Image credit
2. Bei Gang Chao Tian Temple (北港朝天宮)
This temple was built in 1694 and thus is over 325 years old! The Bei Gang Chao Tian temple is the main temple to worshipp the goddes of Mazu. All year many people come to the temple to worship the god. The greatest festival is during CHinese lunar New year when its the birthday of Mazu (March 23rd). Parades and many activities and Chinese music are held to commemorate the goddes Mazu.
City: Beigang
Estimated yearly visitors: 6,778,700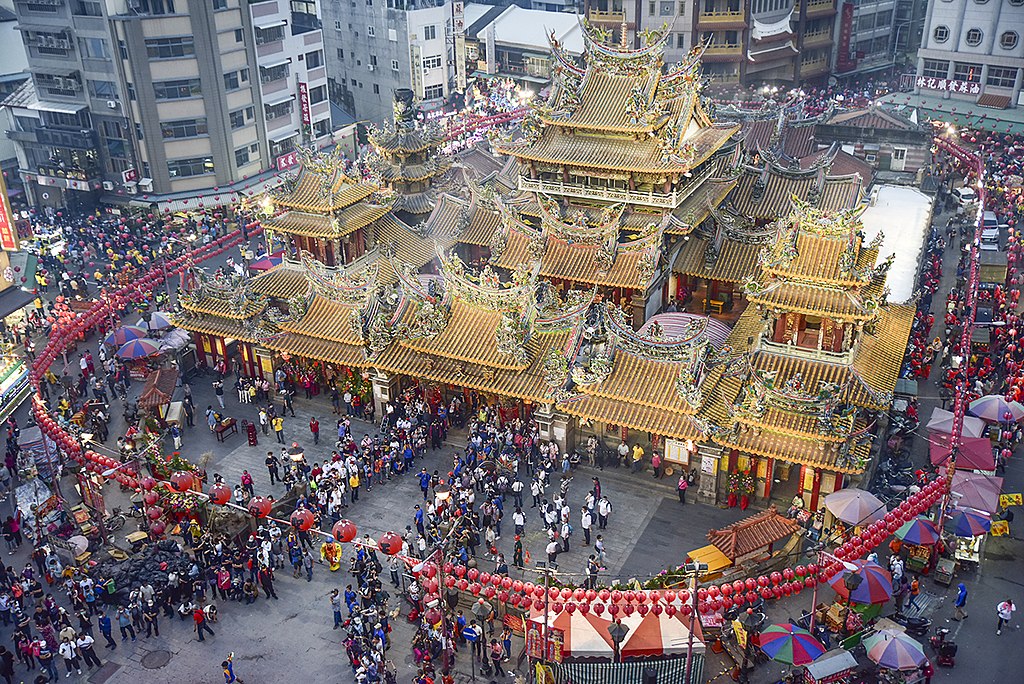 [2] Image credit
3. Lukang Longshan Temple
Lukang Longshan Temple in Lukang is also reffered to as "the forbidden City" in Taiwan. Lukang is an important Historic town in Taiwan and has many old houses, old streets and temples.
The Temple has beautiful and elaborate wood carvings. Once you enter there is the central building with in front of it a small plaza with a large incense bowl. You can see it is one of the older temples in Taiwan as it has many historical artifacts. Lukang and the Lukang Longshan temple are truly well worth a visit.
City: Lukang
Estimated yearly visitors: 1,938,300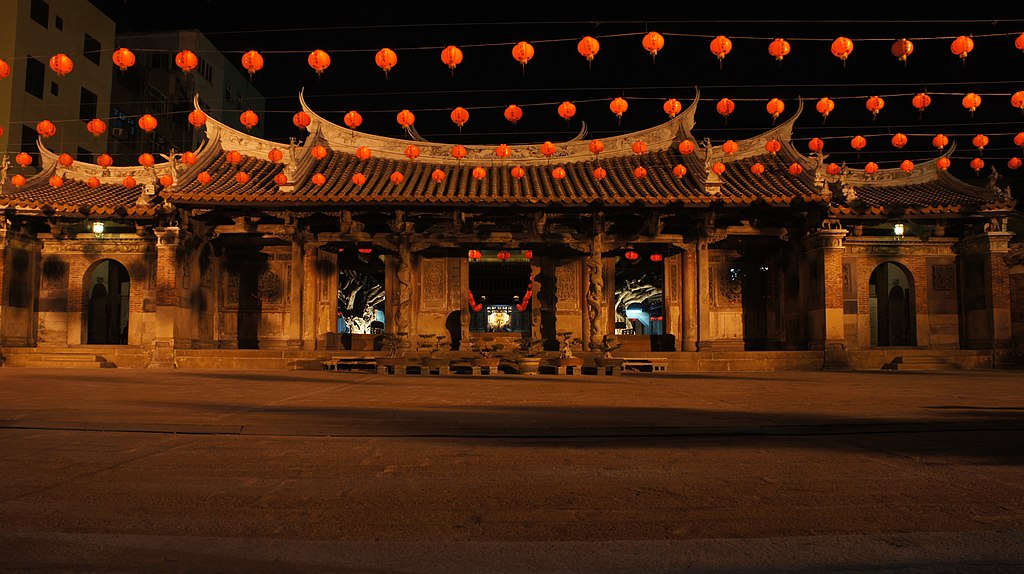 [3] Image credit
4. Fo Guang Shan Monastery
Northeast of Kaoshiung city, just next to the Gaoping River you will find the Buddhist center of South Taiwan. At this amazing place you will find a golden buddha Statue of about 108 meters!
Also the Main square has 480 standing Buddha's while around 10,000 statues surround the place. There are four large Temples where the gods can be worshipped. There is the main hall with holy relics but also a museum and exhibition hall which can be visited.
The size of the complex is really stunning and its very worth while visiting the place.
During Lunar new Year until the Lanter festival the hillside is coverd with Lanterns which is extra beautifull.
City: Kaohsiung
Estimated yearly visitors: 1,930,135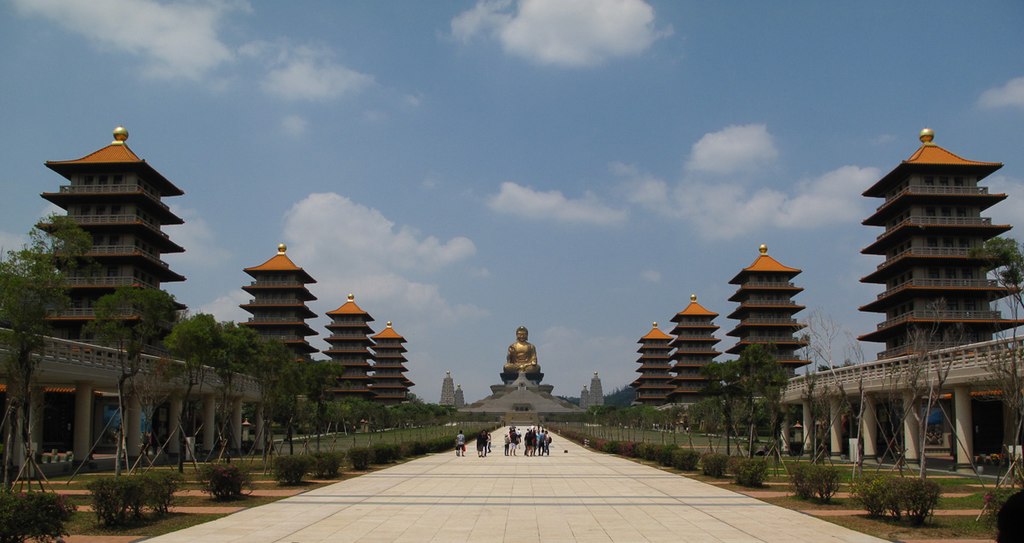 [4] Image credit
5. Madou Daitian Temple
Madou Diatian Temple is a Wangye Temple. The temple was first built in the 17th century. Since then due to earthquake the temple has been moved and rebuilt several times.
Part of the building has a traditional Quanzhou building style and the roof gas beautifull paintings on it. When you go there you see that the Temple garden has a huge Chinese dragon of about 76 meters long and 7 meter tall in which you can enter. Also the round shape of the main shrine is quite interesting and not something I've seen in Taiwan before.
City: Tainan
Estimated yearly visitors: 1,170,842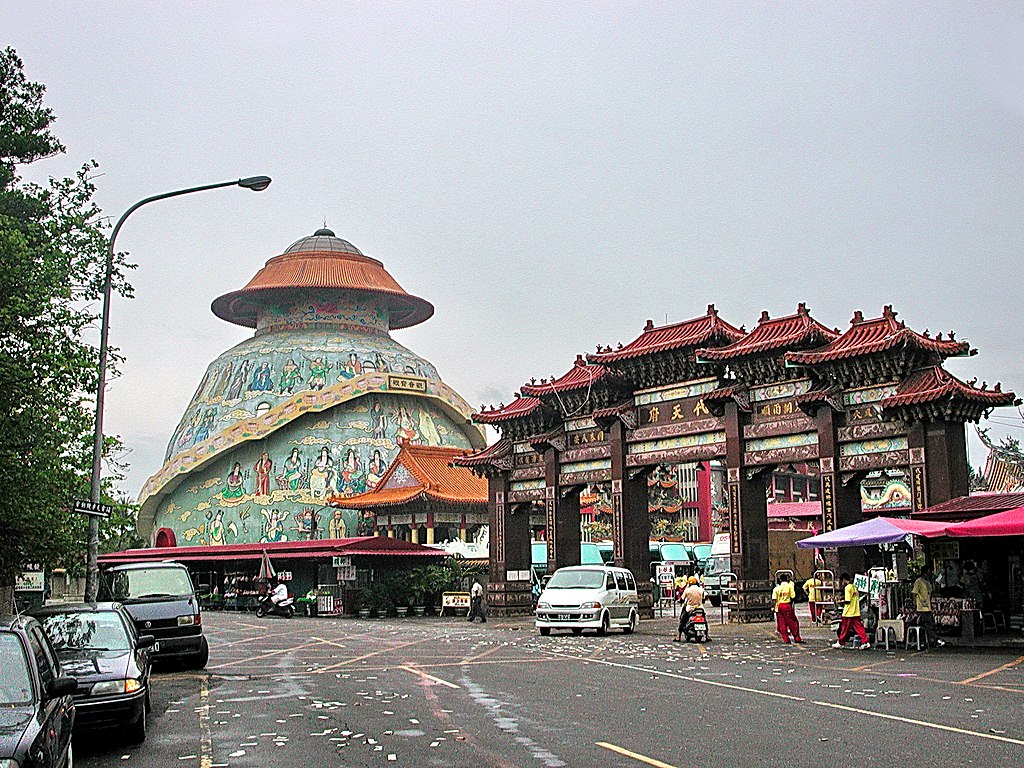 [5] Image credit
6. Chung Tai Chan Monastery
Chung Tai Chan Monastery lies in the city of Puli in Nantou county. It is a modern Monastery built between 1990 and completed in 2001. It is a religious center of Buddhism.
Many tourist come here to see the building architecture mainly because it is designed by famous architect Li Tsu Yuan (who also designed the Taipei 101). Definitely some aspects of the his designs can be seen and it has both a modern eastern and western look.
Especially during night time when the building is lighted with lights it gives an amazing view.
City: Puli
Estimated yearly visitors: 1,007,939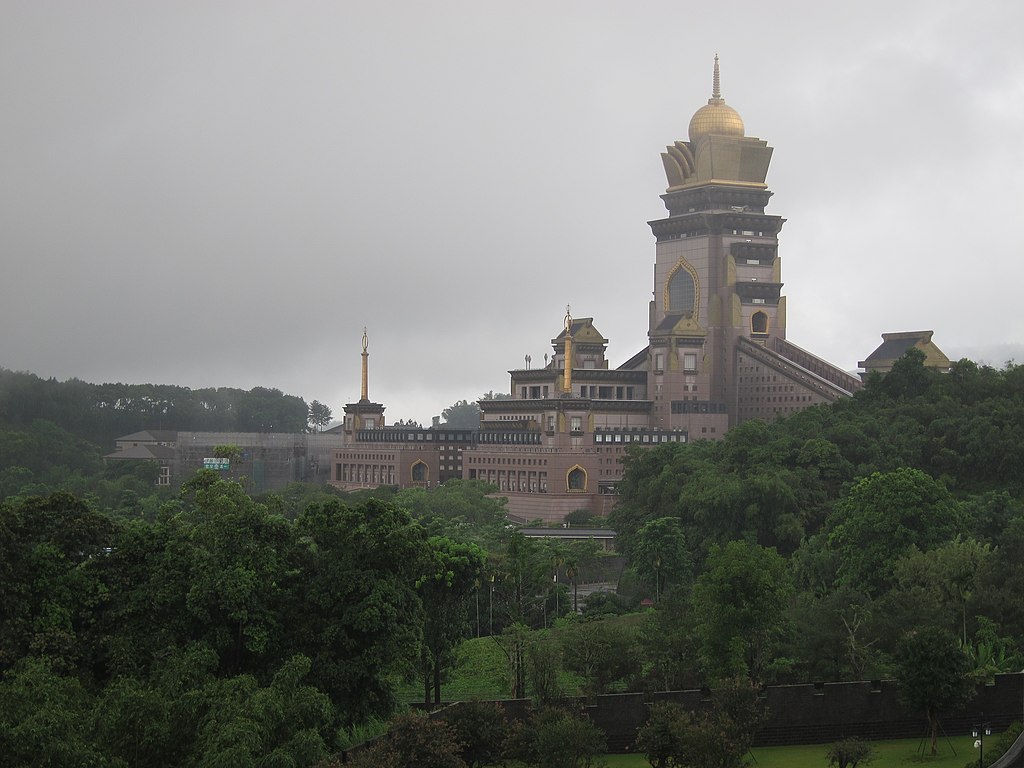 [6] Image credit
7. Dajia Jenn Lann Temple
Around 1730 the Fukien province mr.Lin founded a little temple on this location. Later between 1770-1780 the temple was rebuilt and slowly it grew larger and larger until it became the Dajia Jenn Lann Temple as it is right now.
The Temple is mainly dedicated to the god Mazu and has several small plazas and beautiful wood carvings and sculptures.
City: Taichung city
Estimated yearly visitors: 923,900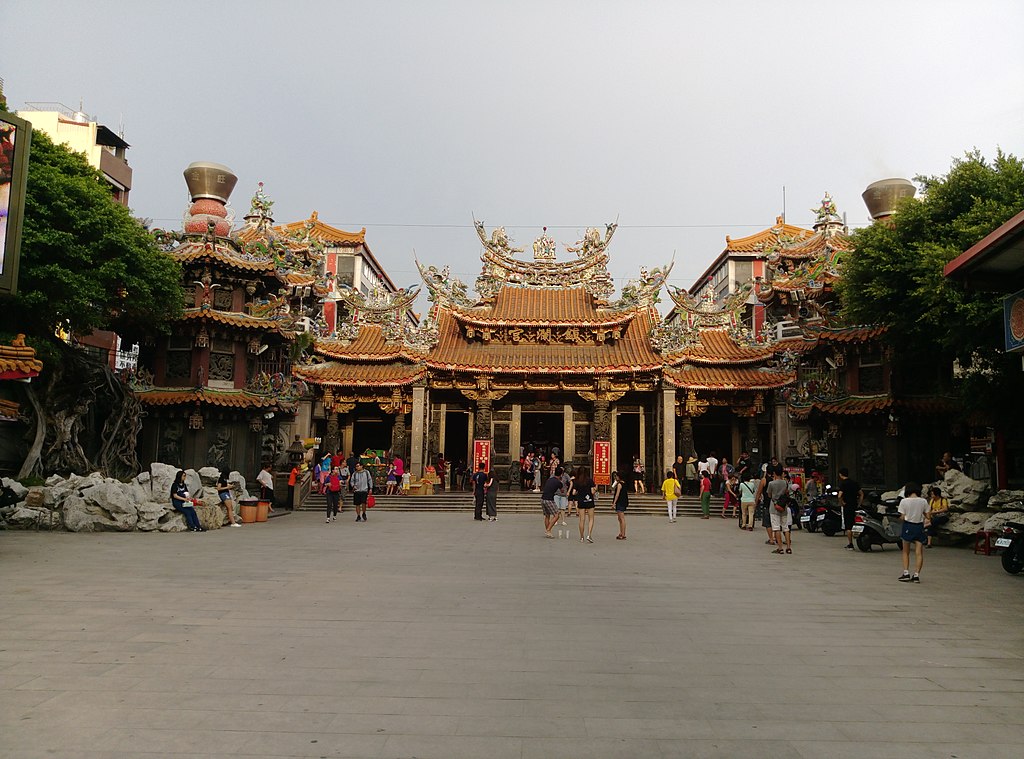 [7] Image credit
8. God of War Temple
The exact date of which this Temple was built is unknown but it probably is somewhere mid 17th (some say 1665) century during the Ming Dynasty rule.
In this Temple the God of War (Guandi or Guangon) is worshipped. This god is said to have been a general and is worshipped for his loyalty and its said he was good at managing finances too. Many businessmen pray to him as god of Commerce too.
Also the God of Marriage, Yue Lao can be worshipped here. It is no wonder that many visitors come here to pray.
Together with the Confucius temple it is known to be the best-preserved temples in Taiwan.
City: Tainan
Estimated yearly visitors: 465,728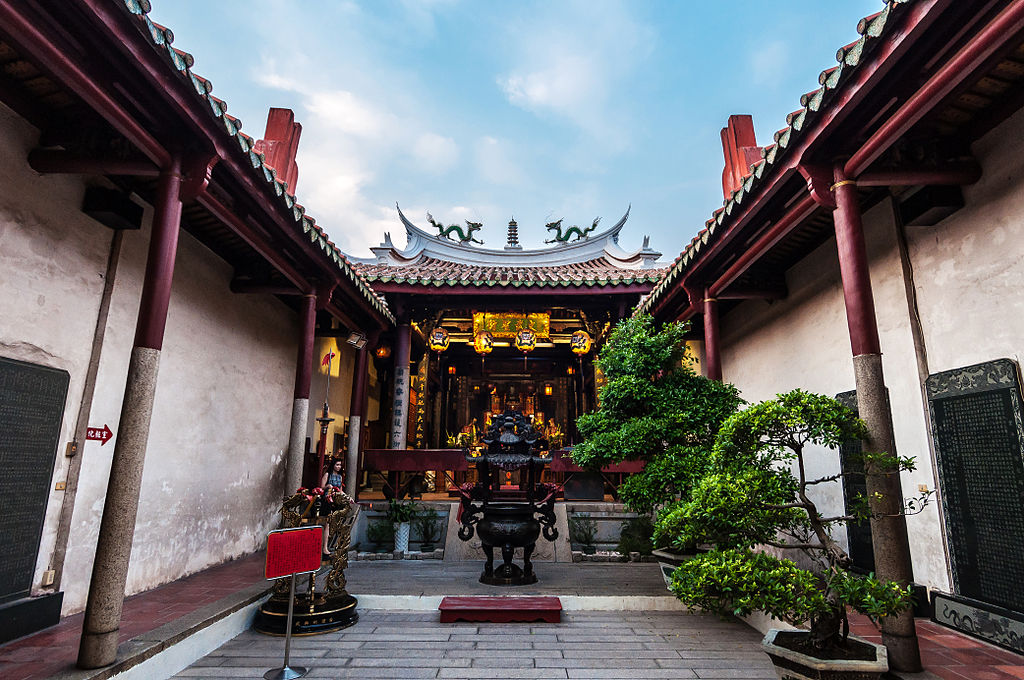 [8] Image credit
9. Taipei Confucius Temple
As the name says the Taipei confucius temple honors the philosopher Confucius. It is a fairly simple temple and does not have the elaborate carvings and sculpures most temples have. The reason lies in history. Following both a 13th and 16th century Emperor who both disliked the lack of uniformity when craftman crafted carvings and images. It was decreed that Confucius temples shall have no images. just memorial tablets. That rule is still enforced until today.
Nevertheless it is very worthwile visiting. The temple lies just north of Dalong street market Dalongdong district, Taipei.
City: Taipei
Estimated yearly visitors: 445,313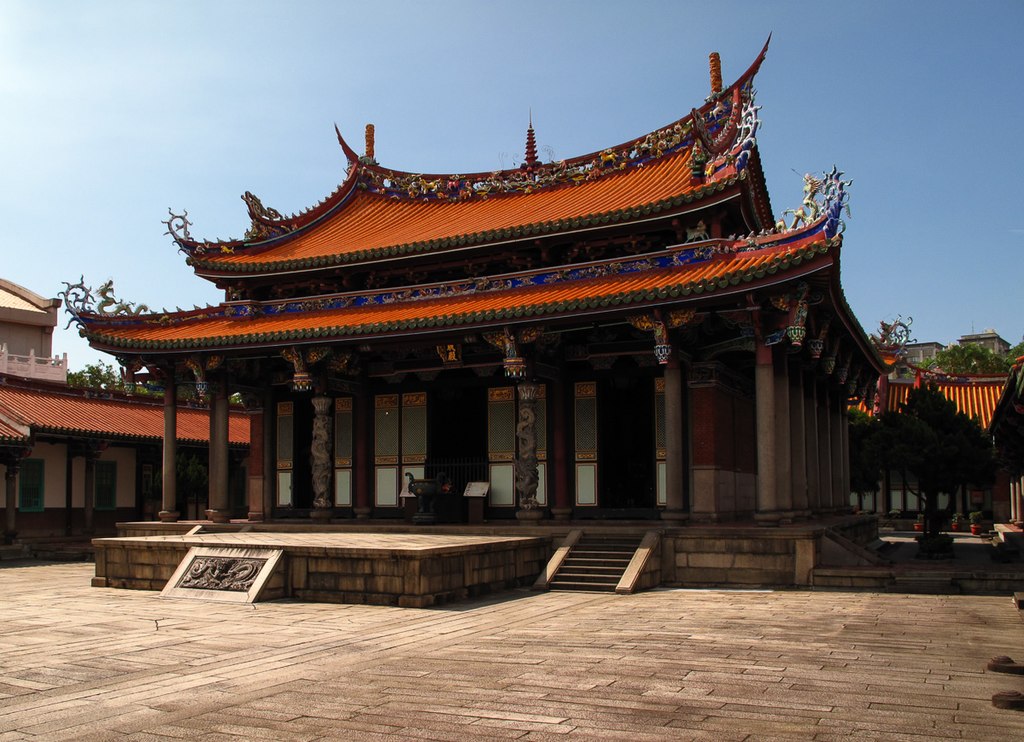 [9] Image credit
10. Wanhe Temple
Another Wanhe religion Temple. The Taichung Wanhe temple also is dedicated to seagoddes Mazu. The temple has 3 halls and two courtyards and is richly ornamented.
Next to this temple lies the Wanhe Cultural building which has a restaurant, small museum, a cultural centre and a library.
City: Taichung
Estimated yearly visitors: 306,180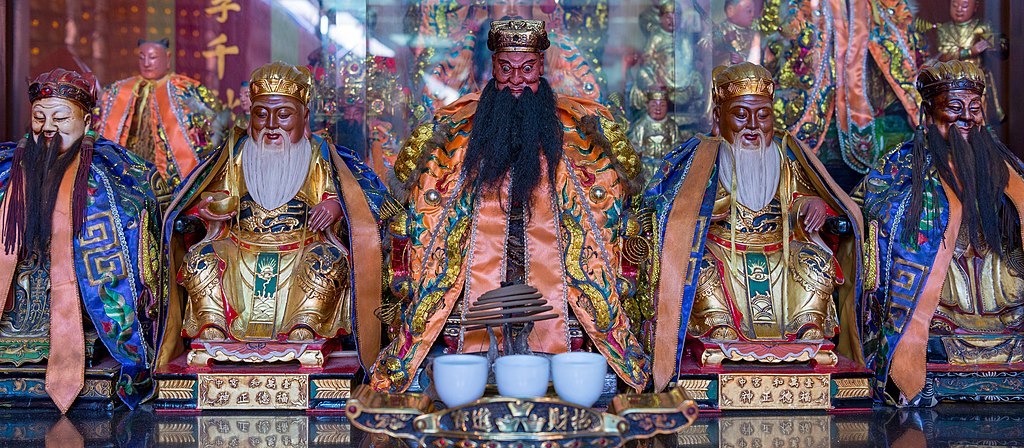 [10] Image credit
11. Hualien Ji-An shinto Temple
Located in Hualien city Ji-An or also called Chi-An Chinghisu Temple is a Japanese style Shinto temple which is built in 1917 during the Japanese colonial times. Being Japanese it is quite different from the regular Taiwanese Temples. Especially popular by Japanese tourist who visit Hualien but also very worthwhile to visit when you roam around Hualien city in combination with a trip to Taroko Gorge.
City: Hualien
Estimated yearly visitors: n/a
website: link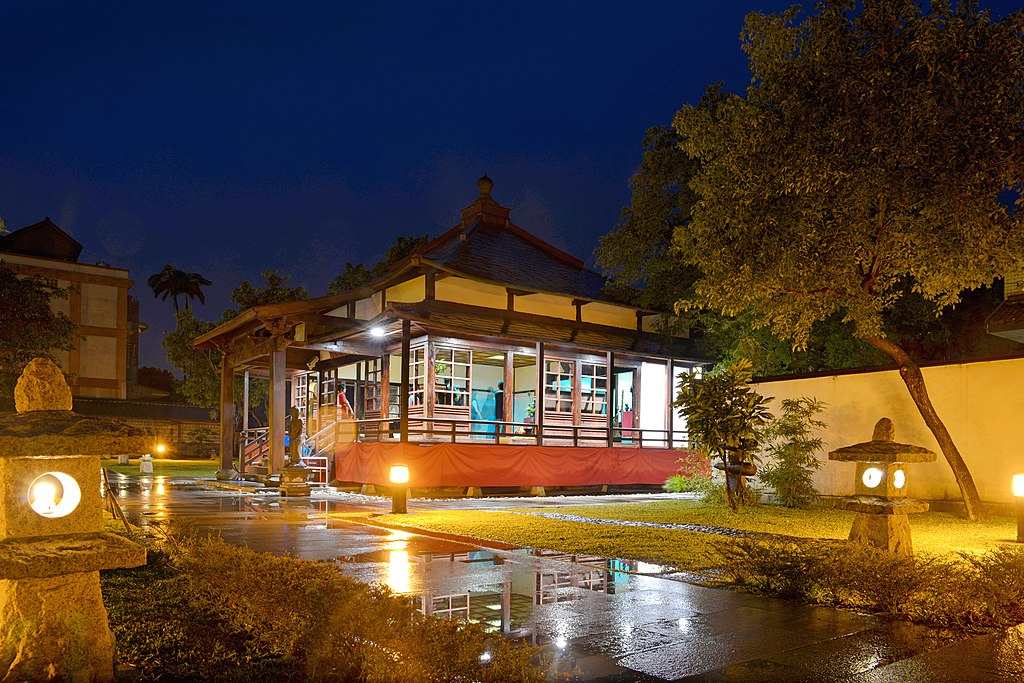 [11] Image credit
12. Sanxia Qingshui Zushi (Divine Ancestor) Temple
Qingshui Zushi Temple originated from 1769 and has a history of destruction and rebuilding. It got destroyed in an earthquake in 1833. When it finally was rebuilt in 1867, just 28 years later in 1895 it was burned down by the Japanese army. After WWII it got rebuilt with the finest carvings and sculptures Taiwanese builders could create.
Sanxia Qingshui Zushi Temple is one of the three major Temples in New Taipei city.
City: New Taipei City
Estimated yearly visitors: n/a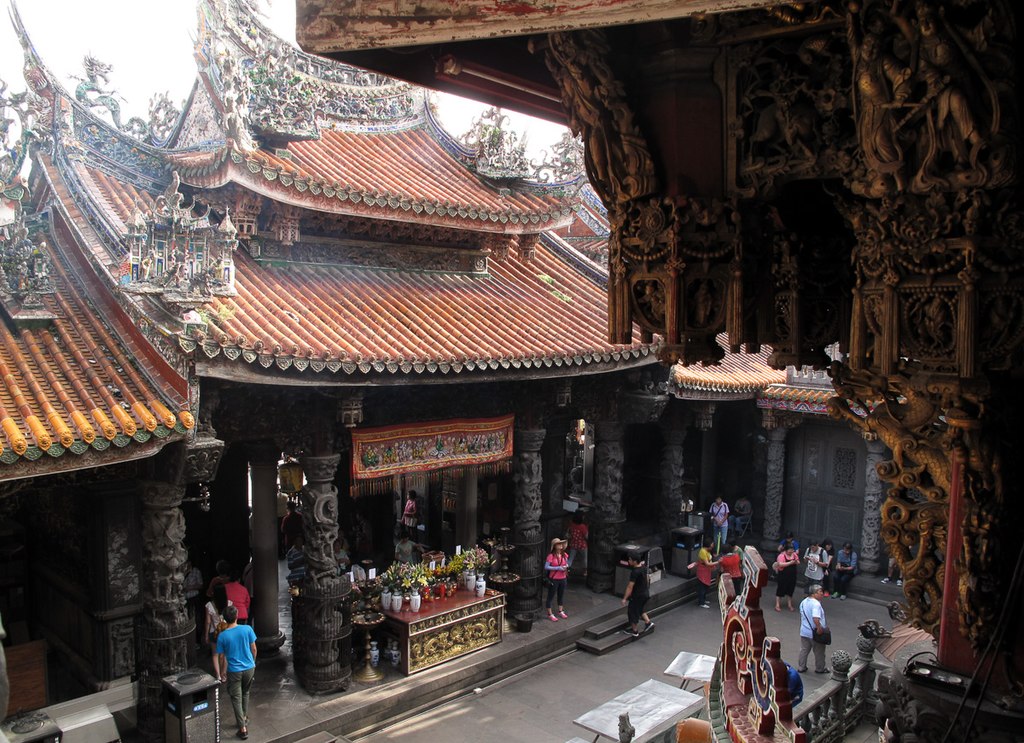 [12] Image credit
13. Lungshan Temple, Taipei City
Lungshan Temple is the famous temple in Wanxua district of Taipei city. The temple was built in 1740 during Qing Dynasty rule. It has both an innter square as well as a small plaza with flowers and a waterpiece in front of the entrance. Many beautifull carvings and sculptures can be found in and around the temple.
It is not only a temple, also a tourist place and sightseeing attraction. But please take in mind people are also praying when you visit this temple so treat it with respect.
Closeby you can find also several interesting traditional markets and places: the huaxi Street nightmarket, the Xichang Night Market, Shintomicho Cultural Market and Herb lane.
City: Taipei City
website: Link
Estimated yearly visitors: n/a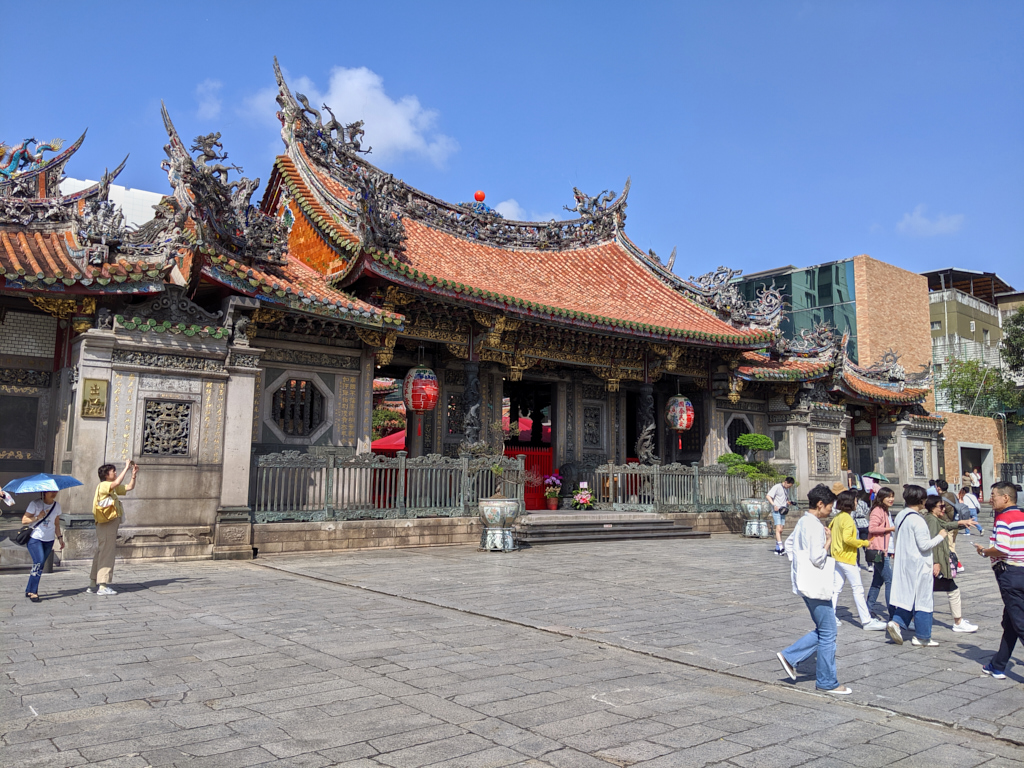 [13] Image credit
14. Kaohsiung Rose Basilica
For me it felt a bit strange to see such a, for me, familiar structure in Taiwan. It is the largest Church in Taiwan. Founded in 1859 by spanish missionaries of the Catholic Church. It is build in European Gothic style with some Roman aspects too. However when going inside you'll see soon that some of the carvings and altar have distinct Chinese features and quality.
City: Kaohsiung City
Estimated yearly visitors: n/a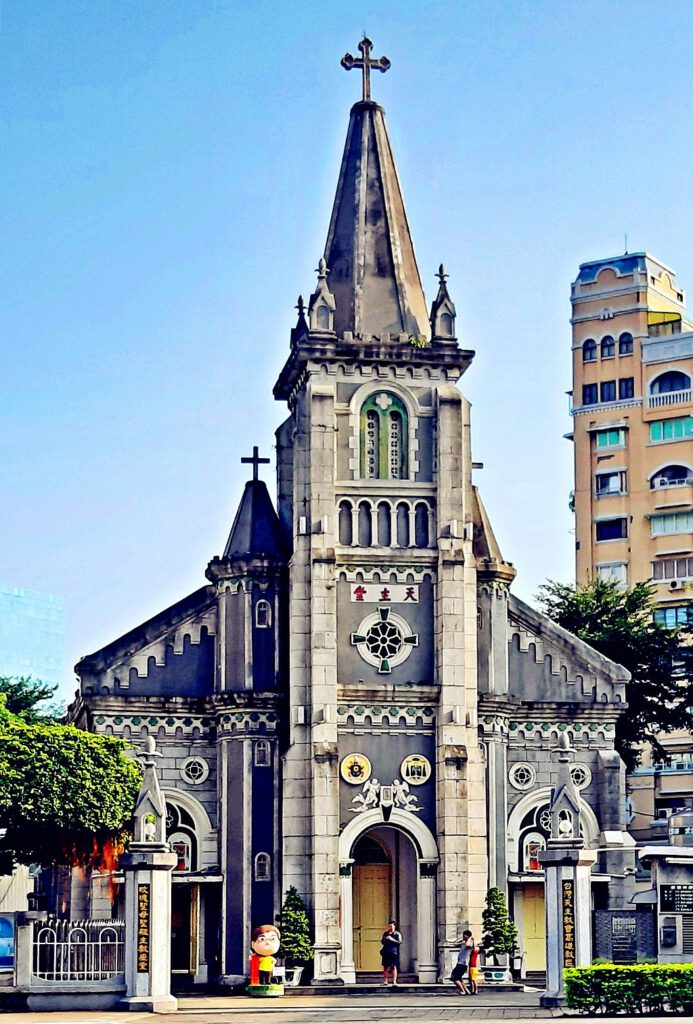 [14] Image credit
15. Bishanyan Kaizhang Shengwang Temple
I dont know how many visitors this temple has but I put it in the list because it is one of my favourite temples in the Taipei Area is the Bishan Temple. Not only because its stunning design and craftmanship but also because the amazing view over the Taipei basin. *especially at sunset*
At Bishan Temple Chen, the Sacred King of the Zhangzhou people together with his generals Li Bo-yao and Ma Ren are worshipped.
Story goes a man from a family emigrated from Zhangzhou to Taiwan placed incense in a rock in a cave in the area for worship and left. Shortly after towns below the mountain were plagued by robberies. But one day, when the robbers were going up the mountian a light suddenly burst out of the cave and sounds of battle drums were heard. The rock split into three: the middle one resembling The Sacred King of Zhangzhou while left and right became his generals. Smaller rocks tubled down the hill and the robbers fled!
Ever since local residence came to the cave to worship. Over time a small temple was built which grew and grew to current day Bishan Temple.
An amazing story for an amazing temple I feel. I personally feel it is one of Taiwan's most beautifull temples. If you'd like you can do an afternoon hike starting at dagouxi waterfront park ending at the Bishan Temple. Taking the bus back to the city.
City: Taipei City
Estimated yearly visitors: n/a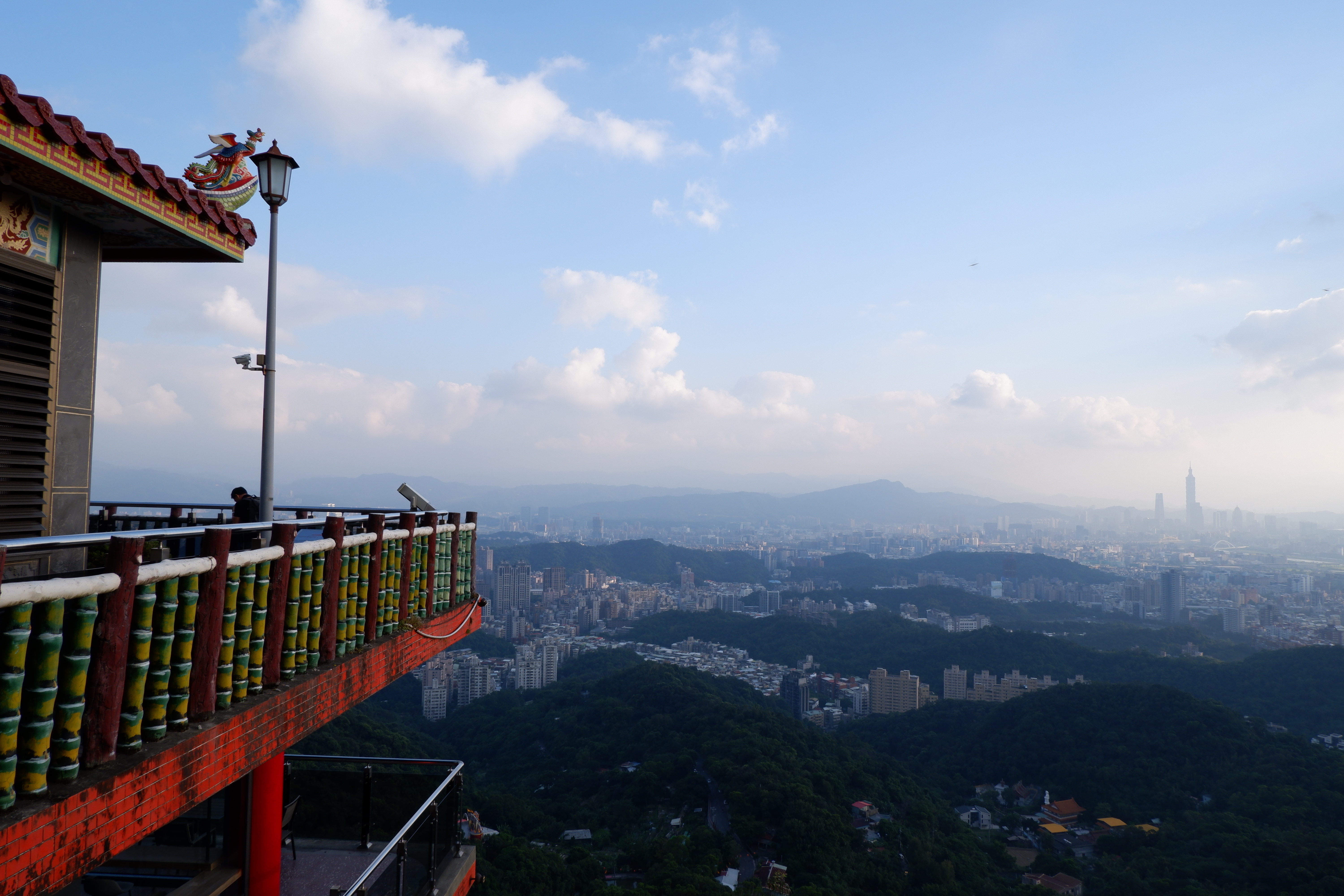 [15] Image credit
Image credits
[1] Celineliu119, CC BY-SA 4.0, via Wikimedia Commons
[2]
WU PEI HSUAN
,
CC BY-SA 4.0
, via Wikimedia Commons [3]
Vintagejhan
,
CC BY-SA 3.0
, via Wikimedia Commons [4]
Rutger van der Maar
,
CC BY 2.0
, via Wikimedia Commons [5]
lienyuan lee
,
CC BY 3.0
, via Wikimedia Commons [6]
Ken Marshall
,
CC BY 2.0
, via Wikimedia Commons [7]
Dquai
,
CC BY-SA 4.0
, via Wikimedia Commons [8]
Tess1223
,
CC BY-SA 3.0
, via Wikimedia Commons [9]
Rutger van der Maar
,
CC BY 2.0
, via Wikimedia Commons [10]
xiquinhosilva
,
CC BY 2.0
, via Wikimedia Commons [11]
793bike
,
CC BY-SA 3.0
, via Wikimedia Commons [12]
Rutger van der Maar
,
CC BY 2.0
, via Wikimedia Commons
[13] Taiwanholland.com
[14]
WEI, WAN-CHEN(魏琬臻)
,
CC BY-SA 4.0
, via Wikimedia Commons
[15] Taiwanholland.com