Hiking the trails of Taroko National Park, Taiwan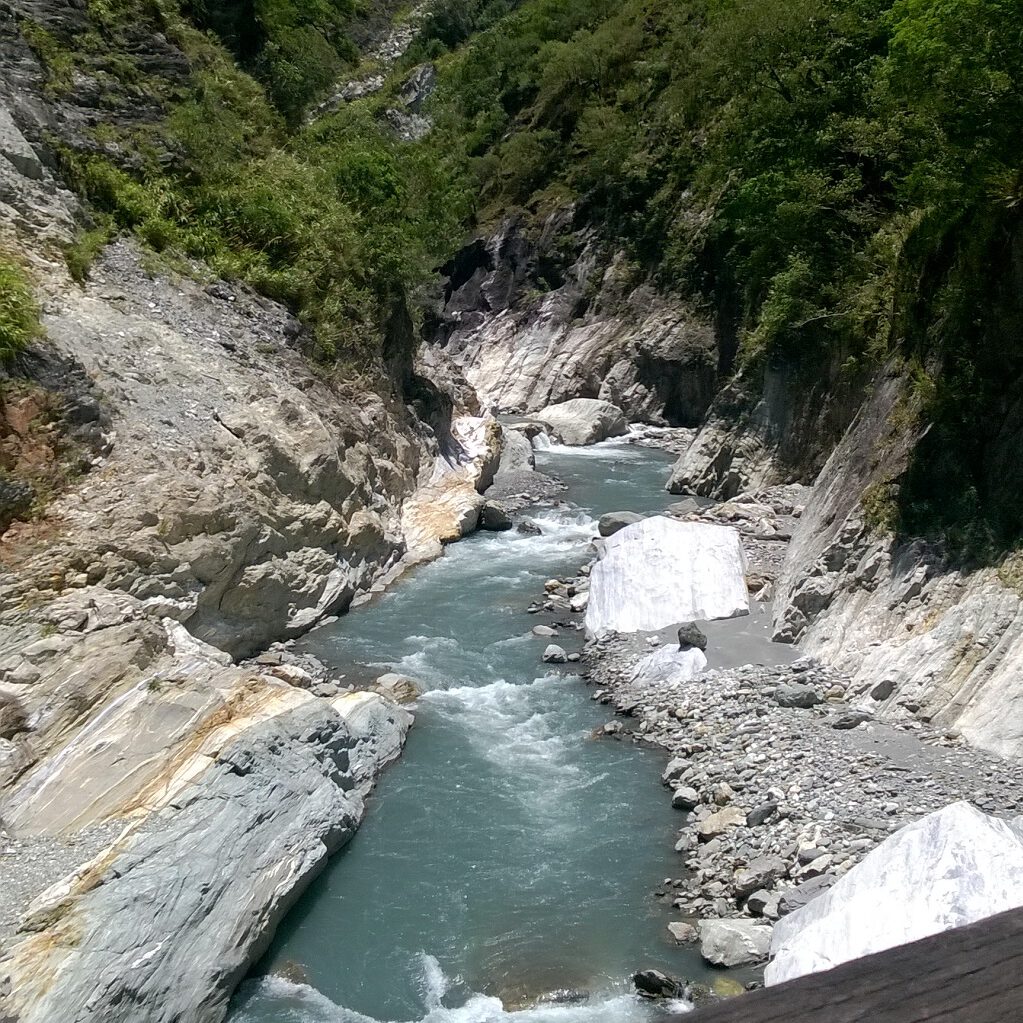 Arguable the most famous National park in Taiwan is Taroko National park. It lies on the east coast of Taiwan. Most people who travel to Taiwan will stay a couple of days Hualien and from there do daytrips to the park. The park is about 4 hours from Taipei by train.
Taroko National Park: basic info
What is Taroko National park?
Taroko national park is a park famous for the gorge which winds through the valley. This Landscape is unique and amazing. On Both sides along the Liwu river you'll find marble cliffs. The road follows the river, sometimes next to it but sometimes high above it on the mountain slope. You will find many historic sites, ancient tribal relics and trails, It is one of the most beautiful landscapes in Taiwan.
Where is Taroko National Park?
Taroko National Park lies on the east-coast of Taiwan. The city of Hualien is the most close by city so I would recommend to stay there overnight and take daytrips to Taroko.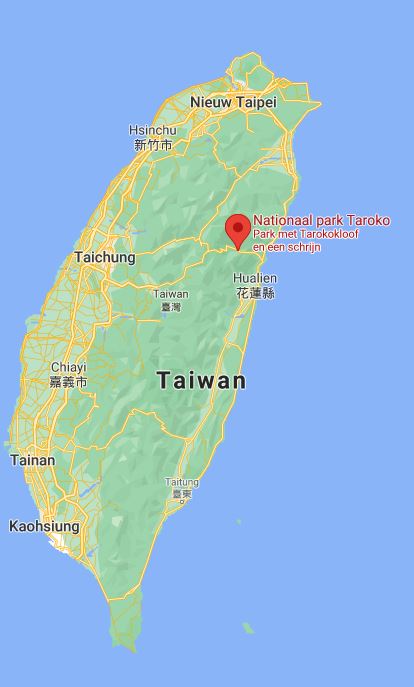 What is the origin of Taroko National park and Taroko gorge?
The park covers an area of 92,000 hectares including 27 mountain peaks which are over 3,000 neter. It was established in 1986. The name Taroko comes from the Truku Tribe, the indigenous group of people living in hualien County.
Over millions of years of erosion from weather influences and the river carved out the gorge from the marble mountains. Even Marble is hard. the heavy subtropical rain resulted in erosion by the Liwu river.
What can you do at Taroko National park?
It is a National park, you can enjoy the unique landscape, enjoy nature, spectacular views on the river and the Gorge. You can walk hiking trails and see local flora and fauna. Visit the shrine and pavillion. It is one of (or maybe even the) most beautiful National park in Taiwan.
How to get to Taroko National Park
From Taipei to Hualien
From Taipei Main station you can buy train ticket to Hualien. If you take the Taroko or Puyuma express you can be in Hualien in around 2 hours at a cost of aproximately 440NTD. If you take the local train it will be even more cheaper: around 283 NTD however it takes you much longer (3 to 4 hours)

Travel from Hualien to Taroko national park.
I would suggest to buy a one or two day pass for the Taiwan Tourist shuttle buses. Its a hop-off hop-on bus. It is cheap, quick and goes by all the major attractions. There are also several tourbuses which go from Taipei to Taroko for daytrips. The busstation is the big red building near the railwaystation.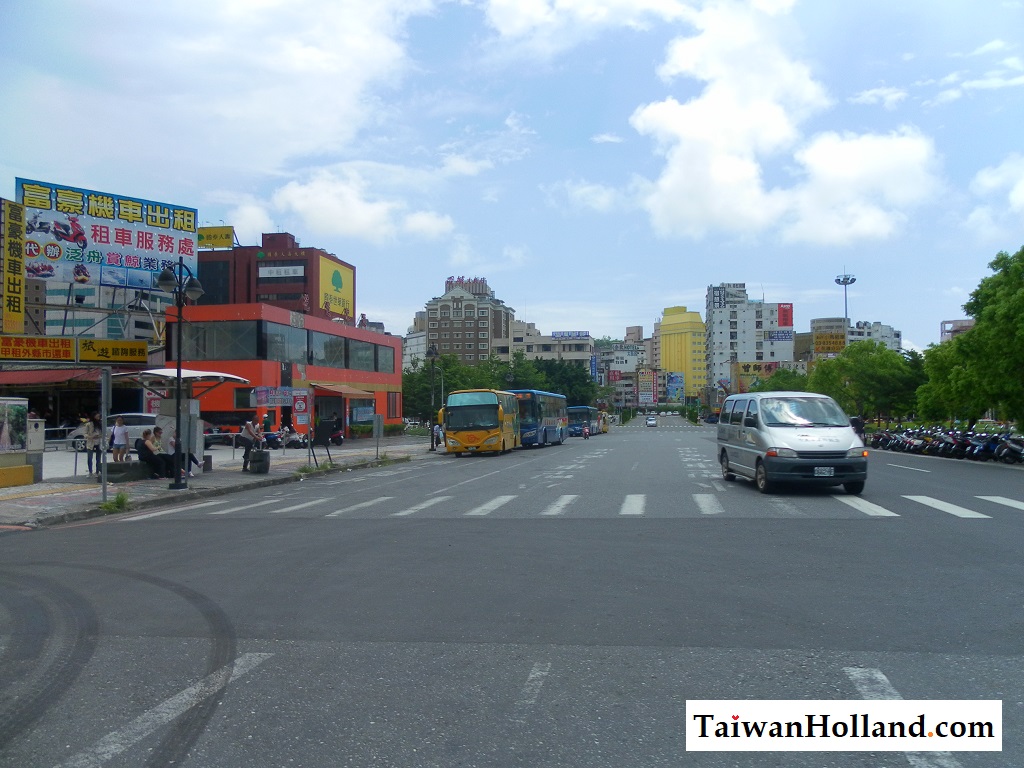 Although technically you can also go by (motor) bicycle ride along the road. I would not recommend it due to the high amount of traffic (mostly tourbuses) passing by it can be quite dangerous. If you are with a small group or on a time schedule you could consider renting a taxi (van). With a personal driver you are not stuck to the timetables and can continue to the next site whenever you want.
Cost of Taroko national park
There is no entrance fee to visit Taroko National Park. However getting there will cost you a small fee. I would suggest to go by shuttle bus.
One day bus fare: 250$ NTD
Two day bus fare: 400$ NTD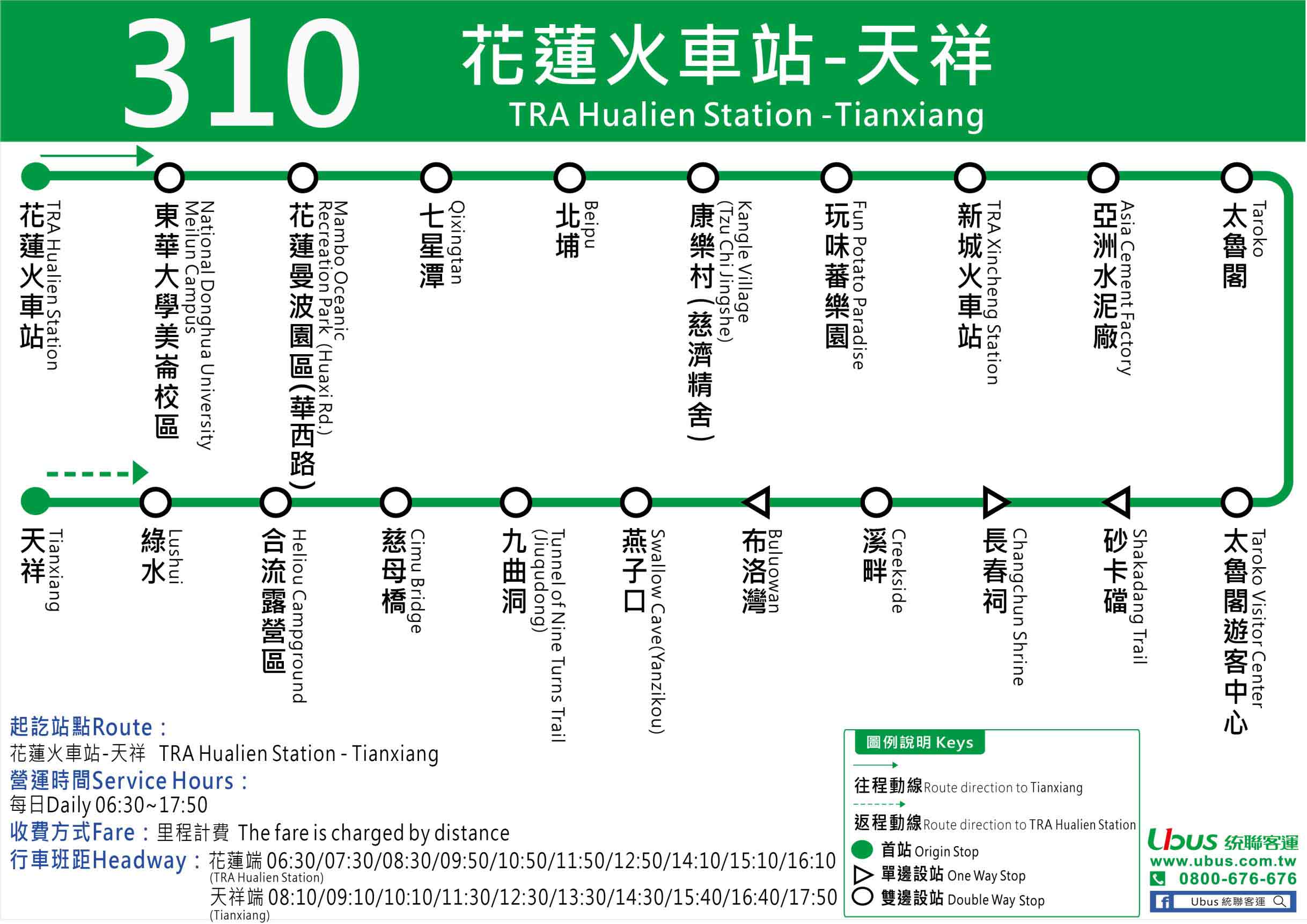 In addition if you wish to do one of the longer (experienced) hiking trails then for some you need to ask for a permit for which you need pay for. Book in advance. Or consider doing a guided hike.
Pavillions, resting places and points of interest in Taroko park
Taroko visitor centre
The Taroko visitor center is a two story building where several exhibitions are held about Taroko. On the first floor you will find a cafee and store where you can buy food, drinks but also books and souvenirs regarding Taroko National Park.

In front of the Visitor center you find a rock carving made by a local stone carver (Gandan): two marble carvings divided by an empty area. It symbolises the Taroko gorge with the Liwu River in between.
Tianxiang village
For most tourists Tianxiang is the last stop as the touring buses head back after this village. This small village was named after a historic figure called Wen Tian-Xiang.
Wen Tian-xiang was a Chinese scholar who lived in the 13th Century. He was known for his resistance against the Mongol invasion. He is seen as symbol of Chinese Nationalism and justice as when he was captured by the Mongol army he kept his allegiance to the old Chinese dynasty. After 4 years of imprisonment he was sentenced to death.
The village itself has several restaurants, a hotel and hostel, a church, Taroko Xiangde Temple and Wen Tianxiang Park with a statue dedicated to Wen Tian-Xiang. Also here, when lucky, you can spot some Formosan Monkeys at the park.
Hiking trails in Taroko National Park
Thinks to know before you go hiking in Taiwan.
When (not) to go hiking in Taroko National Park
Due to the steep sides of the Gorge and sometimes small trails It can be quite dangerous in bad weather. Rocks to climb on can be slippery. Even there are safety nets be aware of falling rocks always, even during good weather.
During a typhoon or just after a typhoon or heavy rainfall has hit the island it is better not visit Taroko Gorge.
Rockfall, fallen trees and sometimes even minor landslides can occur. These can not only make trails impassable but also can injure you during your walk. Same warning after earthquakes.
Check the current Taiwan weather here.
Latest earthquake news you can find here.
For a full safety list regarding Taroko national park look here
Permits and guided tours in Taroko national park
For some of the more difficult trails, day trips or even multiple-day trips you need to apply for a permit. There is one website at which you apply for all Taiwan hiking permits. You can do that on this website.
(Dangerous) animals in Taroko National Park
Like always on Taiwan be careful for venomous snakes when walking. Don't go hiking off the paths.
In April and May you most likely will see many golden Orb spiders in webs in the trees and bushes. These are not dangerous to people but I suggest to avoid them as (they are quite big) and their bite can hurt.
Further I saw many butterflies, birds and ocasionally you can see formosan monkeys if you are lucky. For more information about animals living in Taiwan I would suggest you to read this page.
Other tips for Taroko Gorge.
I would like to give you some tips for when you go to Taroko.
Wear good hiking boots, especially if you plan to do one or more hiking trails. Some of the trails have small paths and are steep so it would be good to prepare well
Go early if you want to avoid busses of tourists. Especially the Shakadang trail is popular as it is an easy but beautifull trail.
Bring enough water and food with you: although there are some restaurants and shops at Tianxiang village it can get very hot during hiking so I would recommend to take enough water to drink and some snacks to eat with you.
Use sunprotection and wear a hat or cap against the sun.
Here you can download a useful map of the park.
Which (Beginner) hiking trails can I do at Taroko Gorge?
| | | | |
| --- | --- | --- | --- |
| no. | Name of trail | Distance | time |
| 1 | Taroko Terrace Trail | 1,007 meter | 30 min walk |
| 2 | Dekalun Trail | 2,500 meter* | 3 hour walk (round trip) |
| 3 | Shakadang Trail | 4,100 meter* | 3 – 4 hour walk (round trip) |
| 4 | Xiao Zhuilu trail | 400 meter | 20 minute walk |
| 5 | Changchun Shrine Trail | 2,030 meter* | 1 hour walk (round trip) |
| 6 | Bulowan Trail | 400 meter | 20 minute walk |
| 7 | Yanzikou Trail | 1,372 meter | 20 – 30 minute walk |
| 8 | Lushui Trail | 2,000 meter | 1 hour walk |
| 9 | Baiyang waterfall Trail | 2,100 meter* | 2 hour (round trip) |
| 10 | Huoran Pavilion trail | 1,900 meter | 2 hour walk |
*double distance for round trip
Taroko Terrace Trail
Situated around the Taroko Visitor centre the Taroko Terrace trail is just 1km. It is a fully wooden path including wooden stairs (there is a wheelchair path) going around the visitor centre. There is one viewing platform and plenty of benches to sit on. Native trees and other local plants are planted next to the path so people can Learn about the local eco system. I suppose this trail is good to kill some time if you are awaiting the next bus at the Taroko Visitor Center.

The trail also connects to the Dekalun trail and the Dali trail. Ocasionally you will spot some Formosan Macaque's high up in the trees.
Changchun Shrine Trail
This shrine is dedicated to the 225 veterans who died during contruction of the central Cross island highway. From the highway road you see in front of you the Liwu river with in the distance the shrine which is built above a waterfall. It could have not looked any more beautiful I have to say. Near the side of the mountain goes a short trail towards the shrine.
Shakadang Trail
The Shakadang Trail follows one of the side rivers of the Liwu river. The trail goes alongside the river, occasionally passing forestry areas but also at some places the path is carved out of the stone rocks which is quite cool and also provides of enough shade.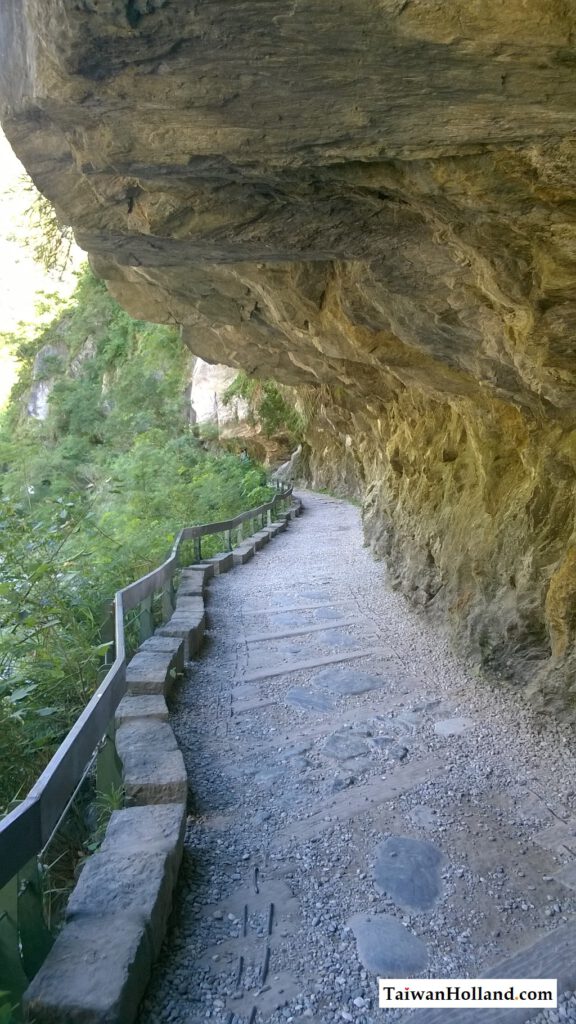 You can walk the full trail but most people walk until the farmers market which is about 1.5 km (30 minutes) from the start after which they walk back. The farmers market is a small market run by locals where they sell drinks and snacks and there are some places to sit and rest.
The trail is flat and quite easy to walk. It is famous for the bright blue water of the river. There are also many spots where you can walk to the river and enjoy the cold water to cool you down. I highly recomend this trail as I also saw many (big) butterflys.
Note: The shuttle bus only stops at Shakadang trail in the direction of Tianxiang village not on the way back to Hualien.
Yanzikou trail (swallow grotto trail)
Yanzikou trail gives a unique view of the river and its Marble walls as it is the place where the walls and the river are closest together. Visitors can take the this trail from the Swallow grottos until the Jinheng bridge. The name Swallow grotto comes from the many holes in rocks of the mountain where many Swallow nest. At the end of the trail is Jinheng park with a viewing platform with view to a famous rock which called the "Chieftain Profile Rock" as it looks like a Chieftain is carved out of the rock. The park is a memorial to the people who died during the construction of the Central Cross-island Highway. There is also a small souvenir shop.
The Baiyang Waterfall Trail
This trail is kind of hidden and can be found about 900m west of Tianxiang. The entrance of the trail is a 380 meter tunnel.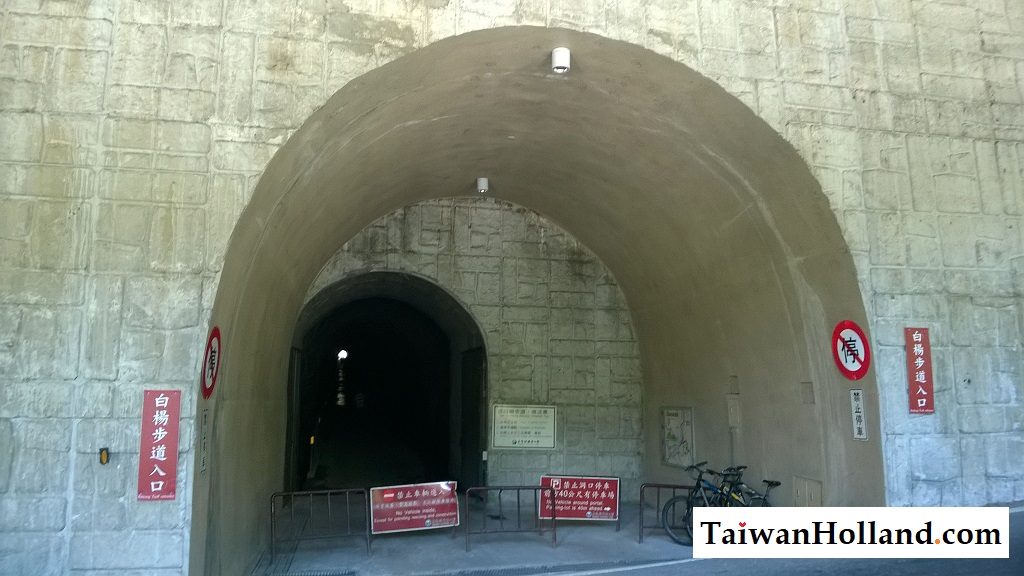 The trail was made when in the 70's a power company made a path and tunnels in order to build a hydro-electric powerplant at Taroko Gorge. Lucky the plans were halted. Now tourists from all over the world can visit and enjoy the remote Baiyang waterfall.
The trail follows a side river of the Liwu river flowing in Taroko Gorge. On the path you will come across 9 tunnels some of which are quite dark! But it is also quite cool. Halfway you will cross the river on a ropebridge From which on the side you will get to see an awesome waterfall!
The trail ends at the waterfall cave. Here (spring) water flows through gaps in the rocks. Due to safety only the beginning of the trail is available for visiting. As you can see you will get quite wet even if you stay on the side of the path. The water is nice and cool though so I didnt mind to cool off on a hot Taiwan day!
Trails for experienced hikers in National Taroko park
Some hiking trails at Taroko National park for the experienced hiker. Check if you need a permit.
| | | | |
| --- | --- | --- | --- |
| no. | Name of trail | Distance | time |
| 1 | Zhuilu old trail | 10,300 meter | 3-5 hours |
Zhuilu old trail
Zhuilu old trail is a famous trail following the Cross-Hehuan Mountain old Road. It starts at the Zhuilu suspension bridge. Currently a part of the trail is closed due to rock fall. and entrance is limited to 96 people a day. You need to apply for a park permit to go.
Originally the trail was only 30 cm wide. But in 1917 under Japanese conscription the trail was expanded to 1.5m width. Still small if you ask me. The total trail is 3.6km of which you will walk 500m along cliffs and will see the valley deep below you. This is not for the person who is afraid of heights! (me!). Follow the safety rules at all times when you take this trail.
I found a video to give you an idea of the cliffs you walk on while walking the Zhuilu old trail. I, myself, never did the Zhuilu old trail and, as I am afraid of heights, you probably can understand watching the video that at the moment it is not on my shortlist also.
I also found a good blog about traveling the trail. The blog is made by a company eyetraveltaiwan which is run by locals and gives guided tours. The blog describes one of their tours in Taroko National park.
Benefit of taking a guided tour is that they can help you book the required permits.
Overnight stay in Taroko park
Most people who go to Tarokonational park stay in Hualien and take day trips to Taroko as hostels near Taroko national park are limited and a littlebit expensive. However if you would like to stay overnight at Taroko National park then you have several options:
Dali village is the village of the local tribe. If you follow the Dekalun or Dali trail near the Taroko Visitor Center you will find its located on top of mountain looking over the gorge. Here or Here you find some blogs of people who have visited Dali village staying overnight at the locals. Here or here you find a review of local newspapers spending a night there. If after reading you also want to experience it you could book a private guided tour here.
If you want you can stay with a tent at the several camping places in the Park.
Tianxiang Village has several hotels and hostels.
References:
sources: htaiwantrip.com.tw [1], taroko.gov.tw [2], personal travel experience [3], railway.gov [4]