Taiwanese restaurant Jen's Bing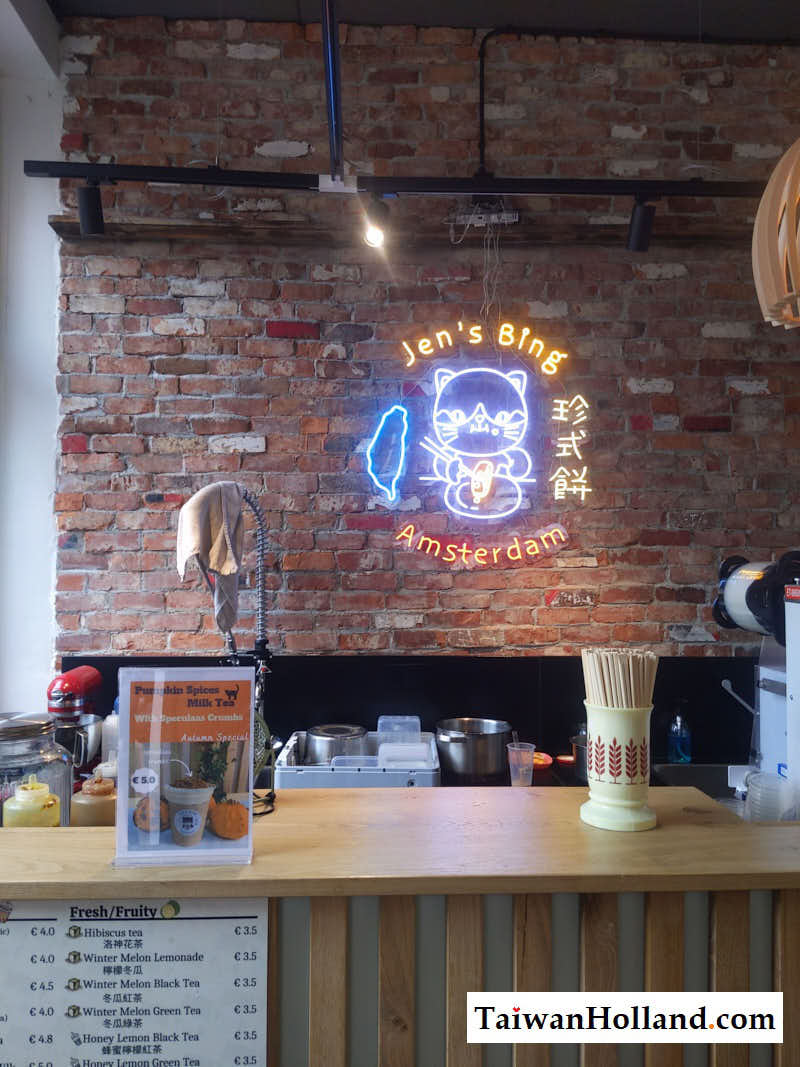 I believe anyone who has ever visited Taiwan must have been suprised about the amount of good food you'll find there and ever since I left Taiwan I miss the Taiwan food. I have some Taiwanese cooking books but it is hard to find the right ingredients and recreate the authentic streetfood dishes.
In the recent years bubble tea is also getting more populair in the Netherlands however until now I've never found any bubble tea coming close to the Taiwanese ones. There are not many Taiwan restaurants in the Netherlands but nevertheless I'm always looking for new ones to try out.
One of the few Taiwan streetfood restaurants I found is Jen's Bing in Amsterdam.
Jen bing's is named after the Taiwanese dish Dan Bing.
Dan Bing is a traditional Taiwanese breakfast dish, the best description is a kind of Taiwanese pancakes with a fried egg on top. It is an easy to make dish as people are in a hurry to go to their jobs.
There are a lot of variations as you can add a lot of ingredients to the egg (a bit like the dutch 'Boeren Omelet' ) such as chopped scallions, ham, cheese etc. Don't add to much however, as you still need to roll up the pancake and cut it in pieces.
Jen's bing restaurant doesn't sell only Dan Bing's they sell a lot of different Taiwanese dishes such as dumplings, gao bao's, fried chicken and fried sweet potatoes. The menu can vary with each season for example in the winter they also have the Beef noodle soup. Look here for a most up to date menu.
As my hometown is 2 hours from Amsterdam I arrived at Jen Bings near the Lunch time so today I chose the Yan su Ji (chicken bites) and a nice Bubble tea 🙂
The chicken bites are really soft and tender, well spiced and it immediatly reminded me of Taiwanese streetfood.
I chose the Milk bubble tea for on the go and I can easily say its the best bubble tea in the Netherlands. Tasting 'the same' as in Taiwan (and yes its quite difficult to find a bubble tea in the Netherlands which taste like the ones in Taiwan). Delicious and fresh. And the pearls sweet and chewy.
Jen bings restaurant itself does not have places to sit inside but there are some tables and benches outside where you can stand/sit to eat if the weather is good. Also you can pickup some food for on the go just like I did with the bubble tea. The staff is really friendly.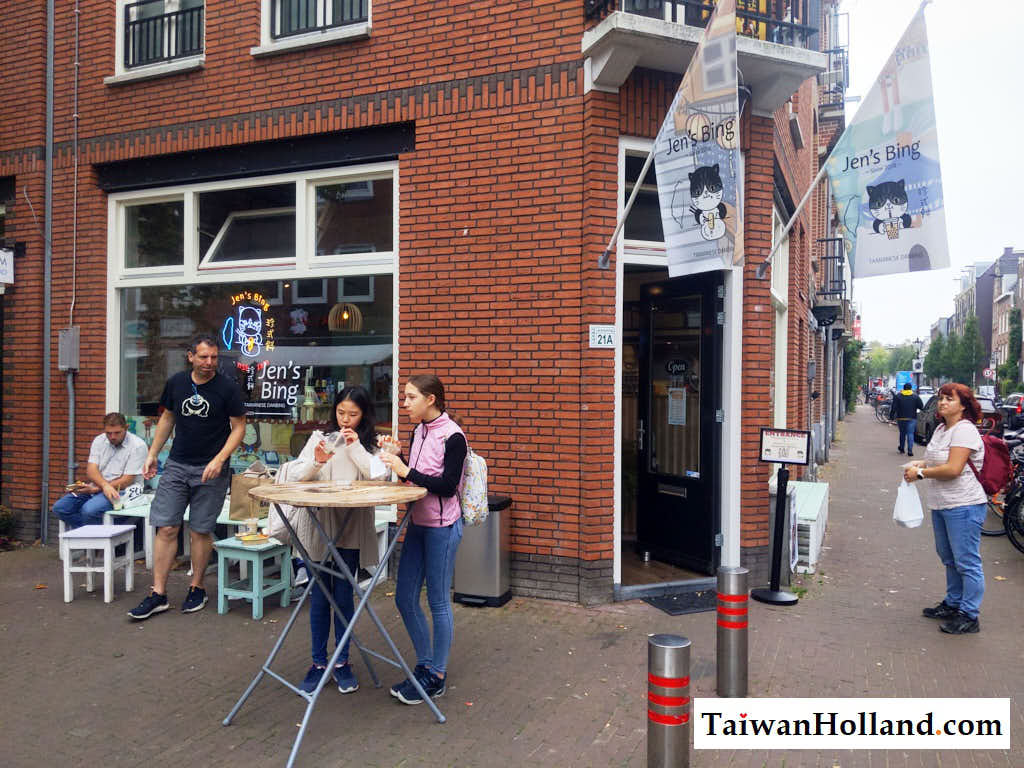 You can find Jen's Bing just at the end (or at the start, depending which way you walk) of the Ten kate market.
The Ten kate market is one of the larger streetmarkets in Amsterdam. It is a market which started in 1912 and thus by now is almost 110 years old! It is visited by locals a lot and is open 6 days of the week (closed on sunday).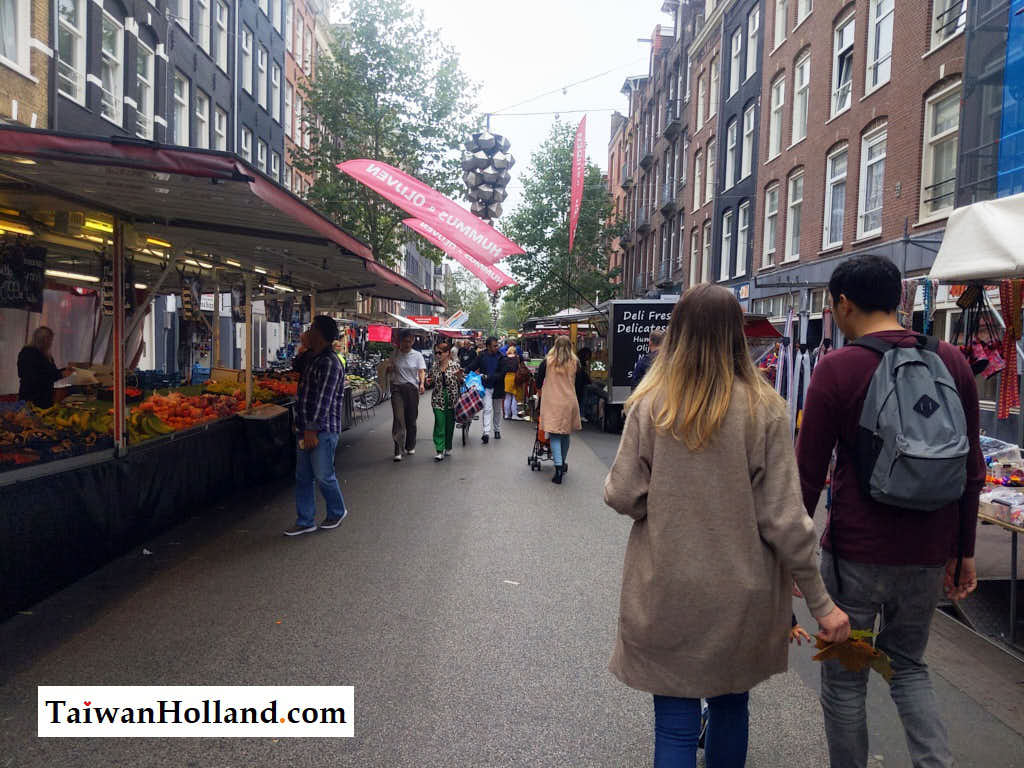 Also just next to the Ten kate market (and near Jen Bing's) are the "Hallen", a large warehouse where you can find a foodcourt, a cinema, a library where you can study, some art shops and even a TV studio where some national TV shows are recorded.
There is always something to do at The Hallen in Amsterdam, even on a rainy day this place is buzzing especially around 5 o'clock when working hours end and locals often go here to hang out.
Website: De hallen Amsterdam
So whenever you go to Amsterdam visit the Ten Kate market, 'the hallen' and especially Jen's Bing restaurant if you are looking for some delicious Taiwanese food or bubble tea!
Jen Bing's Opening times:
Monday: 11:00-18:00
Tuesday: 11:00-18:00
Wednesday: 11:00-18:00
Thursday:11:00-18:00
Friday:11:00-18:00
Saturday:11:00-18:00
Sunday:11:00-18:00
Website & menu: