Ice skating fever has taken over the Netherlands!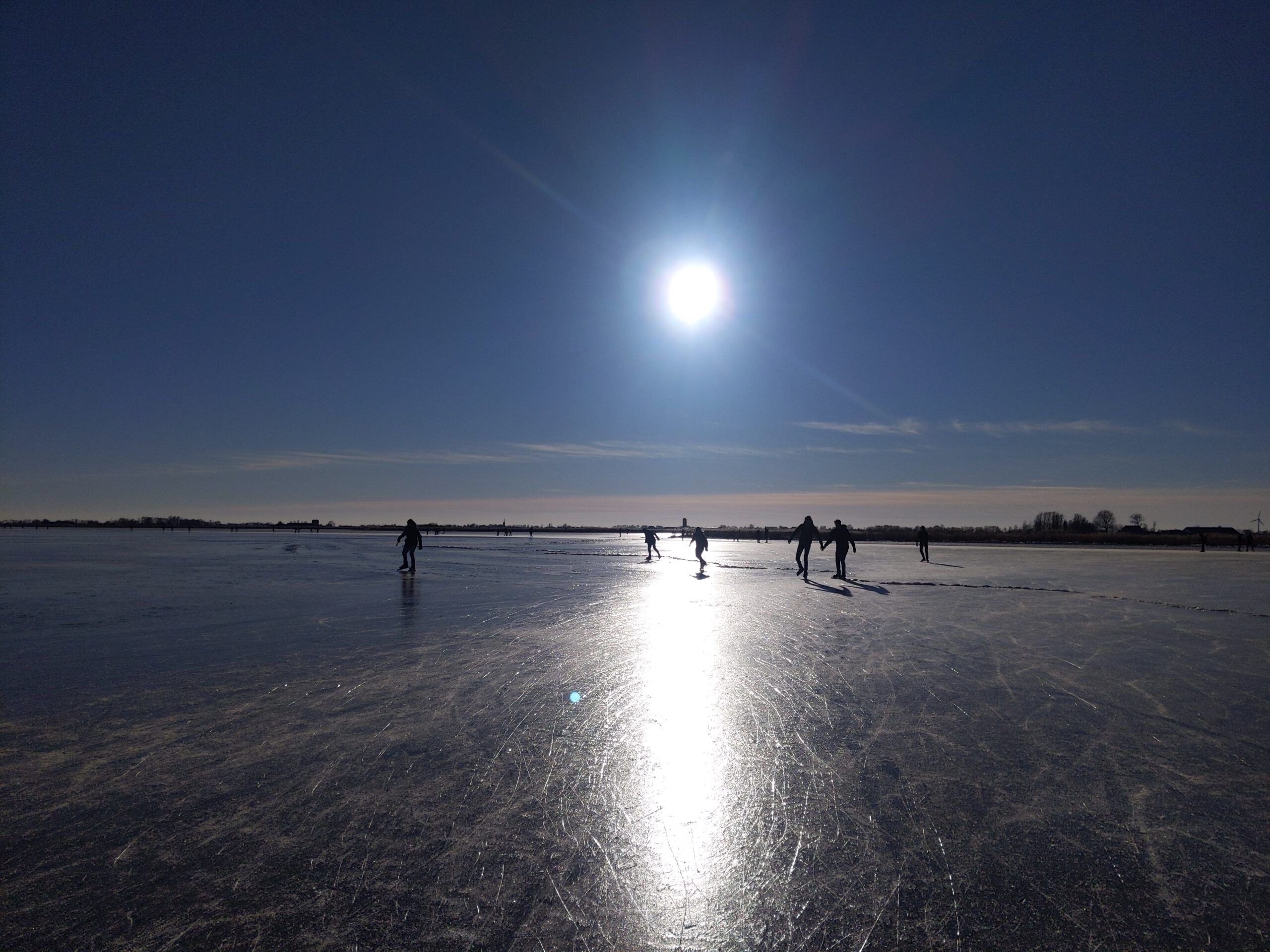 Last week winter arrived in Holland and I saw that there would be snow and temperatures would expected to be below zero for two weeks. And when that happens we always get excited because the possibility of being able to ice skate. We don't mind the cold too much as unlike most Taiwan houses all the Dutch housing have central heating and are kept warm in winter. We keep the temperature mostly at 20 degree minimum all year around.

Things Dutch people do outdoors in winter
There is several reasons why to like these winter conditions! Most of the time winter weather is around 0-5 degrees with cold wind and sometimes rain. So once it starts to snow and winter takes over Dutch people like to go out and:
have fun in the snow: sledging downhill, building a snowman or just a snowball fight!
go for a walk
get on the ice and go ice-skating!
The photo below shows the first day of snow, and already people were trying to sledge downhill in the parks.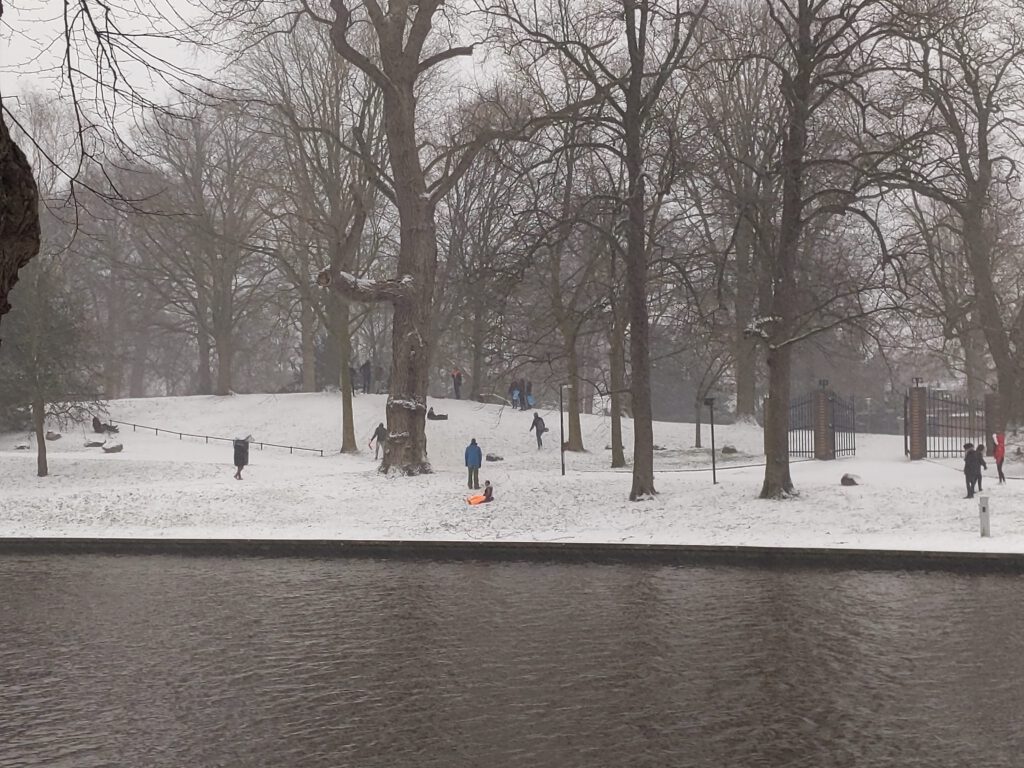 Another thing which is always nice, is to go for a walk when the country turns into one white wonder world. In winter when there is a period of really cold weather mostly this is due cold air from the north east coming from Scandinavia and Russia which not only causes temperatures to drop but also results in blue sky and sunshine.
However most popular thing to do is to go ice skating. Normally we go to ice-skating on ice-skating rings, pieces of land flooded to create ice. This week was a special week as it was so cold that the ice on the rivers and lakes became strong enough to ice skate on. Last time I did that was in 2012.
Why is ice skating so popular in Holland
I am not so sure as of why but I guess since childhood we grew up associating snow and ice with having fun and because, when we are lucky, we only have one or two weekends a year we can ice skate so even when we grow up we still love to be outdoors and have some fun if it comes. Also it is fun to see the country from a different perspective: from the rivers and lakes. If you wonder why children love ice, just check the photos below!
Because ice skating is so popular the Dutch ice skaters are very good and are competing for the medals most of the time at the winter Olympics. In winter, when the weather is bad and cold we love to watch ice skating on TV. The most successful ice skater of the last decade is called Sven Kramer, he won 9 medals at the olympics.
The "elfstedentocht" (11 city tour)
There is one famous ice skating tour which is called the "elfstedentocht" it is an ice skating tour of 200km along all the eleven cities in the northern province of Friesland. This tour is organized since 1909 only when its is possible to ice skate between all of these cities. In total it is organized 15 times and the last one being in 1997. The Dutch are already waiting 23 years for it to happen again!
My winter week
I also enjoyed the good winter weather, I spend one day in Amsterdam and the day after I went ice-skating.

Amsterdam in winter
I needed to visit Amsterdam for business so I had the chance to go for a walk in the city after. Because Covid I didn't visit Amsterdam for over a year and due to current laws also the shops are closed. It felt strange to see the capital when there are almost no tourist (or hardly any people) on the street. However I enjoyed it very much and it was very beautiful.
Even a funny snowman with Amsterdam cape was enjoying the sunshine just like me 😉
You can see below the Amsterdam Canals were still partly frozen. I was very surprised to see people trying to ice-skate here only two days later. I was NOT surprised about the YouTube videos of people sinking through the ice later that day.
The next day I went on the ice near my hometown. As you can see I'm using old-fashion ice-skates. I think they are ice-hockey skates and not really for skating long distances but they are good enough for me! I bought them in Sweden when I was a student in there. And used them ever since.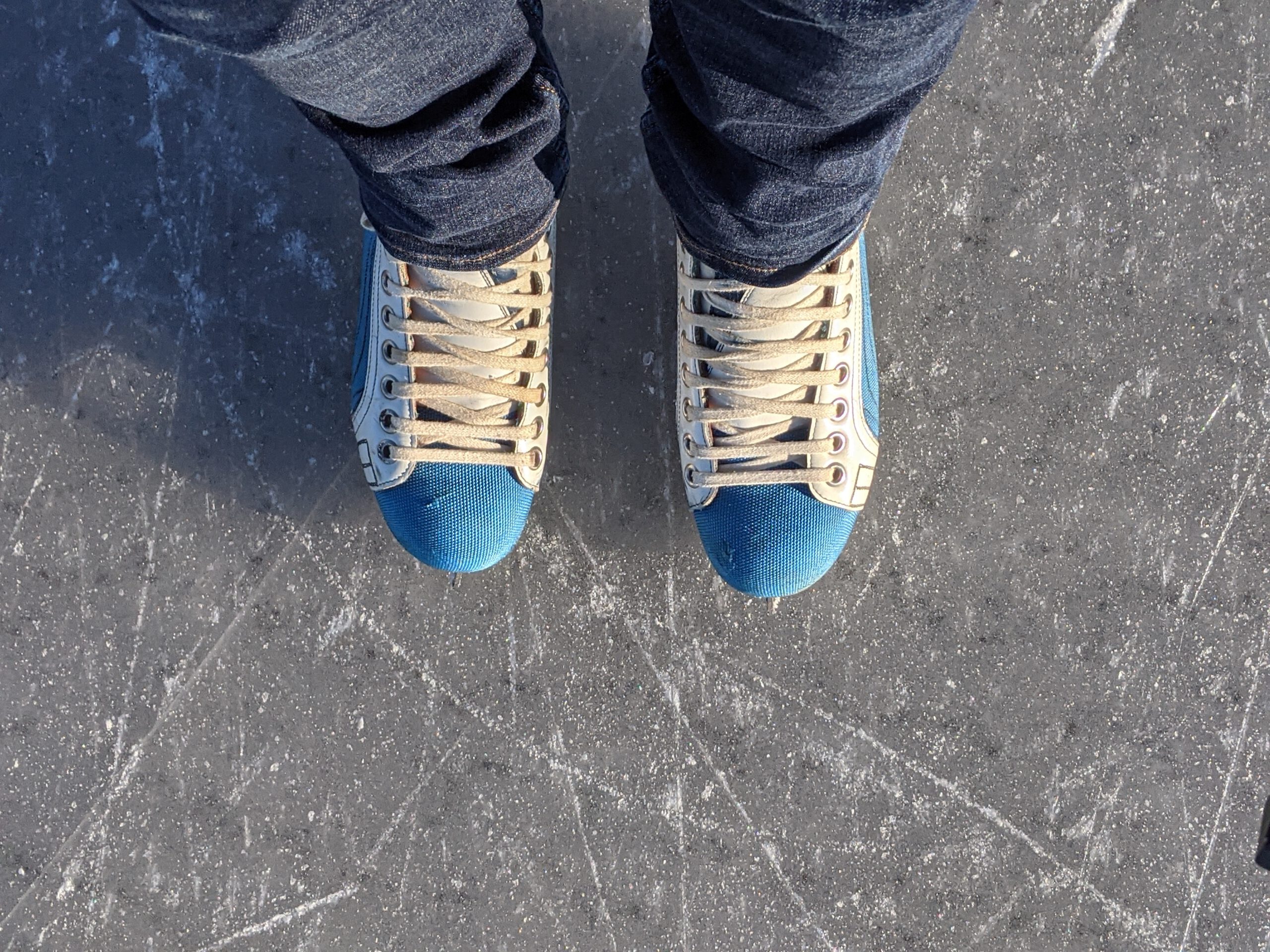 The ice was really good and we could skate all the way until a nearby lake.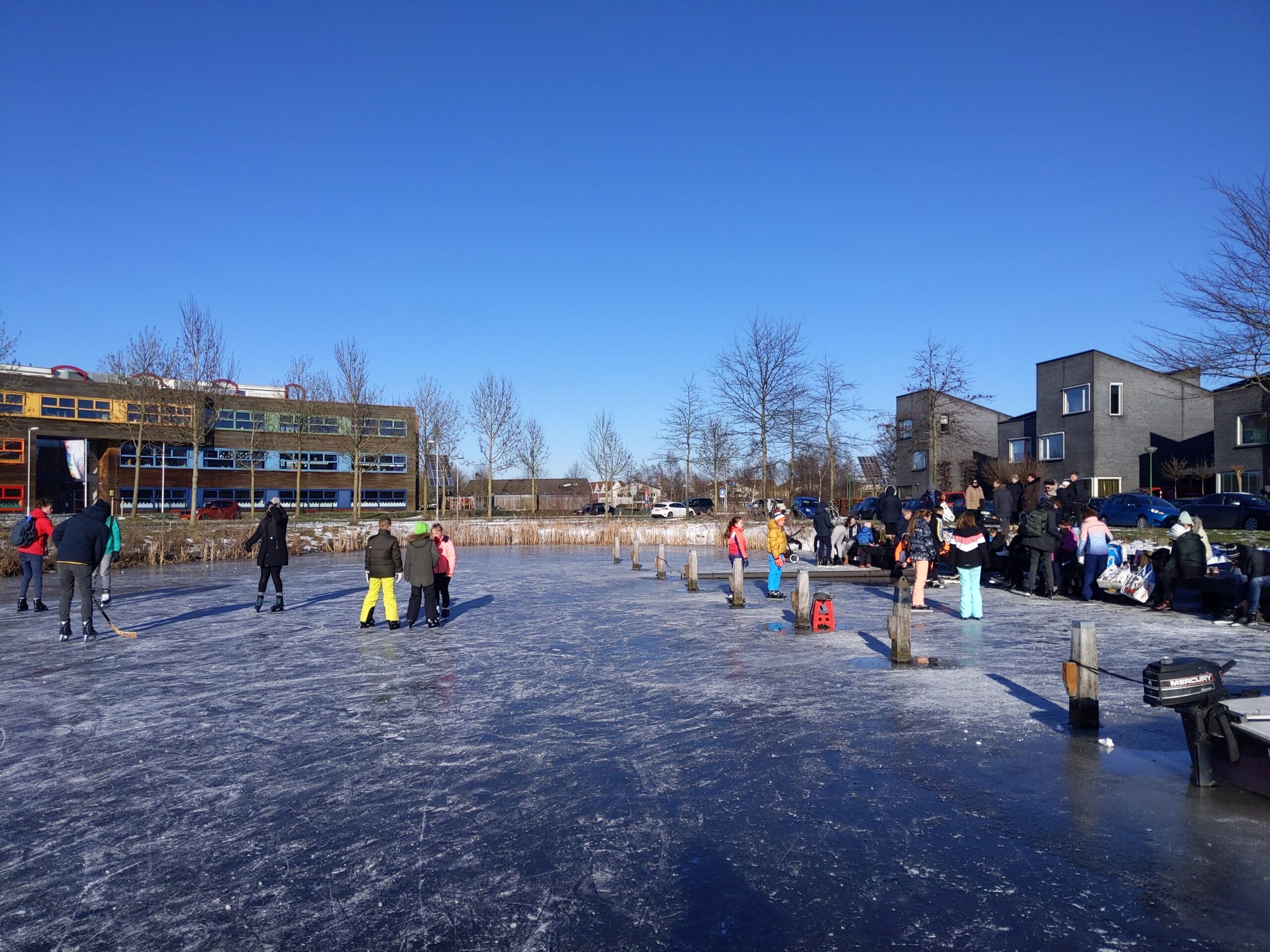 On the way back I came across something which is very traditional: it is called "koek and zopie" which translates to "cake and drinks". To sell food and drinks you need a permit, however people argued permits are needed on land not on water so traditionally you are allowed to sell without permit if you could stand on the ice.
I'm not sure if that argument still is valid but people are still making use of it mostly selling hot chocolate milk and bread with sausage.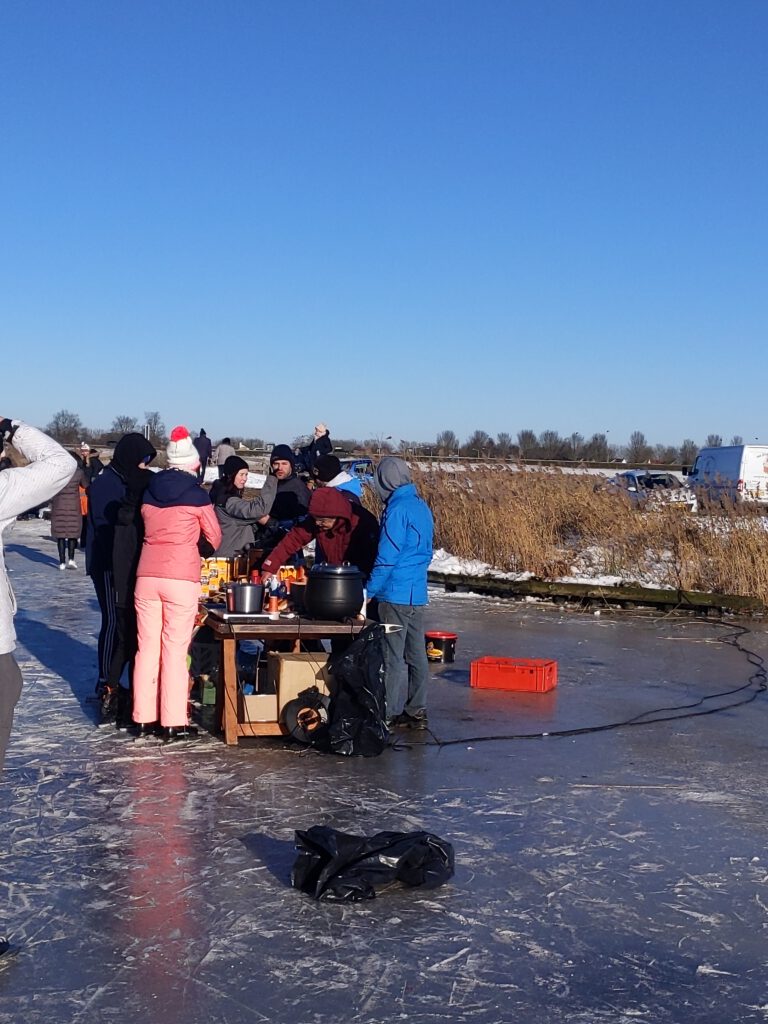 So how about next weekend? Will I go ice skating again? Well temperatures go up so next weekend it could be as much as 15 degrees Celsius! Unlike Covid the Dutch will be quickly cured from the ice skating fever…at least for another year until winter comes again ;)!