Keelung has quite a long history and has been an important port for Taiwan for centuries. Due to this importance, local rulers felt the need for defensive structures. Nowadays they are not in use anymore and are popular tourist destinations. Today I would like to go with you through the list of historical forts and defensive structures in and nearby the city of Keelung. If you travel in Taiwan come and see them!
Qing dynasty forts in Keelung (1840-1895)
Ershawan Fort
Ershawan Defences were firstly constructed in 1840 by the Qing officer Yao Ying to defend Keelung from the British during the Opium War.
Later when the Sino-French war broke out in 1884 it was moved from its seaside position to its current location on top of Ershawan mountain and constructed with materials from the old seaside fort. During that war it was bombarded by three French warships and then occupied by French soldiers.
During the Japanese occupation of Taiwan in 1895 it was bombarded by five Japanese warships during the battle of Keelung on June the 3rd after it was captured with little effort.
After that it has lost its importance as a military base and it fell into ruin. Nowadays it is classified as national historical monument and can be visited.
Things to do and see at Ershawan fort:
When you arrive at the fort you'll walk pass a gate which looks like a Qing dynasty city-gate. From there you can follow the paths and walk the area which is surprisingly large. You can visit the old gun platforms (with replica canons!), the barracks, the ammunition stores and other old fortifications. The fort used to protect but now gives a great view over Keelung harbor.
How to get to Ershawan fort by public transport?
take TRA to Keelung station, transfer and take the Keelung city bus to Haimen Tianxian stop
take TRA to keelung station, Transfer and take the Coastal Keelung Shuttle bus T99 to Ershawan Gun Emplacement (Haimen Tianxian) bus stop.
| Ershawan Fort | quick info |
| --- | --- |
| address | Ershawan Fort, Shoushan Rd,Zhongzheng District, Keelung City 204 |
| opening times | 24hrs |
| ticket cost | free |
| website | link |
| | |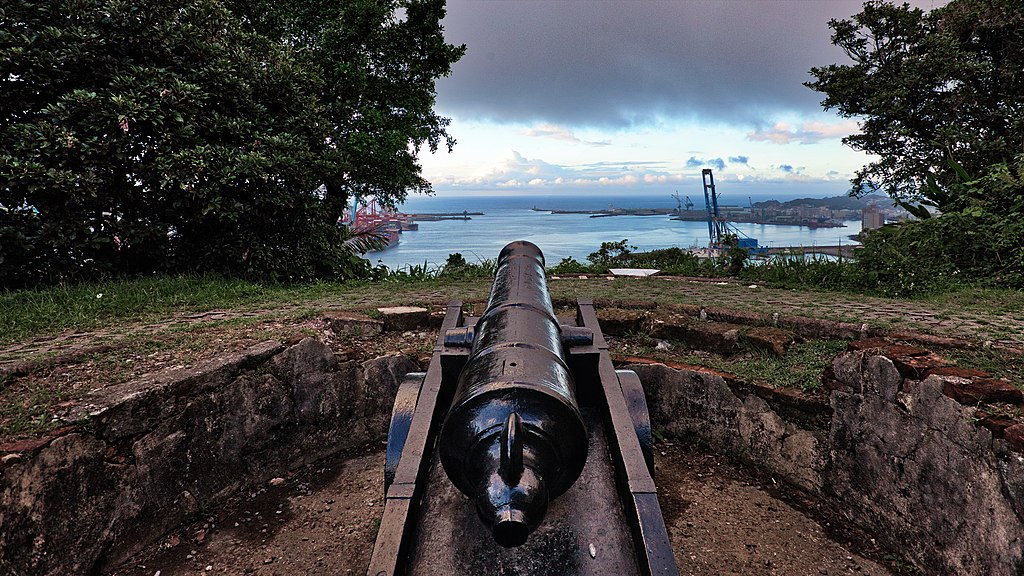 Dawulun Fort
The Dawulun fort is a Qing dynasty fort built to host soldiers during the Opium war between China and England in 1840 and was also used in the Sino-French war. It is located on the top op Dawulun Mountain, West of the city of Keelung. In opposite to most of the other forts, it is a land-fort. Not to defend invaders from the sea but also from land.
Things to do and see at Dawulun fort:
You can have a look at the remains of the Fort.
Enjoy the great views over Dawulun beach, Keelung and the valley below.
visit nearby lovers lake and park, a great place to picknic or take a nice walk.
hike the lovers lake Circular Trail
visit eagle Rock scenic viewpoint or climb Lovers Tower.
note: it is possible to hike the Haixi trail all the way from the coast to the lake.
Nearby you can also find Dawulun Beach where you can go for a swim in the Ocean or visit the local Fishing Harbor.
How to get to Dawulun fort?
There is no direct bus going to the fort so the best way is to take the TRA to Keelung Station, from there transfer to the Keelung City Bus 509 and get out at Lovers Lake stop. From there you can hike up to the fort.
| Dawulun fort | quick info |
| --- | --- |
| address | Dawulun Fort, No.19, Ln. 208, Jijin 1st Rd., Anle Dist., Keelung City 204 |
| opening times | 24hrs |
| ticket cost | free |
| website | link |
| | |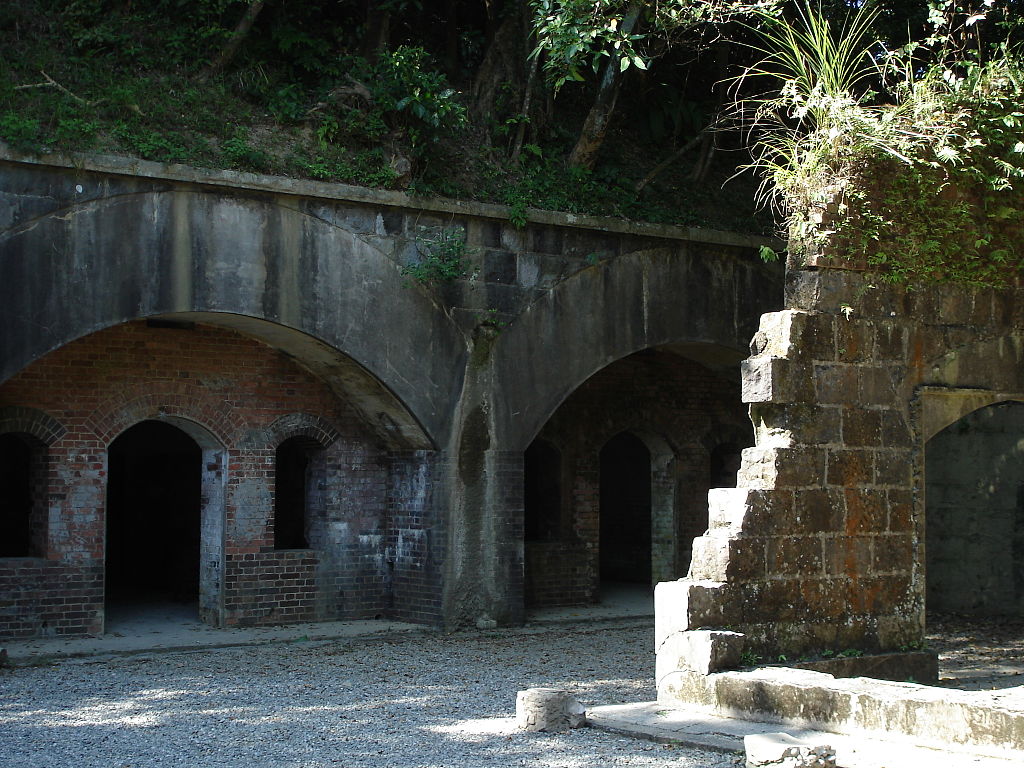 Shiqiuling Fort
Shiqiuling fort was built in 1884 as a defensive structure to be used as a last line of defense against the French. It was a western-style fortification. It was equiped with a 12 inch and a 6 inch cannon and it defended the harbor of Keelung against attacks.
From 1895 onward it was used by the Japanese as a fort but after WWII it gradually was abandoned. Now it has been redeveloped as a cultural park.
The fort is divided in 3 sections:
the middle fort is the main defensive structure, with one cannon, the ammunition depot and a stone command post. Parts of the fortifications are cut out of the mountain rocks while other parts are strengthened by concrete walls of 1 meter thick.
the west fort is located about 2 km west of the middle fort, on top of the hill. There are some ruins of bunkers and depots, all covered by plants and nature.
the east fort, or named by the French: the eagle's nest fort, is located on the eastside of Shiqiu ridge, around the east side of the Daye tunnel. It has about the same size as the midddle fort but is also overgrown by weeds just as the east.
Things to do and see at Shiqiuling fort:
The middle fort is nearby Keelung city and you can follow a nice and scenic trail to the fort and park. The fort itself has several defensive buildings and the remains of a cannon emplacement. From here you have a great view over the harbor of Keelung. The trail has lights so you can go for a visit in the evening also! The East and west fort are overgrown by the forests and weeds. I would not suggest to go and visit those as it can be quite dangerous..
Nearby you can also find the Shiqiuling Ping'an Temple which is well worth a visit.
How to get to Shiqiuling fort?
Take Keelung buses 501 or 502 to Chenggong Market bus stop; From there follow Chenggong 1st Road. and Shiqiu Road. up the hill. It is about a 30 minutes walk.
| Shiqiuling Fort | quick info |
| --- | --- |
| address | Shiqiuling Fort, No.19, Ln. 208, Jijin 1st Rd., Anle Dist., Keelung City 204 |
| opening times | 24hrs |
| ticket cost | free |
| website | link |
| | |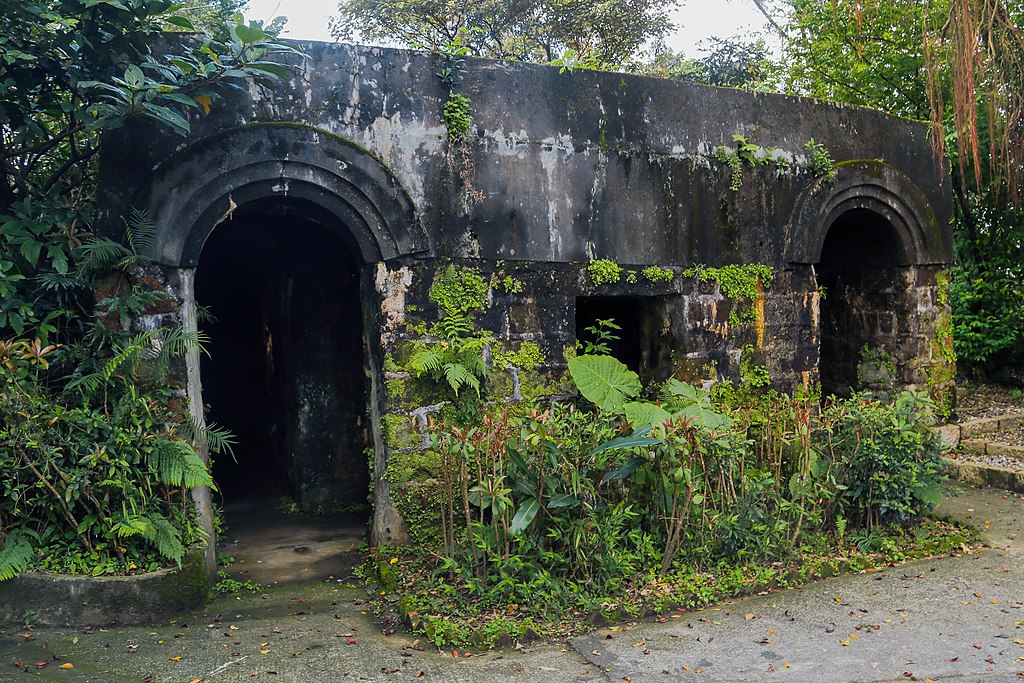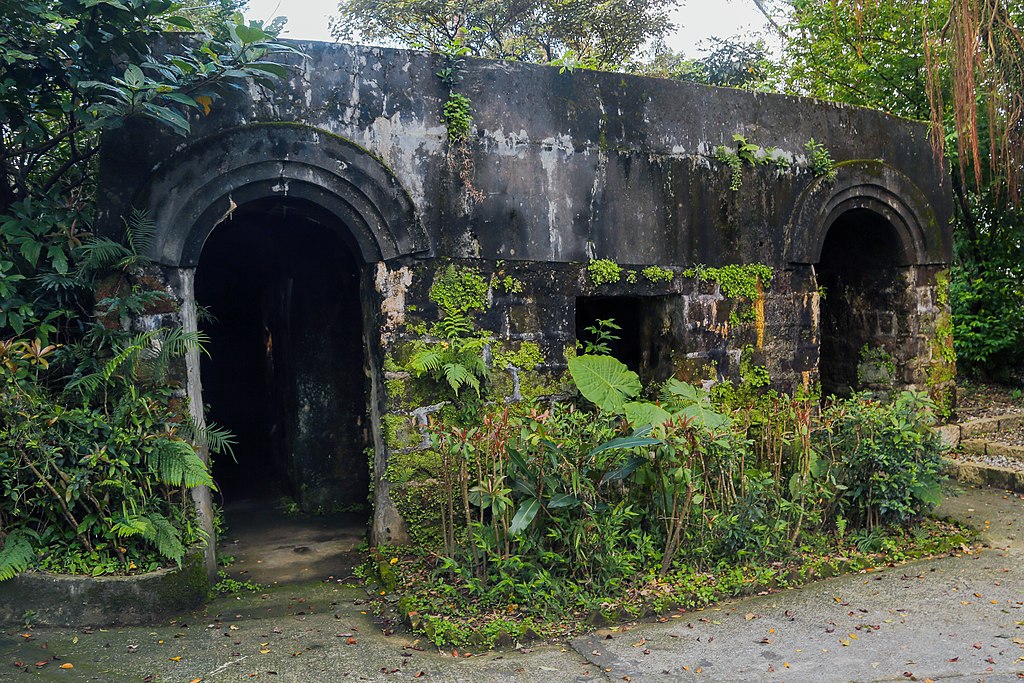 Japanese forts in Keelung (1895-1945)
After the treaty of Shimonoseki, at which the Qing dynasty agreed to give Taiwan to Japan some forts were renovated and improved by the Japanese army.
Sheliao East Fort
Sheliao east fort is one of two forts on Heping island. Already since the Spanish colonial time in 1624-1642 it was used as a seaside fortification to protect the Spanish city of San Salvador from the sea which failed when the Dutch conquered Spanish Formosa in 1642.
Ever since it has been used as defense by their rulers, the Dutch, the Qing, the Japanese who restored it most recently in 1924. Now it is abandoned, but accessible. There are some gun placements, some buildings and while nature is starting to overgrow it, it is a fun place to have a look at. Also has great views!
As I mentioned before there is another fort, Sheliao West fort, however this is still in use by the military and thus restricted area.
Things to do and see at Sheliao East fort:
Heping island park, a coastal park with eroded rocks
heping island seawater wading pool, swiming pool and many more.
Ryukuyuan fisherman's Monument
Hepingdao lookout
Huanshan Trail
Heping Island, Tianxian Temple
Sheliao East Fort
Todos Los Santos church foundations (Foundations of a 17th century church built by the Spanish)
How to get to Sheliao East fort?
Take TRA to Keelung Station and transfer Coastal Keelung Shuttle Bus T99 to Heping Island Park stop.
Take TRA to Keelung Station and transfer Keelung City Bus 101 or 102 to Heping Island Park stop. 
Sheliao East Fort
quick info
address
Sheliao East Fort, No.19, Ln. 208, Jijin 1st Rd., Anle Dist., Keelung City 204
opening times
May-Oct.: 08:00-19:00
Nov.-Apr.: 08:00-18:00
ticket cost
Sheliao east Fort is free,
Heping island park fee:
general admission NTD$120
65+ and children up to 12yrs NTD$60
website
link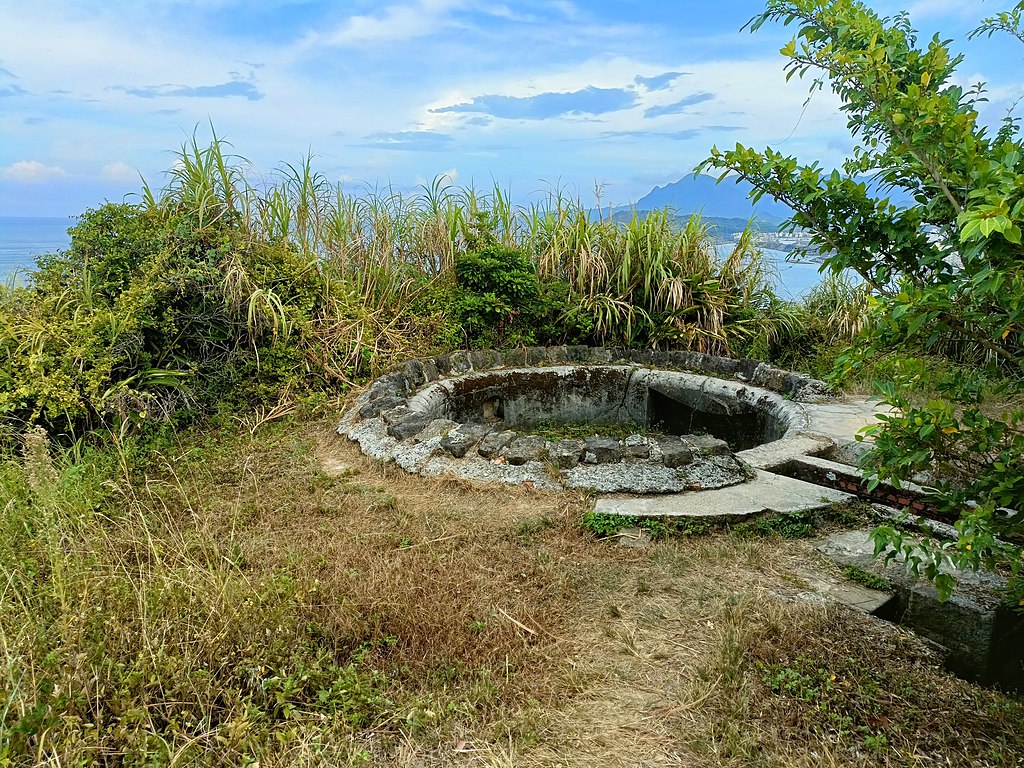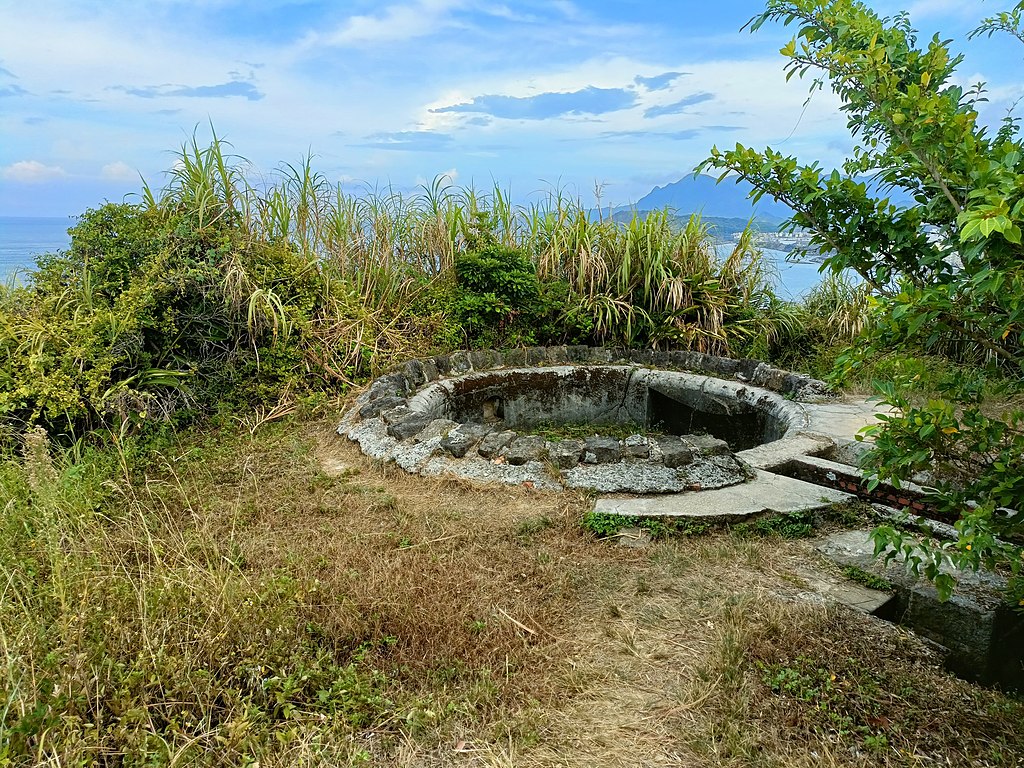 Gongzi liao Fort
This fort lies north-east of Keelung, between keelung and the village of Badouzi. This is quite a large fort and the buildings are well spread. It was built during the Qing Dynasty and even until recent years in use by the R.O.C. It is placed upon a hill and the full gun emplacement can be visited as well as several barracks and other bunkers.
Things to do and see at or nearby Gongzi liao fort:
Old military barracks
Niuchouling Battery Relics
Gongzi liao Fort
Visit nearby Town Badouzi

Badouzi fishing market
National Museum of Marine Science and Technology
I-ocean 5G immersive experience and AR and VR underwater tunnel adventures and also a large aquarium with lots of fish species.
How to get to Gongzi liao fort?
take Keelung buses 103 or 104 to Erxin Junior High School bus stop; from there its a 1 km walk to Cixi Temple where you turn left to walk to the fort
| Gongzi liao Fort | quick info |
| --- | --- |
| address | Gongzi liao, No.19, Ln. 208, Jijin 1st Rd., Anle Dist., Keelung City 204 |
| opening times | 24hrs |
| ticket cost | free |
| website | link |
| | |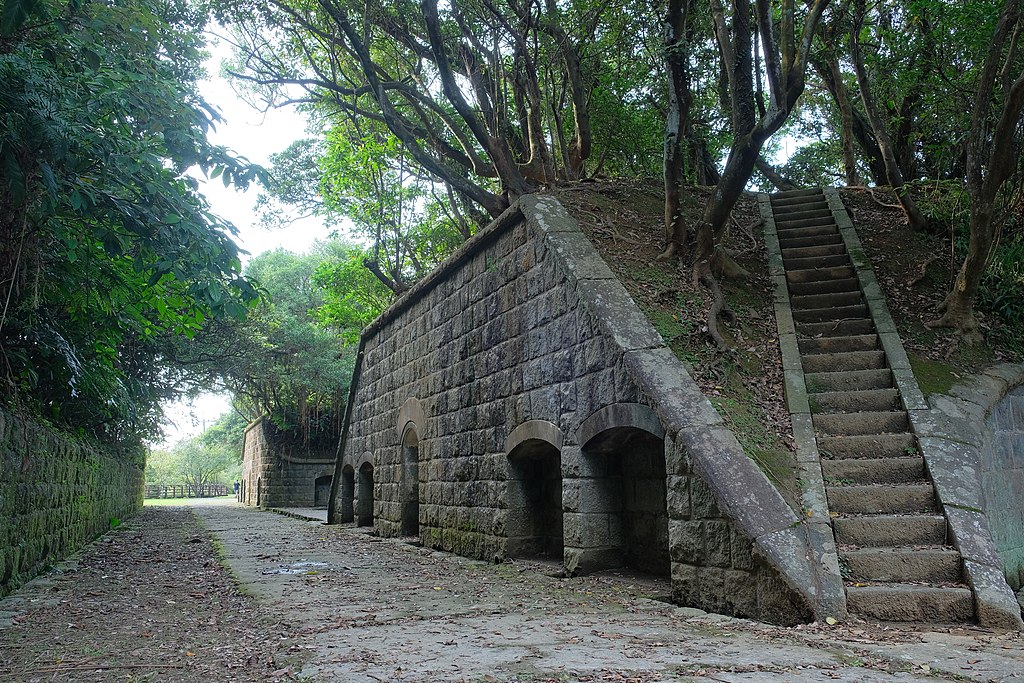 Baimiweng Fort
Baimiweng Fort, also known as Holland Castle, is placed on top of the westbank of Keelung harbor. It is known as Holland Castle due to its long history, it was used in the Dutch and Spanish colonial times as a fortification. During the French occupation of Keelung there were French troops stationed. While the Japanese remodeled it to how it looks current day.
The shape is rectangular with multiple round gun placements, there is an old wall and a command post. Nowadays its a popular spot for tourist to enjoy a great view of the ocean.
Things to do and see at Baimiweng fort:
Have a look at the fortifications
Enjoy a great ocean view.
hike a small trail up to the Keelung lighthouse.
There is a small tourist service center you can visit.
How to get to Baimiweng fort?
Take TRA to Keelung Station, transfer Keelung City Bus 301, 302 to Taibaizhuang bus stop
| Baimiweng Fort | quick info |
| --- | --- |
| address | Baimiweng Fort, No.19, Ln. 208, Jijin 1st Rd., Anle Dist., Keelung City 204 |
| opening times | 24hrs |
| ticket cost | free |
| website | link |
| | |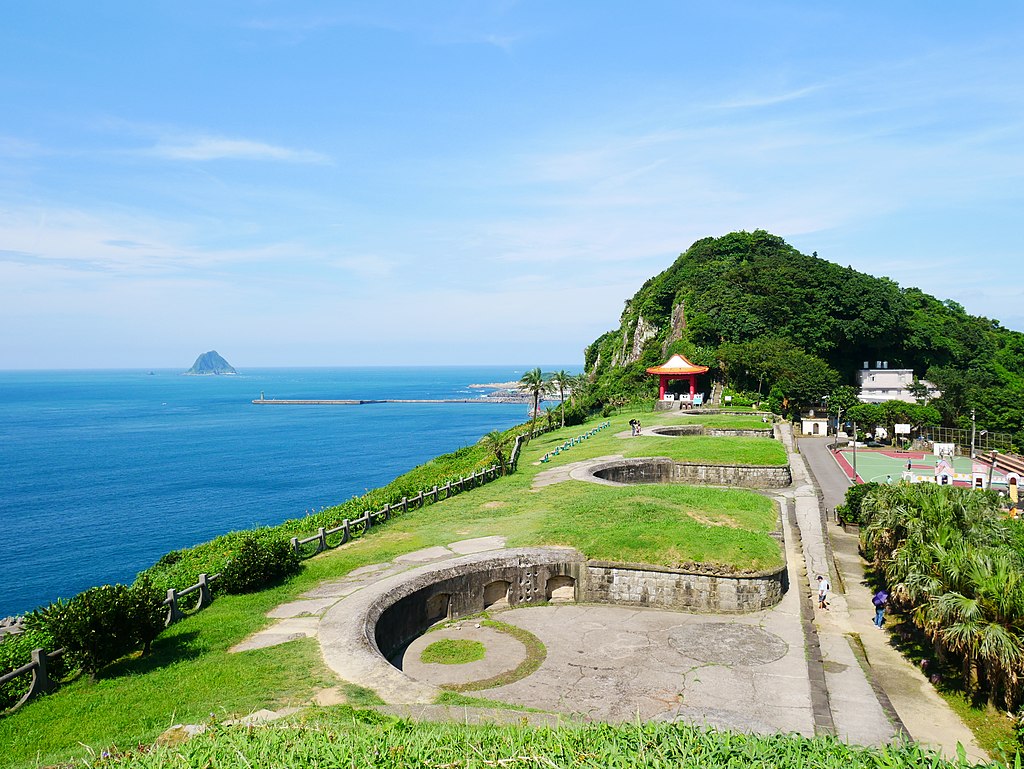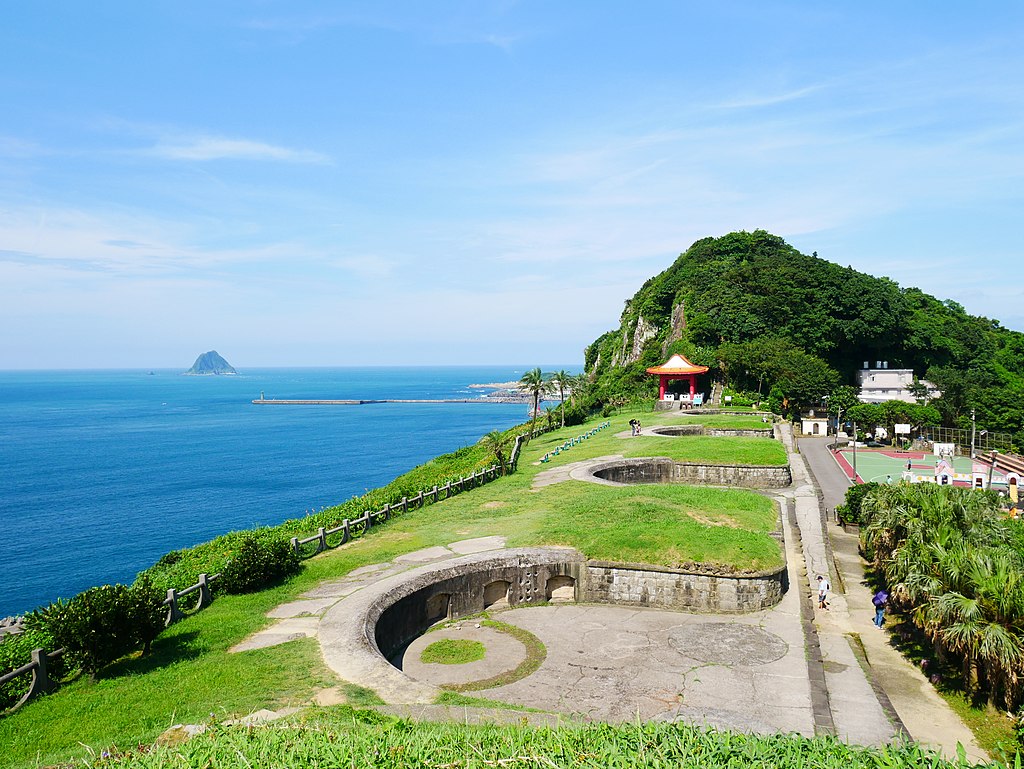 Dingshige (Dashawan) Fort
Can we call this the remains of a real fort? Well maybe not, but it is an interesting historical landmark. The remains of the Dashawan Stonewall can be found behind the Keelung fortress headquarters and park. A large building which used to act as a command post for the Japanese army but now is a cultural, leisure and creative Centre for the citizens of Keelung.
Dashawan fort was a so called flat fort, a flat area where cannons and other defensive structures could be built upon. To protect the soldiers and materials from the weather it was surrounded with an earth or stone wall. Remains of that stone wall are still found here and there.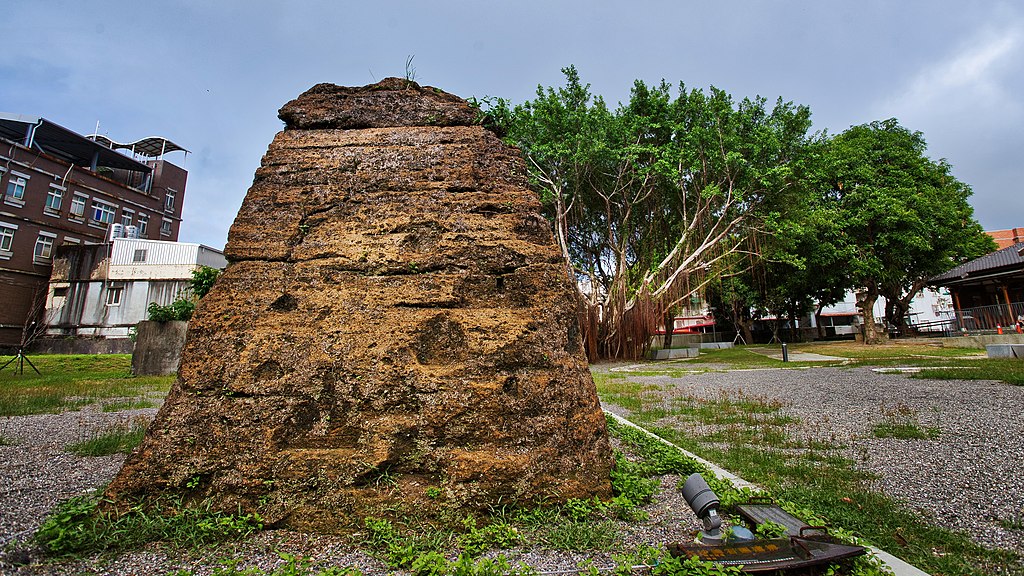 Built upon the remains of Dashawan Fort was Dingshige fort, hastily built between 1886 and 1894 by the Qing. Some Living quarters overgrown by weeds is all what is left nowadays. I would not suggest going here to be honest. Nevertheless if you want to know more you can read it here.
Dutch & Spanish forts in Keelung (1624-1668)
Fort San Salvador / Noord Holland
In the northern tip of Keelung, at what is now called Heping island, once stood the Spanish and Dutch forts of San Salvador/ Noord Holland. In the early 17th century the Dutch occupied southern Taiwan and the Spanish Empire Northern Taiwan. The Spanish built Fort San Salvador at what is now Keelung.
Around the year 1642 Dutch Military forces attacked and conquered Fort San Salvador and renamed it Fort Noord-Holland. In 1668, after already loosing their base in Tainan several years earlier, the Dutch left Taiwan and destroyed the fort in Keelung upon leaving. If you want to read about how the Dutch conquered Fort San Salvador in Northern Taiwan click here.
Not much is left of the structures nowadays. the Dutch destroyed most of it when they left and over the years the island has changed a lot. However it is assumed the remains of the foundation of the Fort is still somewhere under the local shipyard and recently the foundations of the Spanish Church are uncovered under a parking lot next to a supermarket.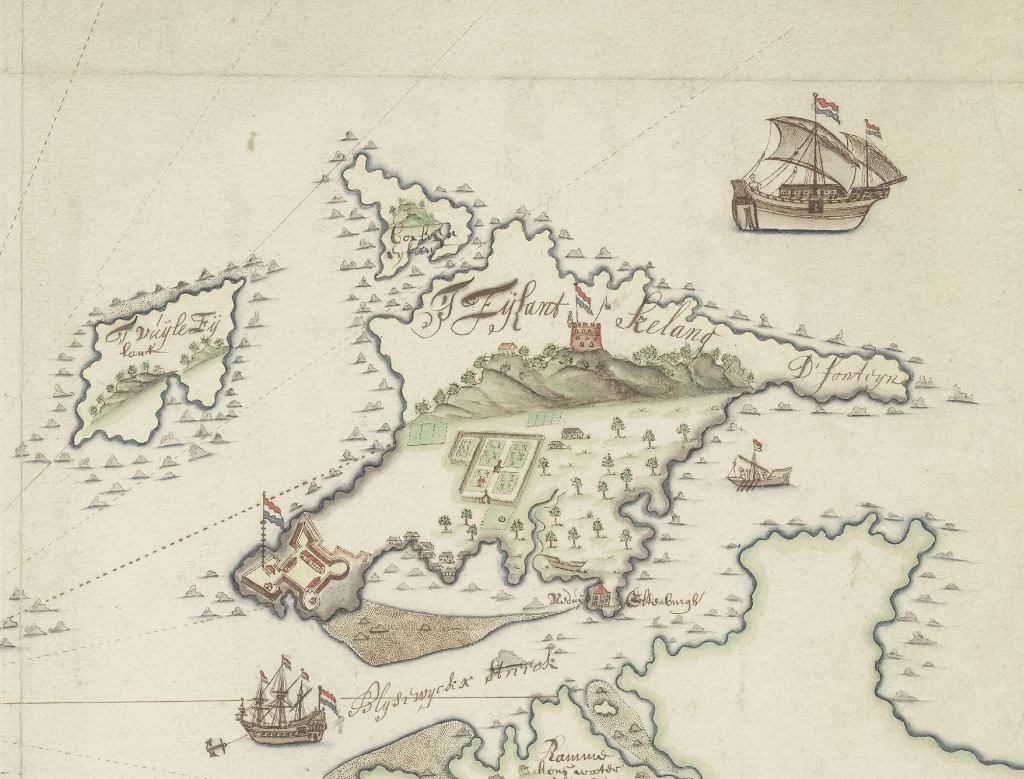 Part of the map of the northern coast of Formosa with the island Kelang.
Image credit
[1] Mk2010, CC BY-SA 4.0, via Wikimedia Commons, [2] TS Lai, CC BY-SA 4.0, via Wikimedia Commons, [3]TS Lai, CC BY-SA 4.0, via Wikimedia Commons, [4] Mrmarkertw, CC BY-SA 4.0, via Wikimedia Commons, [5] Taiwankengo, CC BY-SA 4.0, via Wikimedia Commons, [6] 寺人孟子, CC BY-SA 4.0, via Wikimedia Commons, [7] Mk2010, CC BY-SA 4.0, via Wikimedia Commons
Other sources:
[1] greatkeelung.klcg.gov.tw
[2] eng.taiwan.net.tw
[3] Keelung for a walk
[4] https://tour.klcg.gov.tw/
[5] zh.wikipedia.org