Things to do in Keelung: exploring this historic port city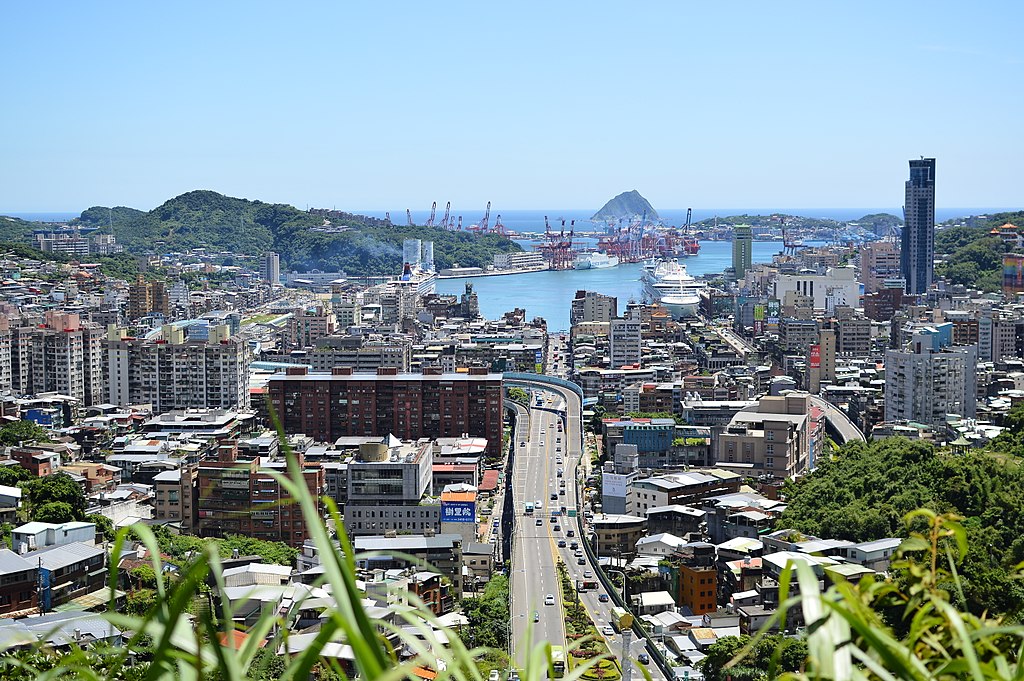 Dear reader: This article contains affiliate links. These will help this website grow, but will not cost you anything extra.
Keelung is a large port city in north east of Taiwan. The city of Keelung is also nicknamed the rainy port because it rains a lot, but don't let that put you off visiting this beautiful city as it has a lot to offer!
[1] image credit
What is Keelung famous for?
Keelung is known for its long history dating back to the Spanish empire in the early 17th century, the historical forts and temples, and its beautiful scenery. The city night market is one of the larger ones in Taiwan and is praised for its large diversity of foods, but also for its many fish dishes.
Things to do
sightseeing & outdoor activities
Keelung Maritime plaza
Keelung is a port city and you can see that right away as soon as you step out the train station and go to the nearby Maritime Plaza. Here you can enjoy a walk along the waterfront which becomes even more beautiful when the sun sets. There are often large cruise ships in the harbor and it is easy to visit the nearby fish and night markets.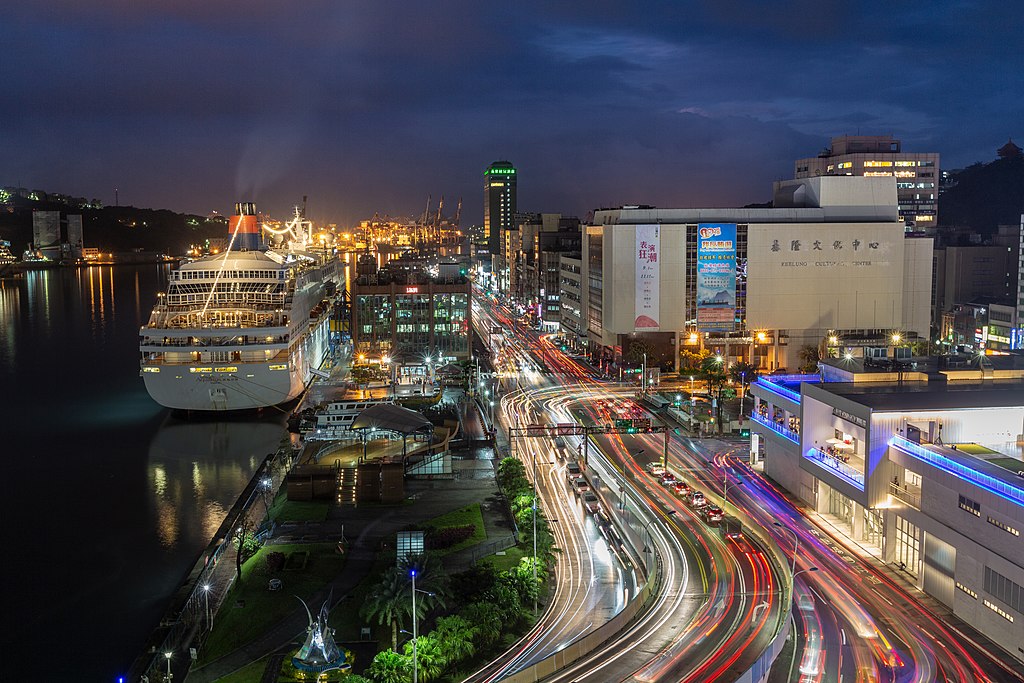 [2] image credit
Zhengbin port color houses
As well as the modern main harbor, there is also the more traditional Zhengbin port. Home to many local fishermen. Zhengbin is located further north, close to Heping Island and it is famous for its cute colorful houses. There is not much else to see and do in the harbor but you will pass through on your way to Heping Island so you might as well visit.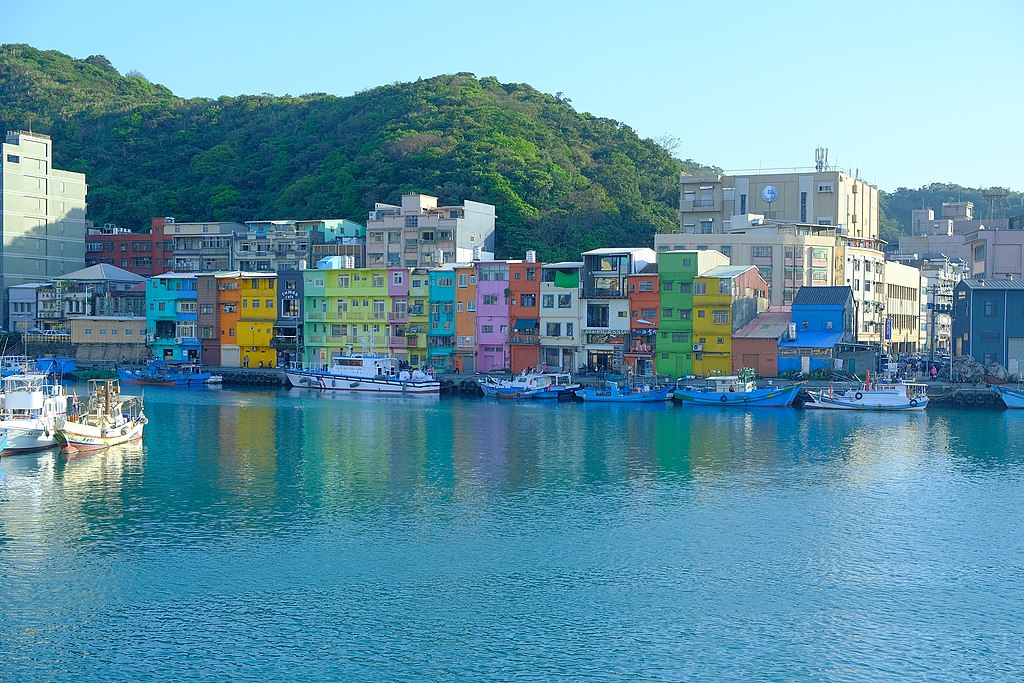 [3] image credit
Heping island park
Heping island lies just in front of the opening of the Keelung harbor. It has a long history with the Spanish arriving early 17th century to build a fort and trading post there. In 1642 the Dutch seized the fort and had an outpost there until 1668.
Current day it is turned into a coastal park with several swimming pools, hiking trails with viewing pavilions and there is a tourism Centre.
opening times: 0800-18:00
ticket cost NTD$120
For more info check the Heping island park website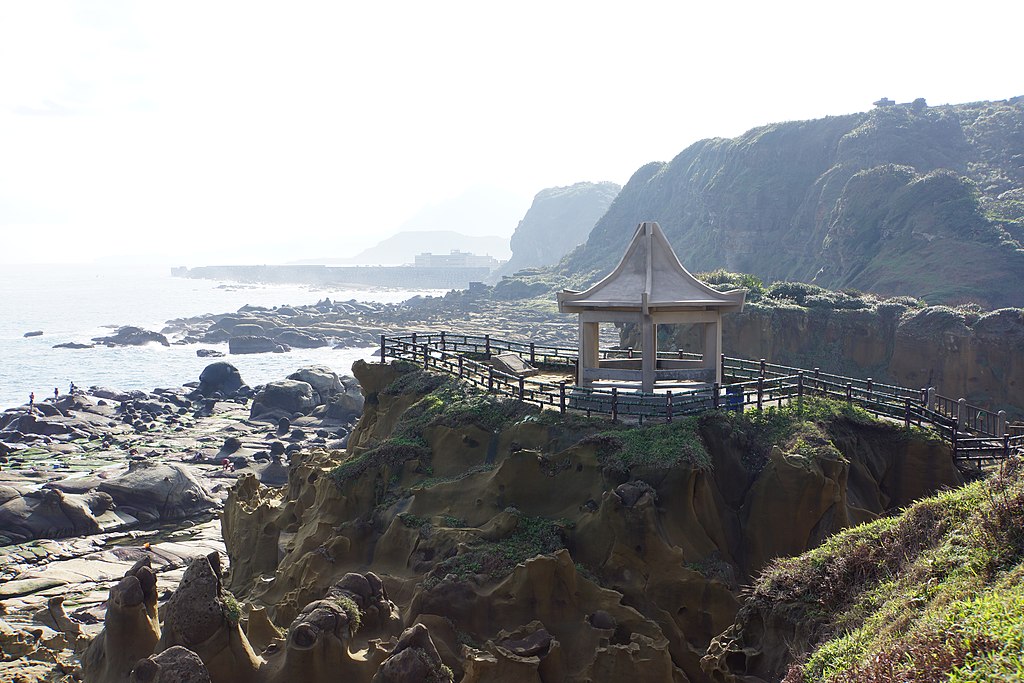 [4] image credit
Forts and fortifications
Since the Spanish and Dutch Colonial periods, Keelung has been an important port and as such it was well defended with cannons and forts. You still can visit some of them! If you want to read more about them, I Have written a separate article about the 8 historical forts and fortifications in and around Keelung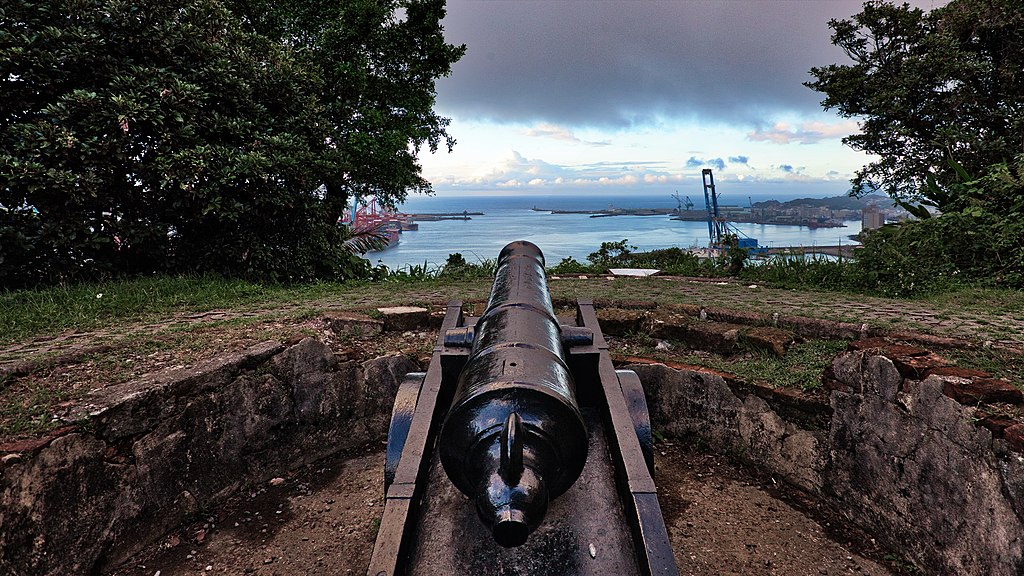 [5] image credit
Zhongzeng park and Temple
This park is located to the east of the city. On the hillside of Dashawan Mountain. The most notable feature is a 25m high white statue of the Goddess of Mercy. Inside is a staircase leading to the top and which you can climb.
The park has 3 levels: on the first level you'll find the historic Dawalun Fort, the second level houses a Buddhist library, a shrine and the Zhuputan Temple. The story goes that in the old days, immigrants to Taiwan fought each other for land. To end their quarrels, they built a temple for annual worship.
On the third and final level is the Guanhai Pavilion where visitors can sit and enjoy the view over Keelung and the ocean.
Scenic areas
I would like to show you some natural scenic areas in and nearby Keelung.
Nuandong Valley
This valley is south-east of Keelung. It is is an ideal place for families to visit. The valley is crossed by several river with forests on both sides. You can see butterflies (three-spotted grass yellow butterfly) flying all around. There are several trails which you can follow, passing bridges, small waterfalls and wonderful scenery.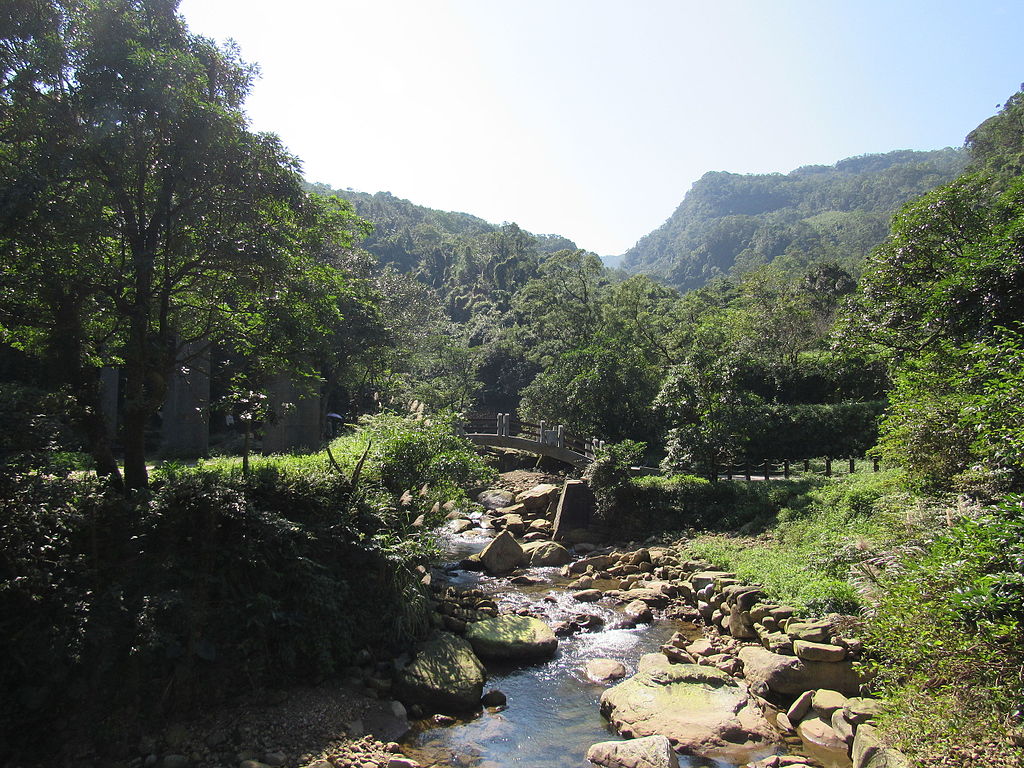 [6] image credit
Badouzi Coastal Park / Wangyou Valley
Badouzi Coastal Park and Wanyou Valley are part of the National Museum of Marine Science and Technology area (scroll down for more information about this museum). Which is located Northeast of Keelung.
It consists of six trails ranging from 60min to 120min walks, with several observation decks with stunning ocean views. All trails are stone paved. Nearby there are several temples and also a coastal recreation Centre that you can visit.
You can get to Badouzi by train.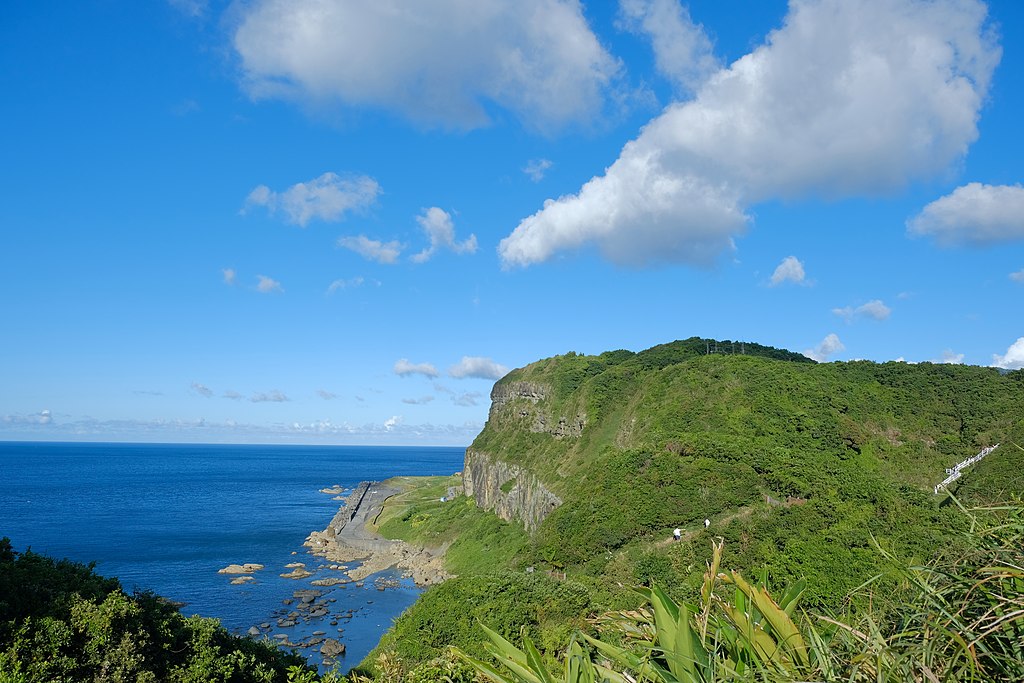 [7] image credit
Museums and cultural places
I would like to show you some interesting Museums in and nearby Keelung.
Keelung 1915 Yang Ming Oceanic Culture & Art Museum
The Yang Ming Oceanic Culture & Art Museum aims to educate their visitors about oceanic culture and art and its importance to Taiwan. The museum is founded in 2004 by Yang Ming Marine Transport company and it is located in a Japanese colonial style building in front of the Keelung Railway Station.
They have several exhibitions related to marine culture and often organize special events. Visitors will fall in love with the ocean which will hopefully be protected for future generations.
opening times: Tuesday to Sunday 09:00AM – 17:00 PM, Monday closed
ticket cost: 200NTD$
website: Link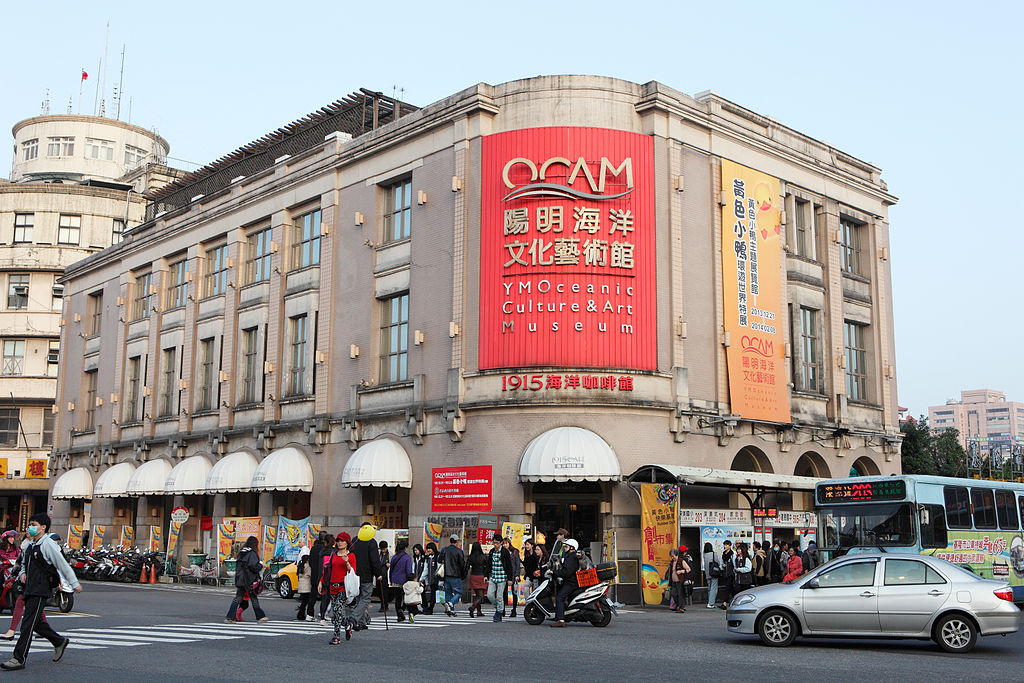 [8] image credit
National Museum of Marine Science and Technology (NMMST)
This museum is built on the site of former Pei-Pu steam power station. Constructed by the Japanese in 1937.

The museum functions as an exhibition, education, research, collection and recreation space to encourage the public to "Embrace the Ocean, Respect the Ocean and Sustain the Ocean." There are 8 galleries to visit, all with their own themes relating to the sea and Marine life.
For a full map of the museum and surroundings click here (Warning! large file!)
opening times:
Weekdays / 9:00~17:00 Weekends / 9:00~18:00 Closed on Mondays and Chinese New Year's Eve
ticket cost: about 200NTD for details look here.
website: link
Xiandongyan Zuisheng Temple
The Xiandongyan Zuisheng Temple, also known as the Fairy Cave Temple. It is located near Fort Noord Holland on the west bank of Keelung. It is a temple completely build in a small cave which makes it unique and quite interesting. If you are close by you should definitely pay a visit.
Festivals and celebrations
Keelung Mid-summer Ghost Festival Museum
Every year on the seventh full moon of the lunar calendar, Keelung celebrates its most important annual folklore sacrificial festival, also known as the Keelung Mid-Summer Ghost Festival. The ceremony is held at the Zhupu Altar in Zhongzheng Park.
During the rest of the year you can also visit this place, as there is a museum inside with a collection of historical artifacts related to this festival as well as many other objects.
A special event is held on 15 July when a lighting ceremony is held.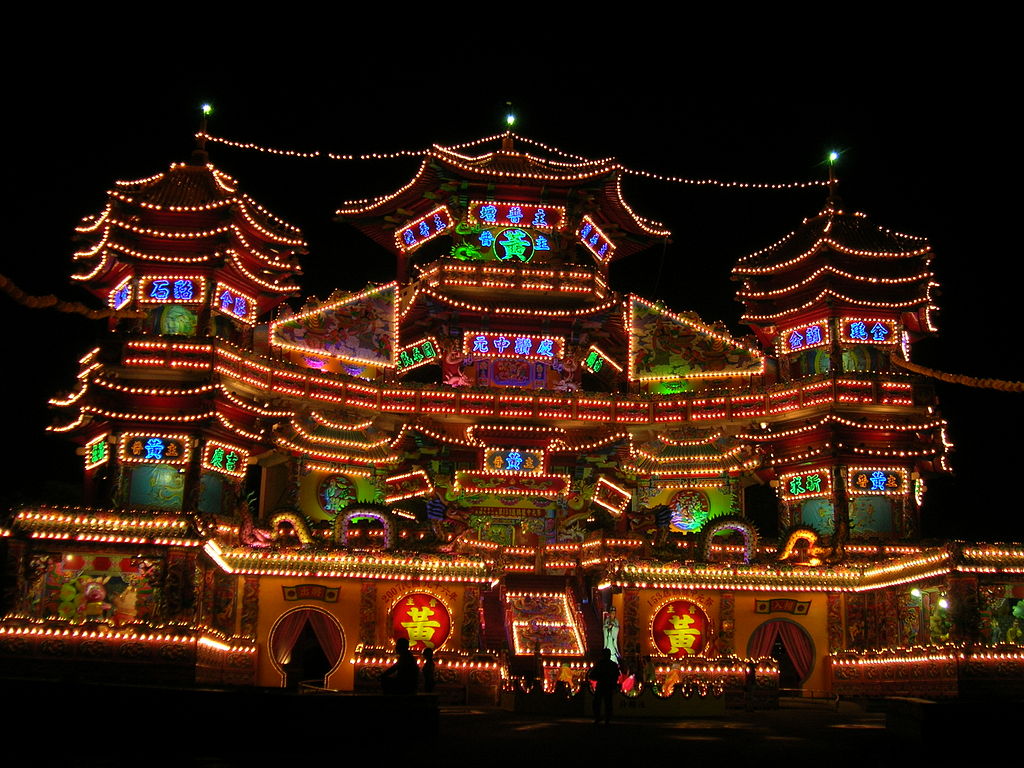 [9] image credit
Foods and Nightmarkets
The two largest food and/or markets in Keelung are the Kanziding Fish market and the Keelung Miaokou night market.
Kanziding Fish Market,
The Kanziding fish market is where all the restaurant owners buy freshly caught fish. It is amazing to see all kinds of fishes which are sold on the market
You do need to be a night crawler for this as the market starts 00:00 -5AM in the morning.
Keelung Miaokou
Like every city in Taiwan Keelung has a night market. The Keelung Miaokou night market is one of the larger ones in Taiwan and is praised for its large diversity of foods.
Unlike other street markets the food stalls at Miaokou night market are numbered so write down your favorite stall/dish in the comments below! 😛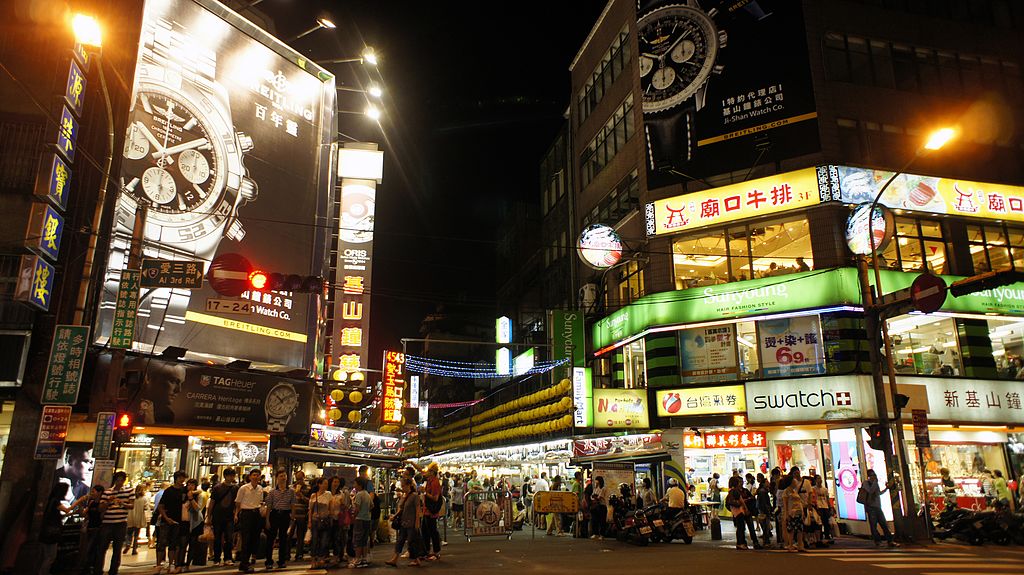 [10] image credit
what else to do nearby Keelung?
Keelung islet
Keelung islet is a volcanic island of about 1km by 500m and located about approx.6km off the coast of Keelung.
Despite the harsh environmental environment: rocky soil, lack of fresh water, strong winds during the northeast monsoon in winter and hot weather in summer, the island has mostly low vegetation such as longflower lily, lycoris aurea, hybicus, banyan trees and many more.
Nevertheless this beautiful little island is well worth visiting especially when these plants are in bloom: May and June are the Lily season, while August to September is lycoris Aurea flowering season.
What can you do on Keelung island? well, there is a small visitor centre, from where you can walk along two trails: a coastal trail of about 480m and a hiking trail of about 740m. A wooden takes you to the top of the island. (about 182m above sea-level). Furthermore there is also the Keelungdao lighthouse, a tunnel and you will find several small monuments and temples.
Combined with the boat trip to-and from the island, this is a perfect day trip in northern Taiwan!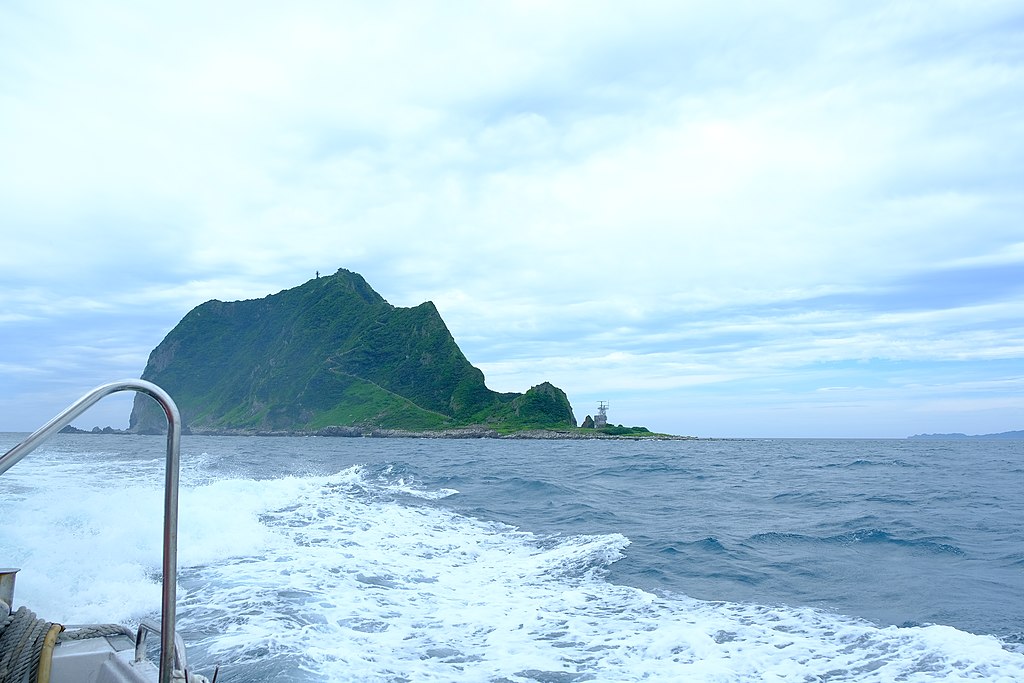 [11] image credit
Often a trip to Keelung is combined with a trip to Yehliu Geopark or Jiufen
Yehliu
Northern Taiwan is often exposed to wind and ocean, and the area around Yehliu is particularly exposed. Due to its geological structure: mostly sandstone and limestone, the rocks here have been eroded by the wind and sea into interesting shapes. At the Yehliu geological park you can visit and see rocks named the queen's head or fairy's shoe and many other interesting rock features.
Jiufen
The village of Jiufen was once a small gold mining town in the hills of northern Taiwan attracting many fortune-seekers Today it is a popular tourist destination because of its narrow streets, old buildings and history. Many films have been made in this small little town and it is well worth a visit.
Guided Tours and activities
For the most part traveling in Taiwan can be done by using public transport and you can visit most attractions and places on your own. But if you have limited time or you want to do special activities sometimes it is convenient and smart to have a look into guided tours and activities. It will save you a lot of planning and you will get to experience places and activities that only the local Taiwanese know about.
Where to stay in Keelung
Backpackers / solo travelers
Located on the sixth floor, right in the city centre of Keelung is the beautiful Light Inn hostel. I recommend this hostel for backpackers and solo travelers looking for a cheap but great location in Keelung.
Hotels for couples and families
For couples and families I would recommend the Evergreen Laurel Hotel. It is slightly further from the railway station but it has a great view over Keelung harbour. It also has a swimming pool, which is great of it rains.
Top pick
My personal favourite is the Spangler Inn – Homestay It is a highly rated accommodation close to the lovely colourful houses in Zhengbin port at an excellent price. You will need to book early as rooms are limited and fill up quickly.
Other places to stay in Keelung
Looking for something else? For more places to stay I would kindly ask you to use the search bar below.
How to get to Keelung
By bus
The bus is operated by Kuo-Kuang Motor Transport company. If you want to go by bus to Keelung you should take bus 1813 leaving from Taipei bus station (just next to Taipei main station) towards Keelung. The bus ride takes about 50 minutes depending on traffic. Bus goes daily from 06:00AM to 00.15 PM. A one way ticket cost 57NTD (about 2 euro/$) and a return ticket cost 114NTD.
For exact timetable for bus trips you can look here. you can buy bus tickets online but I would suggest going to the counter at the bus station and just buy a ticket.
By train
Taiwan Railway Administration (TRA) covers the train transport in Northern Taiwan and about every 20 minutes a train leaves from Taipei main station towards Keelung station. It is best to take the local train which takes about 44 to 51 minutes depending the time of day. Ticket fares are about 41Ntd (1,5 Euro/$). During rush hours could be slightly more expensive, but you could also just wait and take one train later.
It does not matter if you take the Mountain Line or Coast Line as both lines follow the same route from Taipei towards Keelung. The Keelung train station is located right in the city center.
For more information you can go to the TRA website.
By car
For the people who are planning to rent a car and go out to drive to Keelung. You should take the National Highway No. 1. It is a 27.4 km highway from Taipei to Keelung. Which would take you on average 26-45 min. depending on traffic.
Disclaimer
This site contains affiliate links. These will help this site grow, but will not cost you anything extra.
[1] Taiwankengo, CC BY-SA 4.0, via Wikimedia Commons
[2] 台湾でSamuel in Taiwan, CC BY-SA 2.0, via Wikimedia Commons
[3] Taiwankengo, CC BY-SA 4.0, via Wikimedia Commons
[4] lienyuan lee, CC BY 3.0, via Wikimedia Commons
[5] Mk2010, CC BY-SA 4.0, via Wikimedia Commons
[6] Outlookxp, CC BY-SA 4.0, via Wikimedia Commons
[7] Taiwankengo, CC BY-SA 4.0, via Wikimedia Commons
[8] MiNe from Taipei, Taiwan, CC BY 2.0, via Wikimedia Commons
[9] 大摩 Bigmorr, CC BY-SA 3.0, via Wikimedia Commons
[10] Fcuk1203, CC BY-SA 3.0, via Wikimedia Commons
[11] Taiwankengo, CC BY-SA 4.0, via Wikimedia Commons