6 Amazing National Parks in Taiwan
Taiwan has 8 Stunning National Parks and many nature parks with amazing wildlife and nature to explore. I've been lucky enough to have visited 3 of them (Yangmingshan- , Taroko- and Taijing National Park) and really recommend paying them a visit. I would like to show you an overview of the most beautiful National Parks in Taiwan and share some of the activities you can do when visiting them!
Introduction
Six out of eight National parks are located on the main island. The other to are located at some of the many islands of Taiwan. The map below shows the where the six parks on the main island are located.
Yangmingshan National park
Yangmingshan National park covers a total area of 11,300 hectares. and consists of mountainous and volcanic areas with geothermal activity. This unique diverse terrain results in excellent conditions for abundant vegetation and various wildlife. Flowers and plants are influenced by the weather too. During the spring season weather is unstable and alternates between cold and warm weather. In summer afternoon thunderstorms results in a nice view as often rainbows can be seen down in the mountain valleys. In autumn and winter the top of the mountains can be foggy and quite cold.
Personally I remember taking a hike in early October and remember it was a very hot and sunny day. But as I was hiking towards the top the wind was starting to pick up, especially as near the top is less vegetation and more silver grass which was waving in the wind. I walked into low hanging clouds and Yangmingshan turned into a totally different foggy world.
Yangmingshan National park lies just north of Taipei City and is the main recreational National park for its Citizens. Expect it to be very busy when it is good weather on a weekend day or a National holiday.
Things to do at Yangmingshan National park:
Visit the grass mountain chateau
visit Yangming Park, a garden park within the National park. Especially beautiful during flower season.
Hike along the many trails, enjoy the views at the observation decks placed along the trails.
Visit the natural hot springs and sulfur areas.
Many butterflies can be spotted at Yangmingshan National Park
Busses stop at most scenic areas so you can also opt for moving around with public transport if you prefer not walk too much.
Want to find out more about Yangmingshan National Park? Click here to go to their website.
Shei-Pa National Park
Shei-Pa National park is about 76,850 hectares and within the park are about 51 mountain peaks of over 3000m hight. The park is founded to protect and study the wildlife and natural environment. According to surveys at least 58 species of mammals, over 150 species ofbirds, 170 species of butterflies and many other animals can be found in the park. Although a large portion of the park is a conservation area to preserve also several historic sites from can be found as in history the area was used by mountain tribes such as the Atayal and Saisiyat tribe as hunting ground.
Things to do at Shei-Pa National park:
Enjoy the nature by hiking on the many trails of the park
Learn more about Shei-Pa national park and its history at one of the four visitor centres: Wenshui visitor center, Wuling recreation Area, Guanwu Recreation Area or Xuejian Recreation Area
go mountain climbing.
Be aware that for some trails or routes you need to apply for a permit as they pass through wildlife conservation areas.
Want to find out more about Shei-Pa National Park? Click here to go to their website.
Yushan National Park
Yushan National park lies in central Taiwan and it is where the highest mountain of Taiwan: Yushan mountain (also known as Jade mountain or mount Yu) is located. It is aprox. 3952m above sealevel. Yushan National Park is Taiwan largest, least accesible park which results in pristine forests and diverse wildlife. The park is home to endagered animals including the Formosan black bear and the leopard cat. The park has many trails along the mountains but also into the river valleys. Expect to see a dense forest with lots of ferns, and broadleafed trees. Water shapes the landscape and many waterfalls can be seen.
Things to do at Yushan National park:
Visit the spectacular Shanfong waterfall
Go hiking on the many trails of the park
Yushan is a favorite for mountain climbers and is together with Puncak Jaya (indonesia) and mount Kinabalu (Malaysia) part of the "Asian trilogy"
Be aware that for some trails or routes you need to apply for a permit as they pass through wildlife conservation areas.
Want to find out more about Yushan National Park? Click here to go to their website.
Taroko National park
Taroko National park lies in the eastern side of Taiwan near the city of Hualien. Taroko National Park is arguable the most famous National Park of Taiwan. Many travelers to Taiwan will take the train from Taipei to Hualien along the eastern coastline. I also included this park in my first travel to Taiwan and I have been there several times now. I wrote a more elaborate blogpost about my trip to Hualien and Taroko if you are interested.
The park covers around 92,000 hectares and features mountain ranges and deep Gorges. The Taroko Gorge and the scenic areas around the Liwu River are truly spectacular. Walls of up to 100m high are to be seen on both sides of the river carved out due years of erosion by the Liwu river. Many wildlife and plants live and grow in the Park. When in the right time expect to see many butterflies flying around and occasionally you can find a group of Formosan Macaques high up the trees.
Things to do at Taroko National park:
Zhuilu cliffs & swallow grotto Trail
Eternal spring shrine
Sanzhan Valley
Lüshui clifside trail
Want to find out more about Taroko National Park? Click here to go to their website.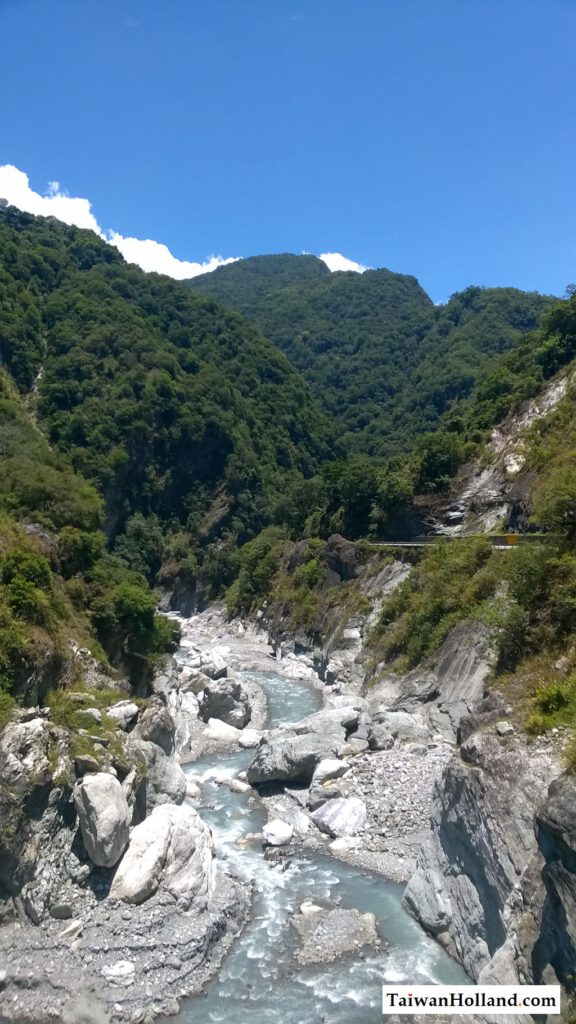 Taijiang National Park
Taijiang National park has a total area of about 39,300 hectare and the largest part of the National park is a wetland area including Tainan black-faced spoonbill reserve, Cigu lagoon and public lands from the Yanshui to theZengwen river in Tainan. Also the Marine part of the park stretches the Coastline about 54km and 5 km wide. Focus of the park is to protect wetlands, historical sites and the salt and fishing industry. An effort is made to the conservation and preservation of the natural landscape and wildlife for future generations but in the same time provide a place for education and recreating for the public.
Things to do at Taijiang National park:
Take a boat ride in the mangrove forests of Taiwan
Visit Luermen Matsu Temple, it marks the spot where Koxinga made his landing in Taiwan
Take a tour in the wetlands of Taijian park or if you like to explore by yourself take one of the self-guided tours
The wetlands of Taijiang National Park are also a great place to go birdwatching
Visit nearby Tainan and Fort Anping (zeelandia) or Fort Provintia.
Want to find out more about Taijiang National Park? Click here to go to their website.
Kenting National Park
Kenting national Park is located at the Hengchun Peninsula and out of all national parks it is the only tropical park. The park includes mountains, (tropical) forests, beaches and coral reefs but also large areas of agricultural land. Expect not only nature but also a look for the visitor into typical Taiwanese rural life.

Kenting National Forest Recreation Area
Kenting National forest recreation area covers 75 hectares of nature. Many trails and walkways link around 17 scenic points and visitors can view many plants and scenery as over 1000 species of plants grow in the park. Among the scenic points are the Fairy-cave a 137m long cave lit up by lights. A 27m high tower with views on the coastline and ocean and the looking-glass Tree a 400 year old tree with roots growing above ground. In the Valley of the hanging Banyans, roots of the Banyan trees form a wall which in between you can walk and you will feel like you are walking in a strange fantasy land.

Hengchun
The City of Hengchun has a partly intact city wall built during the Qing dynasty in 1873.
At the edge of the city also a deer sanctuary called paradise of deer is located, in the park Taiwan deer and Muntjacs are kept and raised. The park gives you an opportunity to see them up close and learn everything about them!
Eluanbi lighthouse
To give the people an appropriate place to visit in 1982 the Eluanbi lighthouse is built at Taiwan most southern point. This bright white 21.4m high lighthouse also is sometimes lovingly called "the light of East Asia" and together with Eluanbi Park it makes well worth a day trip.
Things to do at Kenting National park:
Take a hike on the many trails of Kenting National Forest Recreation Area
Visit the city of Hengchun with its Qing dynasty city wall, nightmarket, beautiful temples and Sika deer sanctuary
Enjoy the beaches at kenting Arch or Hengchun
Have a look at tropical fish and learn more about Marine biology at the National Museum of Marine Biology & Aquarium
Watch the sunset and amazing ocean view at Guanshan mountain viewing point near the town of Hongchaikeng (紅柴坑)
Are you an adventurer? Try and join a diving or snorkeling excursion to the coastal coral reefs.
Visit Eluanbi Lighthouse at the most southern tip of Taiwan.
Want to find out more about Kenting National Park? Click here to go to their website.
Other National parks in Taiwan
Actually Taiwan has in total 8 National parks but 2 of them are not on the Main island and therefore I do not think most people will travel and visit them. The other ones are Kinmen National Park, which lies on the island of Kinmen just of the coast of mainland China, Kinmen National Park is mainly a nature habitat for birds. The other one is Dongsha Atoll National Park which is a Marine park located at the Pratas island in the south Chinese sea about 200km of the coast of the main island of Taiwan.